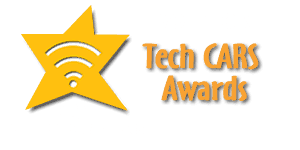 We have three categories in AUTO Connected Car News' Tech CARS Awards that related to new vehicles released or announced in 2017-the best new mainstream electric vehicle, hybrid or plug-in hybrid, best new luxury electric vehicle competing "Tesla style" and best new automotive public relations launch campaigns. Here is information about the nominees so that can chose which one to vote for before January 31. Avant-garde automotive designer Henrik is associated with two luxury EV nominees.
Best New Electric Vehicle Competing Tesla Style
Karma Revero
Karma builds cars that are as beautiful as they are technologically advanced; providing the ultra-luxury buyer with an exciting new choice that offers exclusivity, touring performance, a stunning cabin and head-turning design. Karma is methodically building a luxury car company capable of delivering the advanced technology, premium materials and performance today's luxury buyer demands.
The Revero is about feel, not numbers. No knowledge of its 0-60 time will help you define its allure. We can and will quote impressive vehicle technical specs. But we would rather state our performance story differently: we have enough. To move you. In every way.
Karma Automotive is a U.S. manufacturer of luxury plug-in hybrid vehicles. Unapologetically conspicuous in their beauty. Uncommonly light in their footprint. Designed, engineered, and assembled in Southern California.
Each Revero is truly unique, with individually crafted details like hand-painted badges on the front and rear of every vehicle. The Revero also offers a technology breakthrough: it is the first model sold in the U.S. with a solar roof that will power the vehicle.
Karma Revero is based on the Karma Fisker that was bought by Wanxiang Group. Designers  based the design on the 2012 Fisker Karma with changes based on customers suggestions.
The leather in a Revero is never embossed with a synthetic grain texture.
Promotions for the Karma Revero include Polo Games, Electric Car Test Drive events, Rose Parade promotions and a total package of traditional and social media campaigns. Recently an artist co
Fisker Emotion
Fisker Inc., electric vehicle OEM, designer and manufacturer of uniquely stunning electric vehicles complemented with some of the longest EV ranges on earth, showcased the all-new EMotion with Quanergy Systems, Inc at CES in partnership with Fisker Inc., Quanergy Systems, Inc., the leading provider of LiDAR sensors and smart sensing solutions, will be integrating five of Quanergy's S3 LiDAR sensors into the Fisker EMotion which will be showcased as part of the vehicle during CES . CES will mark the first time media and showgoers will get an up close and personal look of Fisker's newest vehicle
The Fisker Emotion will be available in 2019 and will feature the Quanergy S3 LiDAR sensor and all autonomous features as part of an optional upgraded package for customers.
The Fisker EMotion luxury electric car, set for production in 2019, features design elements never before seen in the automotive
The first vehicle to be truly designed with an EV powertrain in mind: longer wheelbase designed for the world's largest EV battery pack, a stretched cabin for more interior space and
A much more dramatically sloping aerodynamic front-end with panoramic views of the road ahead.
The carbon rim wheels are sized to give the car the right body volume over the wheels with a powerful, timeless sculptured
The interior will redefine the way we think of a luxury car interior, incorporating the most advanced future technologies enhancing functionality and user
All with the most emotionally stunning style available on an EV
Fisker and LG Chem are ensuring that Fisker vehicles like the EMotion will leverage the power of the highest energy density cell in the world by using state-of-the-art NCM chemistry (developed by LG Chem.
Lucid Air
Lucid has created a luxury car that transcends the perceived limitations of space, energy, and time. The all-electric Lucid Air combines forward-looking design with groundbreaking technology to establish an entirely new class of vehicle, one with unparalleled comfort, performance, and convenience.
The Lucid Air balances precise handling with a luxurious ride through the combination of air springs, active damper technology, and a low center of gravity.
Ten years of battery pack development have led to best-in-class energy density. The Lucid Air battery is capable of 0 to 60 mph in less than 2.5 seconds and 400 miles of range. Additionally, a unique battery chemistry provides breakthrough tolerance to repeated fast-charging.
>With thousands of micro-lenses, the Lucid Air's ultra-slim lighting system improves energy efficiency by up to 50% compared to conventional LED headlights and enhances safety by self-adjusting for each driving situation.
Up To 400-mile range
2.5 sec/0-60 mph
Available All-Wheel Drive
Available Glass-Canopy Roof
Publicity Campaign Nominees for Best News PR Company or Person for New Vehicle Launch
Karma Revero – see above.
Jeff Holland for the launch of Bollinger Motors electric truck that included teasers, launch event in New York City and display at the LA Auto Show
The News Market Media for the Lamborghini Urus worldwide release included live streaming of the launch, video, news releases and social media.
Mainstream EV Nominees
You have until Midnight January 31 to vote for the Auto Connected Car News' Tech Car Awards:
Learn about other nominations at:
May the best products win the most votes!
Other industry awards, charge for entries, use celebrity judges or may be swayed by advertisers. The Tech CARS is truly a people's choice award with voting open to anyone who has a connected device with a web browser. There is no fee for entry. Voting ends January 31, 2018 at 11:45 pm PACIFIC TIME.  If you are interested in fresh up-to-date connected car news subscribe to our newsletters.