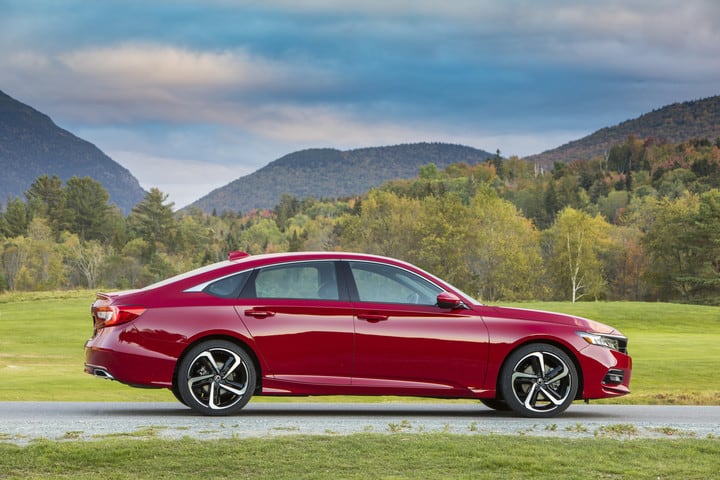 We have another round of awards for the best, most retained resale value, best 2018 cars/vehicles according to loyalty, new innovations, and how much they retain their value. Some cars are rated cby how much fun they are to drive. We previously culled other awards into articles with new awards such as the Top Best Cars of the Years in Review,  Top Cars for Child Seats,  Best Car Tech to Consider, Safest Cars,   Most Loved Cars, Most Loyal, Most Dependable/Reliable, Most Reliable/Cheapest to Repair, and Best Connected Winners. A great way to use awards is to look at all the winners with the types of cars you are considering. If a vehicle wins multiple awards, it is a good indicator that the car is worthwhile.
Car, Truck and Utility Vehicles of the Year
Award that were recently announced were the Car/Vehicle of the Year Awards voted by many journalists who have test-driven all the vehicles. The North American Car of the Year award went to the Honda Accord. The Truck of the Year was awarded to the Lincoln Navigator. The Volvo XC60 then won Utility Vehicle of the Year.
Valuation Retention Awards
Kelley Blue Book announced the 2018 model-year brand and category winners of the annual Best Resale Value Awards, recognizing vehicles for their projected retained value through the initial five-year ownership period. The 2018 best resale value brand Toyota, and the best resale value luxury Porsche
The top individual models are dominated by trucks and large SUVs:
Best Resale Value Top Cars
Chevrolet Colorado
Jeep Wrangler
Chevrolet Silverado
Subaru WRX
Ford F-Series
Toyota 4Runner
GMC Sierra
Toyota Tacoma
Honda Ridgeline
Toyota Tundra
By Model Types
Subcompact Car: Honda Fit
Compact Car: Subaru; Impreza
Sporty Compact Car: Subaru Wrx
Mid-Size Car: Honda Accord
Full-Size Car: Toyota Avalon
Entry-Level Luxury Car: Lexus RC
Luxury Car: Lexus GS
High-End Luxury Car: Porsche Panamera
Sports Car: Porsche 718 Cayman
High Performance Car: Porsche 911
Hybrid/Alternative Energy Car: Toyota Avalon Hybrid
Electric Vehicle: Chevrolet Bolt EV
Subcompact Suv/Crossover: Honda Hr-V
Compact Suv/Crossover: Jeep Wrangler
Mid-Size Suv/Crossover: Jeep Wrangler Unlimited
Full-Size Suv/Crossover: Chevrolet Tahoe
Luxury Compact Suv/Crossover: Porsche Macan
Luxury Mid-Size Suv/Crossover: Lexus RX
Luxury Full-Size Suv/Crossover: Lexus LX
Mid-Size Pickup Truck: Toyota Tacoma
Full-Size Pickup Truck: Chevrolet Silverado Hd
Minivan: Honda Odyssey
Depreciation often is the greatest expense incurred by drivers during the first five years of vehicle ownership. An average 2018 model-year vehicle only will retain about 35.1 percent of its original value after a five-year ownership period. However, certain vehicles are projected to hold their value better than others. While much of a vehicle's resale value is based on supply and demand, as well as current and projected future market conditions, vehicles that retain their value best are typically discounted the least and tend to generate high levels of consumer interest.
Kelley Blue Book's Best Resale Value Awards are in their 16th year and are based on projections from the Kelley Blue Book Official Residual Value Guide. Kelley Blue Book Residual Values are established by experienced automotive analysts that review the output from statistical models built upon millions of transactions. Vehicles that earn the highest five-year residual values, expressed as a percentage of their original Manufacturer's Suggested Retail Price (MSRP), are selected for these prestigious awards. Low-volume vehicles are excluded from award consideration, except in the electric, luxury, sports car and high-performance categories.
Best of Awards
Cars.com named its 2018 Best of Awards for best overall, best pickup truck, family car, luxury car and most-fun-to-drive. The winners are:
Best of 2018 — Volkswagen Atlas, Cars.com noted that it may be big, but it also drives well and able to seat seven people in complete comfort.
Best Pickup Truck of 2018 — Chevrolet Colorado is possibly the most distinctive vehicle that's come along in years.
Family Car of the Year – Chrysler Pacifica that pairs refined ride quality and quietness with a capable V-6.
Most Fun-to-Drive Car of the Year – Chevy Bolt because it is a real car for real people at a realistic price.The Bolt EV's also fun to drive, with instant electric punch when the light turns green.
Luxury Car of the Year 2018 – Audi A4 for its combination of luxurious trimmings, excellent chassis dynamics, spacious interior and well-executed electronics.
"Volkswagen found a winning formula with its 2018 Atlas," said Jennifer Newman, Cars.com's editor-in-chief. "The three-row SUV does what few can: comfortably haul seven adults and plenty of cargo. And despite its large size, this SUV's driving dynamics are nimbler than expected. The 2018 Volkswagen Atlas delivers on its promise of utility without any compromises."
CES Edmunds Awards
To honor new vehicles and innovation Emdunds.com awarded vehicles based on their innovative technology.
The Honda Clarity series was recognized by Edmunds' editors for its leading-edge approach to electrified powertrain technology: "With options including pure electric, plug-in hybrid and hydrogen fuel cell models, the 2018 Honda Clarity provides unmatched flexibility when it comes to alternative fuel choices, and proves that innovative design can push the industry further toward a future using renewable energy."
The experts at Edmunds praised the 2018 CR-V for its packaging, efficiency and innovation, saying "the 2018 Honda CR-V offers advanced driver assistance technologies and active safety features at an affordable price point, a rarity among SUVs. Coupled with other outstanding features such as a deftly balanced ride and handling, class-leading fuel economy ratings, and a large and clever storage space, the CR-V is a winner."
Edmunds awarded the inaugural 2018 Edmunds CES Tech Driven Hackomotive Award to the Toyota e-Palette Concept Vehicle. The Hackomotive Award recognizes the most innovative, transformative automotive concept or technology unveiled or announced during the show.
Audi won the Most Innovative Automaker and Most Innovative Infotainment System categories. Edmunds noted that Audi with its new 2019 Audi A8 later this year, Audi will be the first major manufacturer to include a Level 3 automated driving feature in a production vehicle. The Audi MMI system provides a clean, contemporary high-tech experience that's full-featured but easy to use. It also keeps distraction to minimum and pairs with Audi's Virtual Cockpit to create a cabin with unrivaled integration.
Porsche was awarded the Most Innovative Driver Assist Feature category for Porsche's InnoDrive that combines adaptive cruise with predictive powertrain control.
Ford won the Most Innovative Truck category for the 2018 Ford F-150 that offers many advanced driver assistance features, and its adaptive powertrain calibration and Sync 3 infotainment system enhance an already sophisticated truck.
Loyalty Awards
The Automotive Loyalty Awards from IHS Markit are the industry's only fact-based awards of their kind.Automotive manufacturers and brands were recognized for superior customer retention and conquest efforts during the 2017 model year (October 2016 through September 2017).
Ford achieved the highest loyalty rate of all makes during the 2017 model year, winning the Overall Loyalty to Make award. The award for Highest Conquest Percentage for the 2017 model year went to Jeep. Toyota was honored for highest Ethnic Loyalty to Make among all ethnic groups combined, as it led in loyalty among all three ethnic groups – African American, Hispanic and Asian. Buick was named for Most Improved Loyalty to Make for the model year and Jaguar was recognized for Most Improved Conquest Percentage during the 2017 model year.
IHS Markit recognized 24 segment-level winners for the 2017 model year for their efforts to bring customers back for another vehicle of the same make and model.
Segment Vehicle Type Loyalty Awards
Luxury Compact CUV  – Lincoln MKC
Luxury Full-Size SUV – Land Rover Range Rover
Luxury Mid-Size CUV  –  Lincoln MKX
Luxury Mid-Size SUV  – Lexus GX
Luxury Sport Car  –  Porsche 911
Luxury Traditional Compact Car – Lincoln MKZ
Luxury Traditional Full-Size Car –  Mercedes-Benz S-Class
Luxury Traditional Mid-Size Car – Lexus ES
Luxury Traditional Sub-Compact – BMW X1
Compact CUV – Chevrolet Equinox
Compact SUV –  Jeep Wrangler
Full- Size Three-Quarter To One-Ton Pickup – Ford F-Series
Full-Size Half-Ton Pickup  –  Ram 1500
Full-Size SUV  –   GMC Yukon Denali XL
Mid-Size CUV  –  Subaru Outback
Mid-Size Pickup – Honda Ridgeline
Mid-Size SUV – Jeep Grand Cherokee
Mid-Size Van – Honda Odyssey
Sport Car  –  Volkswagen GTI
Mid-Size Sport Car -Dodge Challenger
Traditional Compact Car – Chevrolet Volt
Traditional Full-Size Car – Nissan Maxima
Traditional Mid-Size Car  –  Honda Accord
Traditional Sub-Compact Car –  Mini Countryman
Automaker Manufacturer Loyalty
Overall Loyalty to Manufacturer – General Motors
Overall Loyalty to Make  – Ford
Highest Conquest Percentage  – Jeep
Ethnic Market Loyalty to Make  – Toyota
Overall Loyalty to Dealer  –    Lincoln
Hispanic Market Loyalty to Make – Toyota
Asian Market Loyalty to Make –     Toyota
African American Market Loyalty to Make  –  Toyota
Most Improved Loyalty to Make –  Buick
Most Improved Conquest Percentage – Jaguar
To help understand why their vehicles won, FCA explained what great features Jeep, Dodge, and RAM vehicles offer.
Jeep Grand Cherokee
Celebrating 25 years, Jeep Grand Cherokee is the most awarded SUV ever and the vehicle that has long defined what a premium SUV should be. Legendary Jeep capability comes courtesy of four available 4×4 systems, Jeep's Quadra-Lift air suspension system and class-leading Selec-Terrain traction management system. Grand Cherokee boasts best-in-class towing of 7,400 pounds and a crawl ratio of 44.1:1. For 2018, the Jeep brand expands its Grand Cherokee lineup with the introduction of the new Trackhawk model, the most powerful and quickest SUV ever.
Jeep Wrangler
The iconic 2018 Jeep Wrangler JK – the most capable and recognized vehicle in the world – features a standard eight-speaker audio system and an optional Premium Alpine Audio Package that includes nine Alpine speakers, a subwoofer and a 552-watt amplifier. The 2018 Jeep Wrangler JK delivers unmatched off-road capability with legendary four-wheel drive and is produced with more than seven decades of 4×4 engineering experience. Wrangler JK continues to offer a body-on-frame design, front and rear five-link suspension system, live axles, electronic lockers, and is one of the few mid-size SUVs that offer a six-speed manual transmission, in addition to its five-speed automatic.
Ram 1500
Ram trucks are proven to last. Over the last 30 years, Ram has the highest percentage of pickups still on the road. Contributing to that title, the Ram 1500 boasts numerous segment-exclusive or class-leading features in areas most important to truck buyers, including active-level four-corner air suspension, five-link coil rear suspension and RamBox cargo management system. Outstanding ride and handling, fuel-efficient powertrain options and intelligent storage solutions resonate with Ram buyers and help drive 1500 loyalty.
Dodge Challenger
More powerful than ever for 2018, the Dodge Challenger has the strongest model lineup in its history, ranging from the 305-horsepower V-6 SXT model to the high-octane powered 840-horsepower SRT Demon, and including Challenger GT, R/T, R/T Scat Pack, 392 HEMI Scat Pack Shaker, T/A, SRT 392, SRT Hellcat and SRT Hellcat Widebody models in between.
The 2018 Dodge Challenger SRT Demon joins the Dodge//SRT lineup as the fastest quarter-mile production car in the world and most powerful muscle car ever, powered by a supercharged 6.2-liter HEMI SRT Demon V-8 engine. Armed with a functional Air-Grabber™ hood scoop and dedicated drag racing features, such as Torque Reserve, Launch Assist, Line Lock and street-legal Nitto drag radials, the SRT Demon is built to be an elite performance machine highly capable on the street, absolutely dominating at the drag.
New to the analysis this year is the assessment of the impact a garage mate of the same brand has on defection. A garage containing two vehicles of the same brand will return to repurchase from that brand 63 percent of the time. When the garage mate is a competitive brand then the rate of return drops 20 percentage points to 43 percent brand loyal. These data can be used to identify customers who may look loyal to a given brand, but are actually at higher risk for defection.
As a result of this additional analysis, Lincoln was found to be the brand with Highest Loyalty to Dealer, meaning, 48.5 percent of all Lincoln owners returned to a Lincoln dealer for another Lincoln in the 2017 model year.
Automakers missing from these awards are Hyundai, Kia, Fiat and Mazda….However Mazda is the most fuel efficient.
Mazda Most Fuel Efficient
Mazda has the most fuel-efficient model line-up on U.S. roads for the fifth consecutive year, according to the annual Light Duty Fuel Economy Trends report published by the Environmental Protection Agency (EPA).
The average manufacturer adjusted fuel economy of Mazda models sold in the U.S. during the 2016 model year was 29.6 miles per gallon (7.9l/100km) for the combined cycle, a 0.4mpg improvement over the previous year. At 301g/mi (187g/km), Mazda also recorded the lowest average CO2 emissions of any carmaker. The overall U.S. market averages were 24.7mpg (9.5/100km) and 359g/mi (223g/km) CO2. The EPA uses its adjusted figures, which are considered too closely reflect real-world values, for each vehicle sold during the model year and calculates the averages based on sales volumes
What is the best, most fun-to drive loyal vehicle for you? It depends upon you needs, how you drive and where you live.