In the month of August this year more than 360,000 teens will become eligible for a driver's permit which in turn can create a lot of stress for concerned parents.
According to a Harris Poll survey commissioned by Chevrolet, more parents with teens worry about their child driving (55 percent) more than any other area of parental stress, including drugs and alcohol (52 percent), sexual activity (49 percent) and academic performance (53 percent).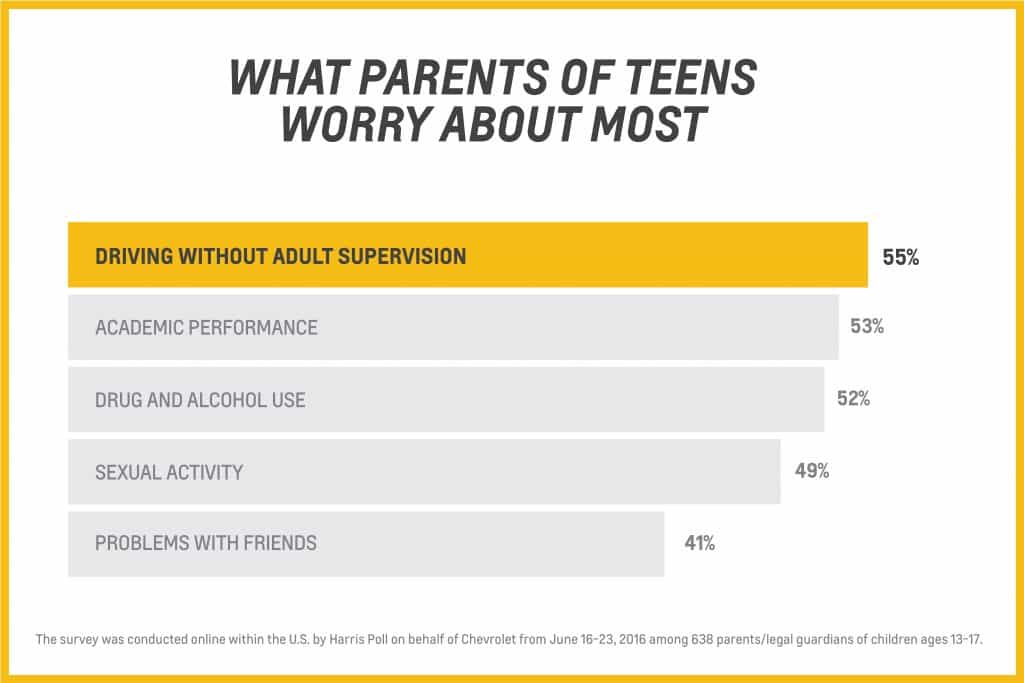 Chevrolet offers Teen Driver Technology on 10 of its 2017 cars, trucks and SUVs. Chevrolet's Teen Driver includes an industry-first in-vehicle report card that shows how the teen drove and provides a way for parents to discuss best practices.
"I, like many of our employees, am a parent of teenagers, so we personally understand the anxiety of having a teen driver in the house," said Steve Majoros, director of marketing, Chevrolet Cars and Crossovers. "And while we can't control a teen's behavior when they are in a car without a parent, Chevrolet's Teen Driver Technology can remind them to buckle up and avoid speeding, while our other available active safety features can help to alert them in certain situations when they're making less-than-perfect driving decisions."
Teen Driver supports certain safe driving practices by muting the radio or the audio of any paired device when front seat occupants aren't wearing their safety belts. It also gives audible and visual warnings when the vehicle is traveling faster than preset speeds, and allows parents to limit the maximum volume of the radio.
"As a mother of two, it's extremely important to find solutions that can help young drivers on the road," said MaryAnn Beebe, Chevrolet safety engineer. "Chevrolet developed this system as a tool that can give teens some additional coaching as they're gaining experience. Driving on your own is a big milestone for teens, and Teen Driver helps to remind them to practice safe driving. And for parents, it's easier to give guidance to your teen when you have some information on what they're doing behind the wheel."
The Teen Driver in-vehicle report card may keep track of the following, depending on the vehicle:
Distance driven.
Maximum speed reached.
Overspeed warnings issued.
Stability control events.
Antilock braking events.
Traction control activations.
Wide-open throttle events.
Forward Collision Alerts, if equipped.
Forward Collision Braking events, if equipped.
Tailgating Alerts, if equipped.
Teen Driver is a non-subscription-based service that remains with the vehicle permanently and is available on the 2017 Chevrolet Bolt EV, Camaro, Colorado, Cruze, Malibu, Silverado, Silverado HD, Suburban, Tahoe and Volt. To use the safety technology, a parent must register their teen's key fob in the vehicle's system settings.
New for most 2017 models with Teen Driver:
Maximum speed limiter.
Configurable audio volume limit.
Additional report card information:
Traction control activations.
Wide-open throttle events.
Tailgating alerts, if equipped.
Each of the 10 vehicles also features available Apple CarPlay or Android Auto compatibility, to help encourage teens to refrain from using their handheld phones while driving.
The Centers for Disease Control and Prevention confirmed that August was the most popular birth month in the U.S. in the year 2000, with 360,080 births. Knowing there could be a record number of 16-year-olds hitting the road in August 2016, Chevrolet commissioned a survey of parents with teenagers from ages 13 to 17 years to find out how seriously parents take the issue of their teens driving.
Additionally, available active safety features are automatically enabled and incapable of being manually disabled when Teen Driver is in use. These features may include:
Lane Departure Warning.
Lane Keep Assist.
Front and Rear Park Assist.
Side Blind Zone Alert.
Rear Cross Traffic Alert.
Forward Collision Alert.
Forward Automatic Braking.
Rear Automatic Braking.
Front Pedestrian Braking.
Stability Control.
Traction Control.
Daytime Running Lamps/Automatic Light Control
Survey Methodology
This survey was conducted online within the U.S. by Harris Poll on behalf of Chevrolet from June 16-23, 2016 among 638 parents/legal guardians of a child between 13 to 17 years old. This online survey is not based on a probability sample and therefore no estimate of theoretical sampling error can be calculated. For complete survey methodology, including weighting variables, please contact Darri'n Hardy at darrin.hardy@chevrolet.com.