At AUTO Connected Car News, we like to save software and embedded chip news for your Sunday reading pleasure.  Embedded chips and connected car news tips this week come from VoiceBox Technologies, Waze, Movimento, Huawei, ESI, MyClubEco, HARMAN, Autonet Mobile, Pivotal, Magna, OnStar, Volvo and Ford.
VoiceBox Speech Recognition
VoiceBox Technologies, announced the availability of the company's new Embedded Automatic SpeechRecognition (ASR) product for automotive applications. Integrated with the company's award-winning NLU technology, VoiceBox's Embedded ASR now offers auto makers a single solution for powering the next generation of in-car voice systems. "
Designed to convert speech into text, which is then processed through NLU, VoiceBox's Embedded ASR supports more than 20 languages. The company's Embedded ASR solution is the first of its kind to offer Deep Neural Networks (DNN) which enable the processing of complex, contextual conversations. It is also the only ASR technology to include parallel hybrid processing with machine learning. This allows user queries to be simultaneously processed in both embedded and cloud systems to optimize the delivery of results.
VoiceBox's Embedded ASR technology is available now for use in automotive information and entertainment units and is also used in VoiceBox mobile and IoT solutions.
Waze Warns of Speed Limits
Waze launced new feature in Austria, Belgium, Brazil, Colombia, Costa Rica, Czech Republic, El Salvador, France, Hungary, Italy, Latvia, Liechtenstein, Netherlands, New Zealand, Romania, Sweden, Switzerland, Trinidad, Tobago and Uruguay that helps drivers avoid tickets and drive more safely by notifying the driver when going over the speed limit. Waze claims it will keep you aware of your speed, reminding you to slow down and drive safely.  When driving over the limit, a visual alert will appear on the Waze speedometer. It will stay there until the speed drops below the limit.
The feature will be rolled out in other countries as it becomes available.
Settings can customize the alert to appear either when the speed limit is reached, or when your speed exceeds the limit by 5, 10 or 15%.
Movimento Wins F&S Award
Based on its recent analysis of the over-the-air (OTA) market, Frost & Sullivan recognizes Movimento with the 2016 North American Frost & Sullivan Award for Enabling Technology Leadership. Software-defined cars are the essence of the connected car future, and Movimento has uniquely positioned itself in the automotive industry by providing software management across the entire life cycle of the vehicle.
Huawei ESI Crash Simulation
Huawei and ESI Group (ESI) showcased a car crash simulation solution based on Huawei high-performance computing (HPC). Modelled on an ESI virtual reality solution, Huawei's HPC simulation can provide customers with equivalent digital equipment room layouts to those found in real car crash simulation environments. Leveraging 3D technologies, designers can keep improving virtual prototypes during product R&D to reduce physical prototype hardware requirements, and therefore dramatically reduce design costs and shorten product development cycles when designing and developing new cars.
MyClubEco Real World Eco-Drivin gGame App
MyClubEco is dedicated to protecting the environment and slowing climate change with its "real world," eco-driving game the Green Driving Challenge.
GDC has all of the elements of a game, including earning of points, working as a team, and competing with friends. However, GDC doesn't stop in the virtual world. By eco-driving, most GDC players will reduce their vehicle emissions by 5 to 25%. That difference can really help slow climate change, and cut costs on gas!
As a GDC player, you'll have access to:
A calendar with all of your trips
Your trip details, including maps, speed, and duration
Your best MPG range
The money you saved on gas
The amount of CO2 kept out of the atmosphere.
HARMAN Connects CarPlay for Suzuki in Japan
HARMAN announced HARMAN will supply Suzuki with infotainment units in Suzuki's IGNIS vehicles using its connected car solution.
Rich in its history for technological innovation, the Japanese market is a perfect demographic to offer HARMAN's connected car capabilities. In fact, this new award marks the first infotainment system for the Japanese market to be embedded with Apple CarPlay from a Japanese automaker.
Embbed Software Summit Discount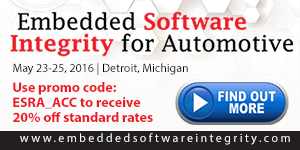 Automotive and embedded software experts with intimate knowledge of the industry's challenges will discuss how to properly develop and test embedded software at the Embedded Software Integrity for Automotive Summit this May 23-25 in Detroit. Leaders from companies such as Delphi, Bosch, GE, Kia, Continental, and more, will work to mitigate the unintended behaviors and failure rates from automotive software and hardware bugs. Use promo/coupon code ESRA_ACC to receive 20% off standard rates.
Autonet Mobile App Connected Car Tech
Autonet Mobile, the world's first in-network and mobile app provider designed specifically for cars, has worked with some of the world's largest auto manufacturers as a Tier One supplier of connected car technologies for more than a decade.
Autonet Mobile has created a solution for dealerships to continuously communicate with its customers and their vehicles to ensure business isn't lost to another dealership or an independent service station: Dealer Connect™ Powered by Autonet Mobile, an easily downloadable smartphone app.Dealer Connect is designed to drive customer retention and increase service revenue by continuously scanning a vehicle's status and reporting problems to both the dealer and owner. Using diagnostics gained from a small OBD-II device which is placed under the dashboard, features include:
Vehicle Health – a checkup for the overall health of the car. This feature provides alerts when a customer's car needs repair through the Vehicle Health Scan.
Automatic Scheduler – a direct connection to dealer DMS systems, allowing for offers to be sent via text and/or email from the dealer to the car owner when service or maintenance is needed. Appointments can be made without phone calls or direct mail.
Lot Tracker – 24/7 location identification service while the vehicle is at the dealership, which also helps expedite sales with real-time inventory management from a salesperson's phone.
Messaging – dealers can communicate service and marketing messages directly to consumers highlighted through the customer's app.
Driver Safety Apps – allow car owners to set speed limits through Speed Tracker, define where the car can be driven with Geo Zones, locate the vehicle anytime and anywhere with Find My Car, and set Curfews for when the vehicle is not to be driven.
4G Wi-Fi On Demand – a powerful Wi-Fi capability that does not require a subscription or preexisting contract with any network.
Additionally, it connects the car dealership to its customers through a smartphone app and doesn't rely on a Bluetooth connection.
Pivotal Pivotal at VW
At the new Volkswagen Digital:Lab in Berlin, the Group is working on this in a strategic partnership with software developer Pivotal. IT experts from Volkswagen and Pivotal jointly develop innovative software and mobility solutions for networked customers together with specialists from Technical Development and Sales.
"In our Digital:Lab we are working on a digital ecosystem that offers our customers a new user experience, new mobility services and a raft of networked vehicle services", Volkswagen Group CIO Dr. Martin Hofmann said. "We are creating completely new products for our customers, and are therefore turning Volkswagen from a car manufacturer into a mobility provider."
Magna Safer Mobility Challenge $100K in Prizes
Magna is launching the "Innovation for the Open Road: Safer Mobility for the Future" contest, a competition which challenges the public, inventors, creators and everyday commuters to share their ideas on ways to further improve vehicle safety. Through the public competition, Magna is looking for groundbreaking ideas that it can help bring to the road to create an even safer experience for drivers, passengers and pedestrians. There's $100,000 available for prizes. Participants are required to submit a 500-word essay describing their idea by May 30, 2016, at www.magnachallenge.com.
OnStar Commercial Link for Small Biz
General Motors has launched a new platform specifically designed for small businesses to access key vehicle information such as location, fuel level, miles driven and maintenance needs at any time. The new vehicle management service known as Commercial Link uses data provided by the embedded OnStar hardware and aims to provide small business owners with a detailed, near real-time view of their vehicle operations to more efficiently manage their fleet. Additionally, it saves owners the cost of adding aftermarket hardware to access their vehicle data.
Available on most 2015 model year and newer Chevrolet, Buick, GMC and Cadillac vehicles, Commercial Link will give customers with an active OnStar account instant access to vehicle information through a website for $10 per vehicle per month. A Commercial Link mobile app will also be available this summer for both Android and Apple devices.
Volvo External IT Op Sold to HCL Tech
The Volvo Group has completed the final agreement with HCL Technologies for the sale of its external IT operation and related assets and the outsourcing of its IT infrastructure.
New Dyno Needed for Ford F Super Duty
When testing the toughest, smartest, most capable Ford F-Series Super Duty ever, engineers discovered the all-new truck is so powerful that it needed new equipment to simulate traveling up steep mountain grades to ensure it lives up to its Built Ford Tough reputation.
Traditionally, a dynamometer sled is attached to the vehicle hitch and pulled behind it. The old-style dynamometer did not challenge the power of the all-new Super Duty, so Ford set out to find a new, stronger dyno sled to test the vehicle's mountain climbing capability limits.
The dyno simulates steep grades by providing pull against the vehicle, using a brake limiter – a series of electric coils wired together that are energized, acting like a large magnet. This drawbar pull against the truck mimics the effects of gravity while driving up an incline.
The new dyno is capable of a maximum drawbar pull of 5,620 pounds – a 181 percent increase compared with the 2,000 pounds from the previous dyno, allowing the new setup to simulate steeper hills. A common simulated grade used for testing is approximately 7 percent, but the new towing dynamometer used at Ford's Arizona Proving Grounds can simulate up to a 30 percent grade.
Discount Code for TU-Automotive Detroit
The TU-Automotive Detroit 2016 (June 8-9, Novi Michigan), conference and exhibition for automotive technology and connected cars is offering a vast program of speakers, topics and trends. AUTO Connected Car readers can get a $100 discount using the code 4312ACCAR.
You are welcome to subscribe to receive email notification of publication of Embedded Chips & Tips, you can also get weekly news summaries or email ASAP (As Soon As Published) for everything.