Today, we launch a new feature at AUTO Connected Car News- Embedded Chips and Connected Car News Tips, with technical connected car news along with a its own newsletter. If you are developer or engineer, you can subscribe to connected car news that is about embedded chips, software or other technical connected car news. Today's chips n' tips come from Microchip, Marvel, AtmelmaXTouch, Renesas Electronics, TE Connectivity, Continental and Mistubishi Electric.
Microchip MOST50 INIC
Microchip Technology  a leading provider of microcontroller, mixed-signal, analog and Flash-IP solutions, today announced that Toyota Motor Corporation is continuing to roll out Microchip's MOST50 Intelligent Network Interface Controllers (INICs) to power the infotainment systems throughout Toyota's vehicle line. The new Toyota premium Lexus RX SUV is the latest deployment among a wide variety of the Toyota brands, which have been using MOST50 in their infotainment systems for several model years. As the carmaker has in previous implementations, Toyota is using MOST technology to ensure high-quality digital audio streaming throughout its new luxury Lexus RX SUV.
Marvell Automotive Ethernet
Marvell announced a new automotive Ethernet reference platform integrated with TE Connectivity's (TE) MATEnet modular and scalable connector for automotive Ethernet.
Marvell's new development platform supports audio video bridging (AVB) switching solutions with 100BASE-T1 and 1000BASE-T1 Ethernet physical layer (PHY) capability. The platform also enables car manufacturers to quickly prototype automotive systems with Gigabit Ethernet for electrical and electronic (E/E) architectures including In-Vehicle Infotainment (IVI), Advanced Driver Assistance Systems (ADAS), Electronic Control Units (ECU) and Vehicle Domain Gateways.
AtmelmaXTouch Reaches SPICE Level 3
Atmel Corporation announced that Atmel's maXTouch firmware development facility in Whiteley, U.K., has achieved the Automotive SPICE Level 3 certification—a certification that addresses rigid requirements for the software development process for tier 1 and tier 2 partners in the automotive industry.
To achieve the certification, Atmel redefined and redesigned its software development process over a three-year period. Atmel achieved Automotive SPICE Level 2 compliance in 2014, and Level 3 after the final independent assessment was completed at the Atmel Whiteley facility between November 23, 2015, and November 27, 2015. That assessment was conducted by an independent third-party organization, Vector Consulting Services of Germany, a leading company for organizational change management in product development.
On Continues On Buying Fairchild
ON Semiconductor Corporation  announced that it has extended its previously announced tender offer to purchase all of the outstanding shares of common stock of Fairchild Semiconductor International Inc.
TE Connectivity Presentation in SF
TE Connectivity sensors announced that TE Connectivity Chairman and Chief Executive Officer Tom Lynch will present at the 2016 Goldman Sachs Technology and Internet Conference on Tuesday, February 9, 2016, at 11:00 a.m. PST at the Palace Hotel in San Francisco.
A live audio webcast of the conference will be available on TE Connectivity's investor relations website at http://investors.te.com. A replay of the webcast will be available for 30 days following the live webcast and can be accessed at the same website.
Continental Urea Sensor Helps to Make Diesel Engines Cleaner
Continental announced it is producing urea sensors for more efficient exhaust-gas aftertreatment in diesel engines.The sensors measure the level, quality, and temperature of the aqueous urea solution in the "AdBlue " tank, and ensure a lasting reduction in nitrogen-oxide emissions. The sensor-aided denitrification supports fulfillment of the legal requirements and reinforces drivers' trust that their car emits no more than the minimum permissible level of nitrogen oxides.
Renesas Electronics Develops 90 nm One-Transistor MONOS Flash Memory Technology & Hardware Fault Detection
Renesas Electronics, supplier of advanced semiconductor solutions, announced the development of 90-nanometer (nm) one-transistor MONOS (Note 1) (1T-MONOS) flash memory technology that can be used in combination with a variety of processes, such as CMOS and bipolar CMOS DMOS (BiCDMOS), and provides high program/erase (P/E) endurance and low rewrite energy consumption. Renesas anticipates that the new flash memory circuit technology will enable it to add flash memory to automotive analog devices with improved performance and reliability. This superior circuit technology makes possible the industry's first P/E endurance of over 100 million cycles under a high junction temperature (Tj) (Note 2) 175°C, while also delivering low rewrite energy of 0.07 mJ/8 KB (millijoule: one thousandth of a joule) for low energy consumption.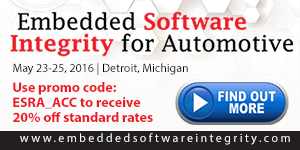 Renesas Electronics also announced the development of hardware fault detection and prediction technologies for functional safety in automotive computing systems. Renesas has also successfully developed a prototype of an automotive computing system-on-chip (SoC) fabricated in a 16 nm FinFET process supporting the ISO 26262 ASIL B standard for automotive functional safety.
Renesas has developed hardware fault detection technology based on a state-of-the-art self-testing mechanism to resolve these issues. This technology makes it possible, even in the large-scale SoCs used in self-driving systems, to meet the criteria such as diagnostic coverage, which is expected to be required for the ISO 26262 ASIL B standard for functional safety.
Renesas  announced the development of a new video processing circuit block for use in automotive computing system-on-chips (SoCs) that will realize the autonomous vehicles of the future. It achieves 70ms-Low Latency Vehicle Camera Video Processing and Industry-Leading Full-HD 12-channel Video Processing Performance with Only 197 mW Power Consumption.
Mitsubishi Electric's New Sensor Database
Mitsubishi Electric  announced t it has developed a high-performance sensor database that performs fast storage, searches and aggregation of massive data collected from sensors that are expected to be used widely in the IoT (Internet of Things) era. The database enables sensor data to be used quickly for purposes such as maintaining roads, railways and other infrastructure, monitoring factories and managing energy use in buildings and homes. It has the capacity to process up to 100 trillion data items, such as three-dimensional measurements by laser sensors on/around roads totaling 200,000 kilometers in length, or sensor data accumulated in a factory over a three-year period using 100,000 sensors that take measurements every 100 milliseconds.