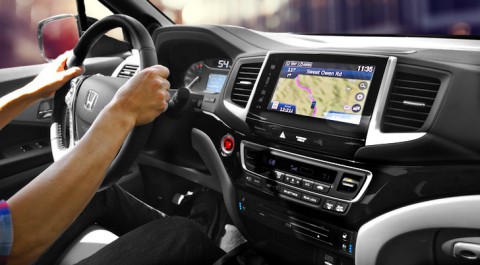 Garmin announced that its navigation systems will be available in Honda infotainment systems over the next four years. The new Honda Pilot will launch with Garmin navigation.
The Garmin system integrates into Honda infotainment consoles while offering several Garmin signature features.
Preloaded maps allow users to navigate through areas that lack cell reception, while millions of points of interest make it easy to find existing or new locations. Spoken turn-by-turn directions are further enhanced with advanced guidance features to navigate drivers through the most challenging and rigorous of circumstances. Lane guidance indicates the proper lane for a driver to make a turn and photoReal junction view provides photo-realistic images of junctions and exits. The system also includes real-time traffic avoidance, speed limit display, 3D buildings, terrain views and more.
The Garmin nüviCam LMTHD, claims to be first portable navigation device (PND) to feature a built-in dash cam with advanced driver alerts to similar to ADAS features that cost more in luxury vehicles.
Garmin offers the new Garmin Edge 1000 cycling computer. Garmin makes dēzlCam, its first all-in-one trucking sat navigation with a built-in dash cam that serves as an onboard eyewitness.
Garmin will be exhibiting at the Connected Car Expo at the LA Auto Show.
For more than 25 years, Garmin has pioneered new GPS navigation and wireless devices and applications that are designed for people who live an active lifestyle. Garmin serves five primary business units, including automotive, aviation, fitness, marine and outdoor recreation.