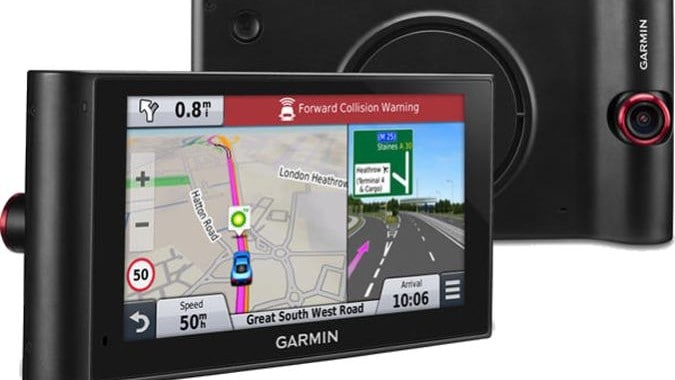 The new Garmin nüviCam LMTHD, claims to be first portable navigation device (PND) to feature a built-in dash cam with advanced driver alerts to similar to ADAS features that cost more in luxury vehicles.
The integrated dash cam continuously records and saves files on impact, therefore the nüviCam offers acts as a eyewitness that records exactly where and when events occurred.
The new premium driver-assist features of the nüviCam  are.
Forward Collision Warning alerts drivers if they're driving too close to the car ahead
Lane Departure Warning alerts will appear and sound if the driver drifts off the road or into oncoming traffic.
Garmin Real Vision house numbers are made easier to see by displaying the camera view along with a bright arrow to direct drivers where to go when approaching select destinations.
The nüviCam features
6-inch pinch-to-zoom glass display with a high-definition dash cam built in to the back.
Integrated dash cam continuously records on the included microSD.  If an incident occurs, the device's Incident Detection will automatically save files on impact.
GPS records exactly where and when events occur, and drivers can play back the video on the device or watch later from a computer.
Snapshot feature to capture still images in or outside of the car.
Voice-activated navigation that allows drivers to speak commands to the device.
Bluetooth hands-free calling with Bluetooth-enabled smartphone (sold separately).
Smartphone Link, a free mobile app that connects nüviCam with a compatible iPhone or Android smartphone, can also provide real-time data services, such as live weather radar, to the navigator.
Drivers can  pair the nüviCam with the Garmin BC 30 Wireless Backup Camera sold separately.
Preloaded detailed maps of North America.
HD Digital Traffic from Garmin, for the useful life of the device.
The included magnetic mount enables the device to be easily and quickly secured or removed from the vehicle.
HD Digital Traffic is fast and free without subscription fees or ads with e traffic updates as often as every 30 seconds. Garmin Real Directions guides drivers like a friend would, using recognizable landmarks, buildings and traffic lights (similar to an Apple patent filed).
Additional features included are speed limit warnings, school zone warnings, photoReal Junction View, Bird's Eye Junction View, and preloaded Foursquare data that adds millions of new and popular points of interest like restaurants, shops and more.
The Garmin nüviCam LMTHD is currently available from Amazon for $399
and should ship in 3-5 weeks.