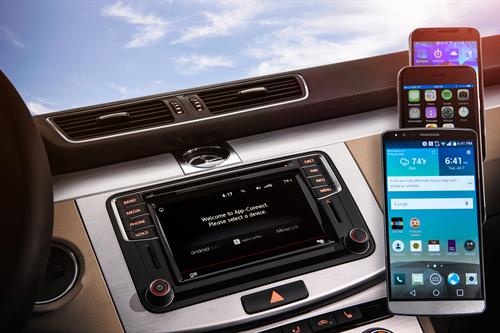 Volkswagen American announced its new MIB II infotainment system for 2016 models will be at dealers soon. Features of Volkswagen Car-Net include "App-Connect" through Apple CarPlay, Android Auto and MirrorLink, "Security & Service" and "Guide & Inform." The app platform is designed to "democractize" technologies. Previously, Volkswagen released updates to the 2015 compatible models to enable CarPlay, Android Auto and MirrorLink.
Modular Infotainment Platform (MIB) II offers higher resolution and faster processing speeds. MIB II will feature a proximity sensor, which senses when a hand is nearby and automatically switches its display to allow easier selection of specific features.
Volkswagen models equipped with VW Car-Net come with a no-charge trial for six months after purchase. VW Car-Net payment options: 1 year, for $199; 2 years for $378; 3 years for $540; or, month-to-month, for $17.99.
Car-Net Security & Service suite works via the online Customer Web Portal as well as an advanced app for smartphones. Features include Automatic Crash Notification, Manual Emergency Call, a feature that allows for quick access to customer specialists at the touch of a button; Roadside Assistance,  and Stolen Vehicle Location Assistance.
Other new features for 2016 model year include a remote vehicle access, remote door lock and unlock, remote honk and flash (of lights), last parked location information, and remote status check (doors and windows). Subscribers can send a location to the navigation unit and get agent destination assistance.
Family Guardian, includes speed alert and boundary alert, which lets you know when the vehicle has traveled outside of a pre-set virtual boundary.
Diagnostics and maintenance information is also available through Car-Net.
For e-Golf drivers, customers can access the vehicle's climate control system remotely in order to pre-heat or pre-cool the vehicle before they return (saving energy).  EV drivers can set up remote charging times right through the mobile app or Customer Web Portal. Driving data is also available
Available later this year, the VW Car-Net app for Apple Watch will allow VW customers to control a host of features and functions available through the iPhone app and Customer Web Portal, directly from their wrist. Apple Watch wearers will also be able to receive alerts directly to their Apple Watch from the app.
Drivers of gas and TDI Clean Diesel Volkswagen models can check their fuel level, while those driving the all-electric e-Golf will be able to monitor their current charge and estimated driving range, turn charging on or off and access climate control features, all from the Apple Watch.
For 2016, four head units will be available (depending on the trim level of the vehicle), all of which offer more connectivity, services, and convenience when compared to outgoing models.
Entry-level VW models will feature a Composition Color touchscreen radio with a 5.0-inch resistive 400 x 240 color display. Standard features include AUX-in, SD card slots, and a USB multimedia interface with Apple iPhone and iPod compatibility, reverse camera display, and Bluetooth technology.
The Composition Media unit adds an 800×480 capacitive color touch display with proximity sensor, with either a 6.5-inch screen for the Golf family or a 6.3-inch screen for all other Volkswagen models. Services include App-Connect smartphone integration, Bluetooth, text messages, sync two phones simultaneously, two SD card slots, and a JPEG viewer, SiriusXM Radio, HD Radio and support for lossless audio file format (Free Lossless Audio Codec FLAC).
Higher trim levels feature the Discover Media unit that adds 2.5D Navigation, one-shot voice destination entry, additional electric vehicle functions, predicts possible destinations based on often used routes, and Destination Entry with Quick Search and Auto-complete, and Car-Net Guide & Inform.
For 2016, the e-Golf SEL Premium model will receive the Discover Pro unit which adds an 8.0-inch color capacitive touch display, one-shot Point-Of-Interest (POI) entry, 3D SSD navigation, Jukebox music storage with approximately 10GB of available storage, wireless connectivity, even more electric vehicle functions such as range check and range view in the map, DVD drive, and a simplified route editing features for the navigation which allows the user to drag and drop waypoints directly on the display.
The news release states "Instead of trying to control all connectivity development, Volkswagen has moved away from what has become an industry norm by collaborating with technology industry leaders to identify and integrate the latest innovations into VW products."