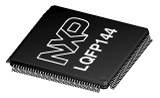 There are several new IoT tech announcements,  new processors with security from NXP and Freescale. ARM announced an IoT kit with Bluemix IBM. Redbend announced Redbend 10 with Over-the-Air updates for the automotive market.
NXP ESP
NXP Semiconductors announced two new microcontroller families, LPC18Sxx and LPC43Sxx, to help embedded developers secure application code and data messages in connected applications against threats such as theft and cloning.
The new microcontroller families add support for secure boot and secure messaging to the long list of advanced control, high-speed connectivity, display, advanced timing, and flexible peripheral features for which the popular LPC1800 and LPC4300 series are known.
The LPC18Sxx and LPC43Sxx microcontroller families are well suited for any 'connected' application including automotive aftermarket and many more.
Freescale Scales Security
Freescale Semiconductor announced availability of the i.MX 6SoloX, a highly integrated, multi-market applications processor enabling secure connected home, Internet of Things, and connected vehicles applications.
Robust security is incorporated in the i.MX 6SoloX. The SoC incorporates cryptographic cipher engines and a configurable resource domain controller that allows peripherals to be locked or shared by the CPU cores. Augmenting the domain controller is a secure messaging semaphore unit that enables cooperative, multi-OS software to safely access shared peripherals. The processor also features robust physical security, including advanced secure boot and protected data storage.
ARM Arms Bluemix
ARM announced the ARM mbed IoT Starter Kit Ethernet Edition, which is designed to connect devices to IBM's Bluemix cloud platform.
The combination of a secure sensor environment by ARM with cloud-based analytics, mobile and application resources from IBM will allow fast prototyping of new smart products and unique value-added services.
Rebend 10 Around the Bend
Redbend, announced the availability of Redbend 10 for the automotive market.
With Redbend 10, automotive OEMs can update all models of a vehicle in its entirety. Now, for the first time, all the components in vehicles needing an update, including those with infotainment systems (IVI), electronic control units (ECUs) and telematics control units (TCUs) running dissimilar OSs, with different levels of resources, from different suppliers and connected via different network types (WiFi, cellular, USB, ODB2 and in-vehicle busses), can be updated with one campaign.
Redbend 10 also brings client rule engine script control to the automotive industry. In January HARMAN acquired  Israeli-based Red Bend Software.