The 2015 Chevy Volt is revolutionary and evolutionary— a divine mash-up of an electric compact car combined luxury connected car high-tech features and ride.
After driving a Chevy Volt for a week and talking to friends who shared their comments, I have finally been able to synthesize the essence of the Chevy Volt. The Chevy Volt's ride is a smooth as several classes of cars above it while it zips around town with sporty panache. Many electric and plug-in car owners find they have to adjust to a different style of driving. The Chevy Volt maintains its "carness," while being quiet, smooth and fast, like flying. The person who best described the ride was my mechanic who specializes in luxury cars.
"I love this car, two of my buddies bought it, it drives like a Lexus or Toyota Avalon, it's so smooth. It  accelerates fast, you're at 70 mph with no trouble at all on the freeway."
Previously, when I was at an electric vehicle test event, the electric car that stood out to me as being the most like an "American car" was the Chevy Volt. When I say American car, I mean high-powered  American cars, before that 70's Oil Crisis, sedans that took to the road like a sail boat, gliding fast but steady as in calm water.
The Chevy Volt is not just a luxury sedan that fits in a compact body. It has a vast array of technology features with two 7″ inch screens with more control buttons than the Star Trek Enterprise and remote start OnStar RemoteLink app for five years (see separate reviews of  infotainment/smartphone/connectivity and OnStar RemoteLink app).
The Many Modes of Volt
On the dash, you can change the mode and style of driving. If you don't like the smooth feel of a luxury sedan, you can change the mode to Sport mode which is not energy efficient but the Volt becomes more responsive and handles better.
The Volt has great pick-up and the power to go from 0-60mph in 9 seconds with a top speed of 100 mph.
You don't have worry about the Chevy Volt having enough power to climb a mountain either, because mountain mode keeps extra charge in the battery ready to supply the extra verve to take 270 degree turns on a high grade at 35 mph. (See Video/Map)

The Chevy Volt shares some of its body style with the Chevy Cruze but with a hatchback, spoiler and electric car trim, which gives it a bit of a hipster style. The best part about the Chevy Volt, it is rechargeable with an estimated 38 electric miles and has a range-extending gas engine giving the Volt up to 380 total miles.
Is the Chevy Volt a Plug-in Hybrid or Not?
The Chevy Volt is called an extended range electric vehicle, it is not a plugin-in hybrid. There is a four-cylinder gas energy engine that powers the electric drive when you run out of battery charge.
The seven-inch screens behind the wheel (instrument cluster) and in the console (head unit) help keep you aware of how many miles of gas or battery charge you have left at all times. On top of that you can, check the fuel and battery status from the OnStar RemoteLink app or on online at myVolt.com.
A lady who saw me charging the Volt at Whole Foods asked, "Can that go to San Diego?" My answer was "Yes, because after I run out of electric battery power, it will run off gas."
When in electric mode the car is VERY quiet and when the gas motor is powering it, it is whisper quiet, the engine has a low bass pitch like an ocean sound machine. It's a different kind of engine, it doesn't sound like the gasping and chugging with higher revolutions as you go faster, its sounds more like a hum in the background. That's because the engine is not powering the wheels of the car, it is powering electric current for the Voltec powertrain.
Charge of the Volt Brigade
The Volt comes with a 120 Volt charger that when plugged into a regular household outlet should charge in about ten to 16 hours. If you install a 240 charger or take it to a 240 charging station it can charge in as little as four hours. Prices for installing a charger vary, in general around $2,000 or more for a 240V charger. Additional rebates from electric companies are available.
I found a two free Volta 240 Volt charging stations at my Whole Foods Market and was able to top off power while I shopped. There was usually a charger free, except at dinner time. I located ChargePoint charges that you pay for where available when I needed them. The most convenient way to charge was in my garage. Since the outlet is on the ceiling we hung up the cord with a bicycle hook and then secured the plug to the outlet with a tie.
A green light on the dash turns on while the Volt charges. New Volt owners should be warned that if you unplug your Volt without the key fob present an alarm will sound. This is to notify the owner of non-planned disconnections.
When You Brake Right You Power More
To be more efficient, the Chevy Volt uses regenerative breaking which means that when you brake, you can give power back to the battery.  In gas-powered cars, I tend to lift my foot off the ground to press the brake hard. With regeneration breaking, I found that if I kept my heel on the floor and lightly depressed the brake pedal with my toes, it was the right style to keep the ball in the most energy-efficient range without bouncing.
Don't Damn the Dam of Aerodynamics
The Volt has great aerodynamics for energy efficiency, with a closed grille, rounded front, and a ground air dam (with only 4-inch allowance). The features helps reduce power use. The air dam sometimes causes the use of the other "damn" word because coming out of driveways, it often scrapes the ground. This will be fixed in the 2016 Chevy Volt.
The Cult of Volt
Once you see that you may never have to stop a gas station again and when you are in electric mode, there are zero emissions, making a better planet, you start on a mission to save the world. I found my clean energy use to be addictive. Such is the case with the Volt-aholics, who drive tens thousand of miles without emitting any toxic emissions and barely any gas miles, then share their stats with the world through the Volt Driver Challenger App or online Volt Stats. The current leader claims to get 7,636 miles to a gallon of gas.
The Volt has a pressurized gas tank that will alert you about every 6 weeks, to run the engine to keep it properly maintained and lubricated. It will also alert you that the engine will run to use up some of the older gasoline in the tank (over one-year old).
Chevy advises if you are not using fuel regularly, to consider keeping the tank only 1/3 full. Excess fuel weight impacts efficiency and range.
Battery Packs Stacked for Ride
The Volt's Li-ion battery holds its charge efficiently and has no memory effect, which means you don't have to run it down completely before recharging. The Volt's battery is designed for long life and to be reliable. Each battery pack is made up of more than 288 prismatic cells arranged in a series-parallel configuration. The onboard computer systems monitor the battery cells to make sure every cell is working correctly.
How Long in Years or Miles is the Battery Life of a Chevy Volt?
One of the thing that scares electric car buyers is the life of the batteries. Battery replacements could be expensive. Batteries last longer when they are kept at the right temperature. The Volt batteries are conditioned by liquid thermal cooling and heating system.
According to the Volt FAQ, "depending on use, the battery may degrade as little as 10% to as much as 30% of capacity over the warranty period (8-year, 100,000-mile warranty in most states). So far, an independent report indicated that thermally conditioned batteries are averaging more than 90% at 100,000 miles.
A unique feature of the Volt is that if the core Li-On batteries are not working, the Volt can run in Hold Mode powering the car with the extended range gas engine. There is a separate standard starter battery that can start the car.
If you never charge the batteries, that Volt will run just fine, reports the Volt FAQ, but you will spend money on gas.
Battery Weight Means Smooth Ride
The batteries are placed in the middle of the car and are protected by structure around them. The batteries add weight to the car and also stabilize it, giving the Chevy Volt a low center of gravity and a steady pleasant ride.
If you are ever in a car accident with a battery powered car, first responders should be able to deal with the batteries. In fact, electric vehicles in most cases are safer than gas-powered cars.
Entertaining with Warm Comfy Seats
The head unit infotainment system which we reviewed separately worked with every smartphone and iPod we could find as well as offered at least two ways to accomplish every task either on the touchscreen, the buttons on the console, buttons/wheels on the steering wheel or console. It played USB audio, connected phones with Bluetooth and Siri Eyes Free worked with iPhone iOS 8.1.3.
Remote vehicle starting system and keyless access and ignition were very handy. The OnStar RemoteLink app worked well.(read separate review).
Seating for Little to Large
The front bucket seats were adjustable and my 5'2″ body fit fine as well as men up to 6′ 1″. If I moved the seat too close to the steering wheel, I had trouble seeing the 7″ screen in the center. The seats are designed for 5th percentile females up to 95th percentile height males. Basketball players may not fit or see comfortably.
Some reviewers didn't like that due to the center position of the batteries, there are only two back seats that some call small. So, I made my six-foot-one two-hundred and fifty-pound neighbor sit in the back seat who said, "It's not bad I didn't hit my head." He had about one inch of clearance. The next version of the Chevy Volt will have seating for the three in the backseat.
The front seats are equipped with seat warmers which are much more efficient than using the fan and heater. We found that the seats heat up very quickly and keep you warm. The next version of the 2016 Chevy Volt will have both front and back seat warmers.
ADAS Safety Features
The Chevy Volt, we tested came with some premium packages  ENH Safety 1 rear vision camera with self-dimming mirror ($595) and ENH Safety #2 with Front Park Assist, Forward Collision Warning and Lane Departure Warning ($595) .
Backup Camera & Self Dimming Lights Package ($575)
The self-dimming mirror was a nice feature for night driving. I was not able to look at my-self in the dimmed mirror. However, there is a traditional lighted vanity mirror in the visor, to use instead.
The rear view camera with parking assist was very helpful to see what is below the trunk because of the hatchback design. Backup cameras also helped me navigate around parks with a lot of children and parallel parking.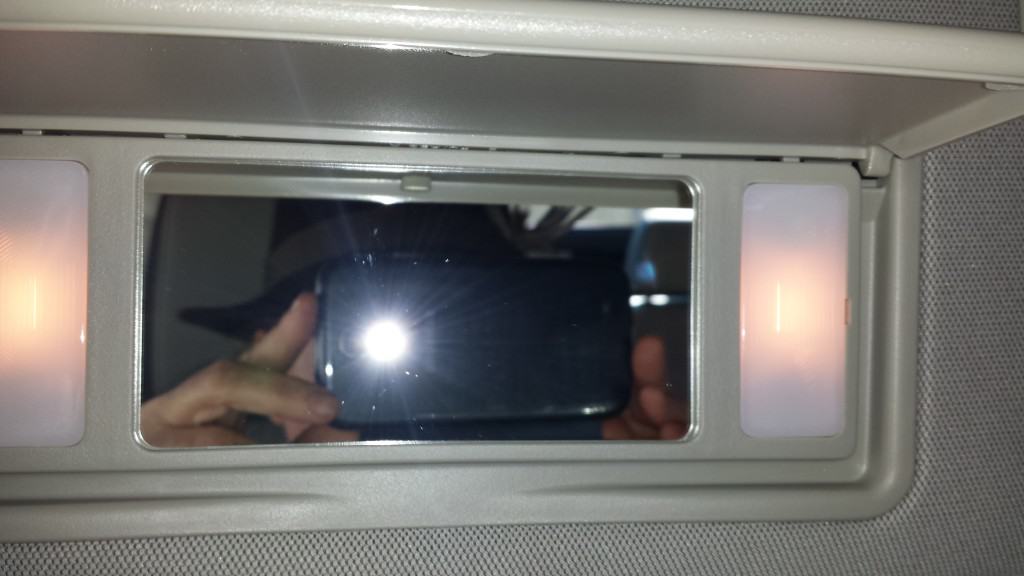 Park Assist & Pedestrian Alert ENH #2
When you are parking at less than 5mph, you will hear beeps to help avoid objects four-feet in front the car, eight feet behind it and 10 inches off the ground. In reverse both sensors high tone front bumper and low tone back, beep more frequently closer to the object. For street parallel parking, this feature with the rear view camera was very helpful. At first, the beeps are jarring, but then you get used to them. I found that my cluttered garage set off all the beeps. I am however used to navigating through the piles of old UPS boxes and yard equipment.
Pedestrian Alert makes a noise to warn pedestrians when you are  driving at less an 40 mph because the Volt is so quiet.
Forward Collision Alert lets the driver know when the car is following closely using a camera at above 25 mph. Sensitivity is controlled by the driver. I seldom receive alerts while driving, however, some of our associates who drive fast heard a few quick beeps. Lane departure warns if you drift out lane above 30 mph, with symbol flashes and chimes.
Trunk Could be Debunked by Shopping Bags or Poodles
The two bucket back seats fold down for a larger cargo area. We have heard that Chevy Volt owners have been able to fit a set of kitchen cabinets in the area with the seats folded.
There is a lower window below the back window that looks like peep-hole for better rear vision. There is a stretchy fabric hammock(cargo cover) above the storage area to hide the trunk's content. The only problem I could see is when I put a large Nordstrom shopping bag in the trunk, it moved the cargo cover so that it blocked window.
The truck space can be accessed by passengers or pets which could be a problem. Often parents may lock things the trunk they don't want the kids to play with. A dog left in the Volt may eat unprotected groceries. The problem could be rectified by putting a container with lid in the trunk or a suitcase to hold items or by buying a pet barrier product.
Due to the batteries taking up the bottom of the trunk there is no spare tire. An inflator kit with tire repair liquid fits in the trunk, the repair feature will not work on wall punctures.
Other Interesting Nice Touches
The Chevy Volt has some premium styling and other features, normally not
found on compact or mid-size cars. There is a handy storage area on the dash that is perfect for eye glasses or sunglasses with a place to sync the Universal remote feature for your garage door opener to the car, eliminating the need for the garage door opener. This kind of feature usually found in high model luxury cars like BMWs.
The windshield wipers overlap, clearing away rain for a wider range of vision. The window defogger in heat mode worked the fastest, we've ever seen. There is an umbrella holder built into the front doors.
The Leather-wrapped steering wheel makes it pleasant to the touch under all temperatures.
Automatic climate controls for both heating and air conditioning were very comfortable. Once you set the interior temperature, the climate control automatically turns on to keep the cabnin as the set temperature. However, we did notice the more we used the fan the more energy it consumed from the battery. The only hard button controls are for the fan, not the temperature, the new 2016 will have a climate control button.
The Chevy Volt was awarded Top Safety Pick from IIHS and five-stars from NHTSA.
OnStar 4G LTE worked in remote areas, driving on the freeway and parked receiving accolades five-star reviews. In fact, I met one delighted Chevy Volt owner who waited for the 2015 model in order to get 4G LTE access. He is a printer and used the Wi-Fi hotspots frequently while making deliveries to customers.
The Chevy Volt model that provided by GM had premium packages on top of the base price of that starts at $34,170. In cold climates heated seats that cost around $200 are recommended. We are seeing discounts of around $2,000 – $3000 from Edmunds.com and greater reductions(as much as $4,000) from TrueCar with the highest discount at close to $7000 for a new Chevy Volt 2014. There is an additional $7500 tax credit from the Federal government and additional rebates in some states. TrueCar shows a reduction of green cars due to the low price of gas.
Reviewers in the past, did not like the price of the Chevy Volt which has been reduced. The Volt received awards for safety, and was named best by KBB and 2014 top safety pick. The closest competitor is the a Prius which doesn't handle as well and has a whole different driving style. I drove a 2015 Prius at the LA Auto Show and it was not as easily maneuverable, the Toyota guy grabbed the steering wheel from me while I was parking. The Prius, does however have a larger cargo area. The Volt is slightly wider than the Prius and shorter than the Nissan Leaf.
While test driving the Chevy Volt, every where I went, people loved it. They loved the concept of not being tied to oil cartels. EV-thusiasts are thrilled and rate the car better than professional car reviewers. I started seeing something I haven't seen in years. Back in 2009, GM was in bankruptcy, they asked the United States government for help. The U.S. helped to fund electric battery research. We got rid of the old beat-up American sedans with "Cash for Clunkers." There was a sense that we lost hope in American ingenuity. While driving the Chevy Volt, I was seeing something I missed so much, a sense of pride – a sense of pride in America.
———
Standard Chevy Volt Interior Features Include:
Color touch screen AM/FM stereo with CD player and MP3 playback, includes seven-inch-diagonal color touch-screen display
USB audio interface port
SiriusXM Satellite Radio and Travel Link with a three-month trial
Bluetooth phone connectivity
Automatic climate control.
MyVolt.com vehicle connectivity.
Three auxiliary 12-volt power outlets – one in the front center console, one in the rear console and one in the upper instrument panel storage bin
Remote vehicle starting system.
Interior seat color combinations: Jet Black with Ceramic White accents, Jet Black with Dark accents and Pebble Beige with Dark accents.
Available interior features include:
Navigation and Bose Premium Audio Package (requires Premium Trim package) includes color touch AM/FM stereo with CD player and MP3 playback capability, GPS navigation, USB port, seven-inch diagonal touch screen display, Radio Data System and Bose energy-efficient, seven-speaker sound system
Heated driver and front passenger cloth seats – very important for saving battery power in cold climates.
Premium trim package includes leather-appointed seat trim, heated driver and front passenger seats and rear seat armrest.
Safety Package 1 includes auto-dimming inside rearview mirror, rear vision camera and rear park assist
Safety Package 2 is available when Safety Package 1 is ordered, and includes front park assist, forward collision alert and lane-departure warning to help drivers avoid potential collisions.