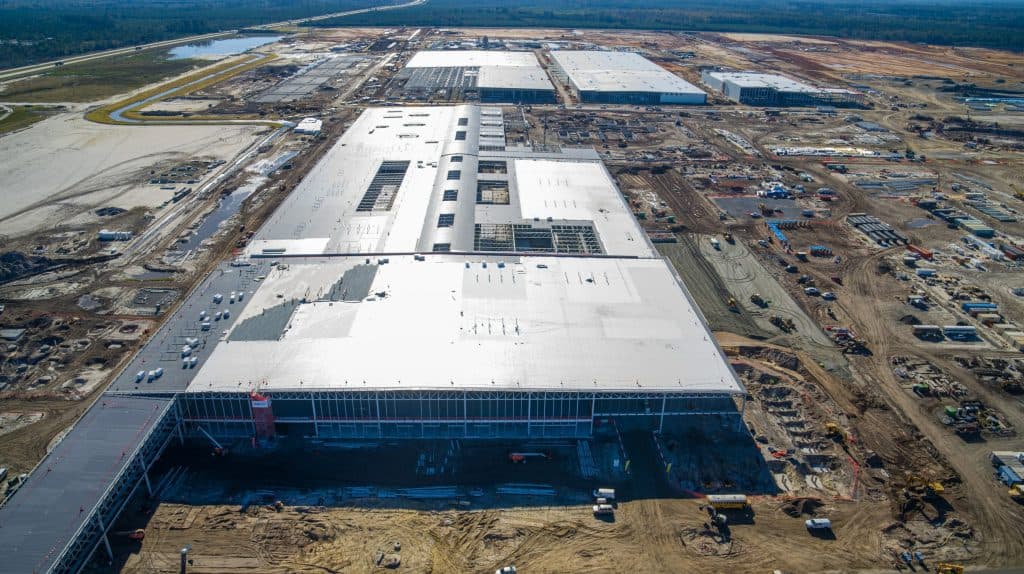 Hyundai Motor Group Metaplant America (HMGMA) celebrated the one-year anniversary of its groundbreaking in Bryan County by officially releasing the latest design renderings of the electric vehicle and battery manufacturing facility, also known as the Metaplant. Additional project-related updates and employment statistics were also shared.
"The site is advancing every day as we work diligently to complete what will be one of the most advanced vehicle assembly and battery plants in the world," said Oscar Kwon, CEO of HMGMA, "We are on track to start production in early 2025, or as my colleague José Muñoz likes to say, 'if not sooner.'"
Approximately 2,000 construction workers are working at the nearly 3,000-acre megasite site to keep the project on target. Construction has already begun on all HMGMA production-related buildings with 99.9 percent of all foundation work complete. As of today, an estimated 81 percent of the steel framing has been installed, using 27,045 tons of steel. Roof, floor and wall construction has also begun and is in varying stages of completion.
When designing the Metaplant, architects worked to find a design that would not only incorporate technologically advanced elements but also design features that represent Hyundai's brand identity, the greater Savannah area, nature and renewable energy.
"We are extremely pleased with the design of our state-of-the-art smart plant and are eager to see the finished product," Kwon said. "It is as important for us to create a comfortable and welcoming work environment for our Metaplant employees, also known as Meta Pros, as it is for us to create an energy efficient and technologically advanced plant. It is essential for our Meta Pros to be happy, comfortable and safe in their work environment for long-lasting careers with HMGMA."
The exhibition hall at the front of the plant was designed as a square to pay homage to the historic squares in downtown Savannah. The building will be an exhibition space with its own central courtyard and water features that will be used for artful exhibitions and tour meetings.
All the work zones, from office to production areas, have been designed to encourage communication and build team collaboration. The designs will feature open layouts with ample daylight and indoor landscaping. Production areas, such as those in the Assembly Building, will have respite zones with naturally lit skylights at the center of the building and can be used for employee breaks and meetings.
A solar parking lot at the front of the site will provide 5.2 megawatts of energy. The solar panels will be positioned over the top of the 1,878 vehicle spots, protecting the vehicles from direct sun while also generating power.
Beginning with the start of mass production, the electricity used to power the Metaplant will come from 100 percent renewable sources, aligning with Hyundai's commitment to carbon neutrality by 2045.
The 3,050-foot-long front exterior of the building will be lit in two parallel lines, inspired by a stream, and will outline an area where interstate travelers can view the vehicles as they travel by conveyer from paint to general assembly.
Prominently featured in front of the Metaplant will be a 41-acre ecological park that includes trails, running tracks, environmental art displays, sports fields, picnic areas and a pond – all for Meta Pros to enjoy before or after work.
Although construction is still ongoing, HMGMA is hiring for all positions from production to administrative roles. The company currently has hired 290 Meta Pros, (182 salary, 108 hourly). An additional 53 are South Korean expatriates who are assisting with initiating operations. At full capacity, 8,500 employees will be employed on-site between HMGMA, the battery JV and on-site suppliers. In total, 14,476 will be employed between the Metaplant campus and all off-site suppliers. Those interested in applying to be a Meta Pro can apply at careers.hmgma.com.