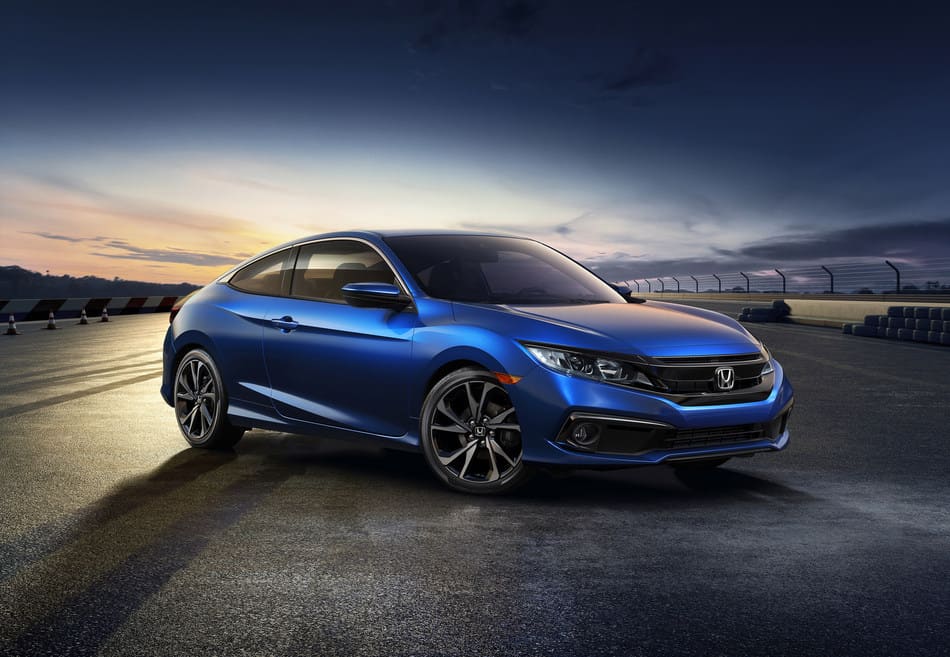 It's the time of year when publications, organizations and others announce their awards for the best car, truck and SUV awards.  Included in the winners are the Honda Civic, Honda CR-V, Honda Accord, Hyundai Kona, and more. Top brands include Porsche, Lexus,  INFINITI, MINI, GMC and Buick. We listed all the winner here to help car buyers see all the winners to help make car-buying decisions.
Car of Year Finalists
MotorTrend announced its finalists for "Golden Calipers" for Car of the Year, Truck of the Year, and SUV of the Year.
2019 MOTORTREND Car of the Year Podium Finalists
Twenty all-new or significantly updated cars with 36 variants representing the 2019 model year were in contention for MOTORTREND Car of the Year. After a week of exhaustive testing and evaluation at the Hyundai-Kia California Proving Grounds, three podium finalists were chosen:
Genesis G70
Challenging the long-standing European hegemony in compact luxury sedans, the G70 features punchy powertrains that support an agile, sporty chassis that's a ton of fun, wrapped in classy exterior styling with strong graphics, and a well-appointed interior. Hyundai's luxury brand has created a premium car that is very good at almost everything.
Honda Insight
This affordable, smartly packaged hybrid boasts thoughtful style and storage solutions, seamless/silent adaptive cruise control performance, and beautiful road manners. The Insight's lane-keeping assist is among the industry's best, while its smooth ride isn't just tops among hybrid vehicles—it's better than that of many luxury cars. Oh, and it gets 50 mpg without trying hard.
Volvo S60/V60
A fresh, modern interior with supremely comfortable seats and a thunderous Bowers & Wilkins stereo gives the platform-sharing Volvo S60 sedan and V60 wagon top marks. The base 2.0-liter turbo delivers solid all-around performance, meaning you don't have to pay extra for power. The V60's styling is so cool it could prompt a resurrection of the wagon.
2019 MOTORTREND Truck of the Year Podium Finalists
Based on testing staged from Fiat Chrysler Automobiles' Arizona proving grounds, the three podium finalists for MOTORTREND's 2019 Truck of the Year represent the best of Detroit's truckmaking capabilities
Chevrolet Silverado
With a fabulous new exterior design, a fancy cylinder deactivation system, and an automatic trailer light test, the 2019 Chevrolet Silverado 1500 shows great improvement. Every judge applauded the smoothness of the High Country's 10-speed automatic transmission. Rear bumper corner steps and three cargo hooks at each bed corner are great for functionality.
GMC Sierra
The MultiPro tailgate, adaptive ride control, and the late-available carbon-fiber bed help differentiate and elevate GM's premium truck. The 6.2-liter growls and pulls hard, and combined with the 10-speed transmission, it provides a powerful drive. A big, clear head-up display, sharp, flat handling, and excellent body control while towing will be a boon to long-distance cargo hauls.
Ram 1500
The styling of the Ram is best-in-class: very sophisticated and well executed without going over the top. More impressive is an interior outfitted with the tools needed for both work and play. Coil-spring dampers and an optional air suspension provide a luxury car-like ride, and segment-first mild-hybrid powertrains boost both power and fuel economy.
2019 MOTORTREND SUV of the Year Podium Finalists
Automakers are developing powertrains that are smaller, smarter, more efficient, and more complex, making the SUV of the Year contest that much more challenging for the judges. Testing was staged out of Honda's proving grounds near Mojave, California, and after lengthy deliberation, three podium finalists were chosen from a field of 26 nameplates representing 36 variants:
Jaguar I-Pace
The first all-electric SUV with adjustable ride-height for added off-roading capability, the I-Pace boasts about 200 miles of real-world battery range. Arguably the best-looking and most original automotive design in years, the I-Pace is a lovely handling machine with fantastic traction and instant electric power and torque—a rocket on the road.
Jeep Wrangler
The Wrangler is a thoughtful, thorough rework of an American original, configured to suit the ambitions of the off-roading neophyte and expert alike. The Wrangler is what crossovers want to be when they grow up, while resisting the temptation to dilute its climb-that-mountain capabilities for crossover softness.
Volvo XC40
With jazzy, fun styling to appeal to millennials, the XC40 offers a great package, and a ride that drivers of any age can appreciate. The familiar turbo-four engine and eight-speed automatic transmission provides quick acceleration, while the chassis delivers spirited steering response. The XC40 has an impressive array of safety features to go with its pugnacious swagger.
More Satifaction
Overall satisfaction in several studies is generally higher among customers who communicate via text message. In the 2018 U.S. SSI Study, overall buyer satisfaction is 19 points higher among customers who texted with their selling dealer (839) than among those who did not (820). Other J.D. Power studies show increases in satisfaction when customers communicate via digital channels/text message vs. traditional phone calls, such as the J.D. Power 2018 U.S. Customer Service Index (CSI) StudySM (+29 points) and the J.D. Power 2018 U.S. Electric Utility Residential Customer Satisfaction StudySM (+26).
Following are some of the key findings of the 2018 study:
Implementation of cross-channel communication is beneficial: Face-to-face communication is still the most common method for customers to connect with their selling dealer: 89% of the time in the luxury segment and 90% of the time in the mass market segment. However, satisfaction is higher when buyers email, call or text with their dealer personnel, indicating that using additional communication channels helps to increase customer satisfaction and improve understanding and engagement. Among additional channels, text messaging is used least often (21% by luxury dealers and 15% by mass market dealers), but satisfaction is highest among buyers who text with the dealer.
When dealers text, customer satisfaction increases: Dealers using text messages are getting ahead of most of their competitors and are creating more satisfied customers. Luxury dealers use email and text messaging more frequently than mass market dealers (25% and 21% of the time vs. 17% and 15% of the time, respectively), so mass market dealers have an opportunity to increase engagement through these channels.
Use pre-visit communication effectively: A significant number of buyers make first contact with their dealership through a variety of channels before visiting the dealership in person. These early interactions can have a noticeable effect on the buying experience. Overall, only 8% of buyers communicate with their dealer via text message before visiting the dealership. Gen Y and Gen X buyers (11% and 10%, respectively) are more likely to text before visiting than Boomers and Pre-Boomers (6% and 3%, respectively). Overall buyer satisfaction is higher among buyers who text before visiting (850) than industry average (823), further stressing the importance of text messaging communication. Among buyers who communicate with a dealer before visiting, it is critical that pre-visit information be used effectively during the in-dealer experience. Overall satisfaction among buyers who say their dealer is "very effective" in using the information provided pre-visit is 875, compared with just 715 among those who say their dealer is only "somewhat effective."
Proactive follow-up after vehicle delivery improves satisfaction: Key Performance Indicators are dealership processes that have the greatest effect on the sales experience and overall satisfaction scores. An area in which dealers can improve is after the delivery process is completed. The study finds dealerships only contact customers post-sale 79% of the time to ensure that everything with the sales process was satisfactory with this important, large-ticket purchase. When contact is made, satisfaction improves by 38 points.
Brand Sales Satisfaction Ratings
Porsche ranks highest in sales satisfaction among luxury brands, achieving a score of 828. Infiniti ranks second with a score of 824 and Lexus ranks third with 823.
MINI ranks highest in sales satisfaction among mass market brands, achieving a score of 798. GMC ranks second with a score of 797, while Buick and Chevrolet rank third in a tie with a score of 792.
The U.S. Sales Satisfaction Index (SSI) Study—redesigned in 2017 and now in its 32nd year—measures satisfaction with the sales experience among new-vehicle buyers and rejecters, who are those who shop a dealership and purchase elsewhere. Buyer satisfaction is based on six measures: dealer personnel (28%); delivery process (21%); working out the deal (18%); paperwork completion (16%); dealership facility (13%); and dealership website (4%). Rejecter satisfaction is based on five measures: salesperson (40%); fairness of price (15%); experience negotiating (15%); variety of inventory (15%); and dealership facility (14%).
The study is based on responses from 25,748 buyers who purchased or leased their new vehicle in April or May 2018. The study is a comprehensive analysis of the new-vehicle purchase experience and measures customer satisfaction with the selling dealer (satisfaction among buyers). The study also measures satisfaction with brands and dealerships that were shopped but ultimately rejected in favor of the selling brand and dealership (satisfaction among rejecters). The study was fielded from July through September 2018.
Pre-Owned Values
ALG, the benchmark for forecasting future vehicle values, and the analytics subsidiary of TrueCar, Inc. announced the winners of the 2019 Pre-Owned Value Awards (POVA), ranking Subaru and Jaguar as the top Mainstream Brand and Premium Brand across the board.
The 2019 POVAs are awarded to vehicles with the lowest forecasted depreciation from two years of age to five years of age, during the period 2018-2021. Vehicle segmentation is based on ALG's proprietary automotive segmentation, which takes into account information such as vehicle size, transaction price, and cross-shop information. The awards will be highlighted at Used Car Week.
"With both Certified Pre-Owned (CPO) sales and used vehicle values transacting near record highs, the importance of retained value among used vehicle shoppers is more important than ever," said Eric Lyman, SVP of ALG.
"New vehicle transaction prices and rising interest rates are making late model CPO vehicles a more attractive option for traditional new car buyers. ALG's Pre-Owned Value Award measures depreciation and resale value, two leading drivers of purchase consideration in the new vehicle market, and applies them to used vehicles, creating a beacon for value-oriented buyers," continued Lyman.
Nissan leads with three vehicle segment awards for the first time, unseating Toyota with the GT-R, Quest and Altima in the Premium Sportscar, Minivan and Midsize segments.
Although unseated as the overall Premium Brand winner by Jaguar, Mercedes boasts three awards in the Midsize Commercial, Fullsize Commercial and Premium Midsize segments.
Award winners are determined through careful analysis of used vehicle performance, brand outlook and product competitiveness. Eligibility for a brand award requires a manufacturer to have vehicle entries in at least four different segments. To account for differences across trim levels, model averages are weighted based on percentage share relative to the entire model line.
Below is the full list of 2019 POVA winners:
| | |
| --- | --- |
| POVA Overall | Brand |
| Mainstream | Subaru |
| Premium | Jaguar |
| POVA Segment | Model |
| Electric | Volkswagen e-Golf |
| Compact | Volkswagen Golf |
| Compact Utility | Subaru Forester |
| Fullsize | Ford Taurus |
| Fullsize Commercial | Mercedes-Benz Sprinter |
| Fullsize Pickup | GMC Sierra 1500 |
| Fullsize Utility | Chevrolet Suburban |
| Midsize | Nissan Altima |
| Midsize Commercial | Mercedes-Benz Metris |
| Midsize Pickup | Toyota Tacoma |
| Midsize Utility 2nd Row Seating | Subaru Outback |
| Midsize Utility 3rd Row Seating | Toyota Highlander |
| Minivan | Nissan Quest |
| Off-Road Utility | Jeep Wrangler |
| Premium Compact | BMW 2 Series |
| Premium Compact Utility | Land Rover Ranger Rover Evoque |
| Premium Executive | BMW 7 Series |
| Premium Fullsize | Hyundai Genesis   |
| Premium Fullsize Utility | Lexus LX |
| Premium Midsize | Mercedes-Benz C-Class |
| Premium Midsize Utility 2nd Row Seating | Infiniti QX70 |
| Premium Midsize Utility 3rd Row Seating | Acura MDX |
| Premium Sportscar | Nissan GT-R |
| Sportscar | Chevrolet SS |
| Subcompact | Kia Rio |
| Subcompact Utility | Honda HR-V |
About ALG
Founded in 1964 and headquartered in Santa Monica, California, ALG is an industry authority on automotive residual value projections in both the United States and Canada. By analyzing nearly 2,500 vehicle trims each year to assess residual value, ALG provides auto industry and financial services clients with market industry insights, residual value forecasts, consulting and vehicle portfolio management and risk services. ALG is a wholly-owned subsidiary of TrueCar, Inc., a digital automotive marketplace that provides comprehensive pricing transparency about what other people paid for their cars. ALG has been publishing residual values for all cars, trucks and SUVs in the U.S. for over 50 years and in Canada since 1981.
Kelley Blue Book Best Buys
Following head-to-head testing and evaluation of 2019 model-year vehicles, the experts at Kelley Blue Book announced the 2019 Best Buy Award winners. Kelley Blue Book's Best Buy Awards honor the top new model-year vehicles available in the U.S. market in 14 major categories, along with a brand-new category for 2019 – Best New Model – with the Volvo XC40 taking home this top honor.
To aid new-car buyers in their quest, Kelley Blue Book curated the Best Buy Awards to help shoppers narrow down their new-car consideration list and purchase their next vehicle with confidence, by identifying the best of all available 2019 models, with a special emphasis on value-per-dollar in both purchase and ownership experience.
"Shopping for a new car can be a daunting task, and with hundreds of options to choose from, it is hard to identify what vehicles earn top marks in pricing, ownership costs, expert evaluation, consumer opinion and more," said Karl Brauer, executive publisher for Kelley Blue Book. "The Best Buy Awards were designed to help consumers shop with confidence by doing the heavy lifting for them and providing clear guidance on which specific car, truck, minivan and SUV models they should be prioritizing and considering for their next new-car purchase."
Starting with the more than 300 new models available for 2019, Kelley Blue Book's annual Best Buy Awards are based on a year-long regimen of expert vehicle evaluation and testing of nearly every new vehicle available in America, along with analysis of a broad array of vehicle-related data, including vehicle pricing, 5-Year Cost to Own data (which includes depreciation, insurance, maintenance, financing, fuel, fees and taxes for new cars), consumer reviews and ratings and vehicle sales information. To be considered for Kelley Blue Book's newest award, Best New Model, the vehicle must be an all-new or redesigned vehicle and offer a strong value proposition to consumers based on pricing, innovation, and available standard technology and safety features.
2019 Kelley Blue Book Best Buy Award Winners
Best New Model: Volvo XC40
Positioned in one of the hottest segments, the XC40, which starts at about $34,000, offers plenty of usable passenger and cargo space on a compact footprint. The XC40 effectively combines modern styling inside and out (we particularly like the two-tone paint scheme treatment) and cutting-edge technology on both the infotainment and safety front, the latter a traditional Volvo talking point.
Compact Car: Honda Civic
With fuel-efficient 4-cylinder engines, an affordable sticker price, and a history of trouble-free service, the Honda Civic continues to serve up 5-Year Cost to Own numbers that are impressive. All-in-all, its combination of low running costs, competitive pricing and great retained value makes a solid case for the 2019 Honda Civic as the Kelley Blue Book Best Buy among Compact Cars.
Midsize Car: Honda Accord
We said last year the Accord "isn't just the finest midsize sedan money can buy, it's the most sophisticated, most advanced and most impressive automobile not wearing a luxury badge." We stand by that statement and the Accord's return to the winner's circle is clear proof of that judgment.
Subcompact SUV: Hyundai Kona
The new Hyundai Kona has won us over with its entertaining driving manners and lively style, not to mention its superb controls, abundant high-tech safety equipment and impressive warranty, highlighted of course by its 10-year/100,000-mile powertrain protection, the best in the business.
Compact SUV: Honda CR-V
Whether you're looking for a safe, practical, easy-to-drive and easy-to-own car for a younger driver or a leather-laden mainstream SUV that could give some luxury vehicles a run for their money, there's a CR-V to fit your needs.
Midsize SUV: Honda Pilot
When you buy a Honda Pilot, you get a lot of useful features for the money. As you own the Pilot, you'll enjoy the comfortable ride – one of many reasons this is a terrific road-trip car — and the family-friendly attention to detail throughout. The Honda Pilot, the Midsize SUV Best Buy of 2019, offers many forms of value from day one, and little to no compromise in the process.
Full-Size SUV: Ford Expedition
The 2019 Ford Expedition has moved away from the ideas of the traditional full-size SUV, advancing the segment in the process. Like the Ford F-150, the Expedition leverages a generous amount of high-strength aluminum in the body and high-strength steel in the frame, innovations that caused the underpinnings and sheetmetal to weigh less.
Minivan: Honda Odyssey
What makes the Odyssey so good? It all starts with the minivan essentials: a solid chassis, seats for eight, a pair of sliding side doors, a spacious cargo area and cupholders galore. And of course, the 2019 Honda Odyssey is loaded with safety features.
Subcompact Luxury SUV: Volvo XC40
The Volvo XC40 is an all-new vehicle, and it has wasted no time shaking up not just the Swedish automaker's lineup, but also the burgeoning segment of subcompact luxury SUVs. In shape, style and attitude, the all-new 2019 XC40 goes its own way.
Compact Luxury SUV: Audi Q5
Shoppers have embraced the second-generation Q5, pushing it to where it sits today — at the top of the luxury compact SUV sales chart. Its success in the showroom, and its aptitude to recurrently capture awards, demonstrates its well-rounded balance of interior space, utility, driving dynamics, technology, safety, and luxury.
Midsize Luxury SUV: Audi Q7
Today's choices in the midsize luxury SUV market abound, but only the 2019 Audi Q7 has risen to the top and earned the distinction of being named KBB.com's Midsize Luxury SUV Best Buy of 2019. At once attractive, practical and modern, the Q7 exudes luxury through subtle sophistication.
Pickup Truck: Ford F-150
The 2019 Ford F-150, our Pickup Truck Best Buy for the fifth year in a row, continues to offer the features and the capability serious truck buyers need, while providing the creature comforts and modern-day tech everyday commuters want.
Performance Car: Hyundai Veloster N
Three laps around the short course at Willow Springs Raceway and the huge-hearted Veloster N had seduced us, even after mixing it up with the best under-$40,000 sports cars every automaker had to offer. To say the Veloster N held its own is an understatement — it didn't just change our minds about what a Hyundai was, it completely rewrote our expectations about how much fun a $30,000 performance car could be.
Electric/Hybrid Car: Honda Clarity Plug-in Hybrid
Starting at just over $34,000, the newest Clarity serves as one car that could please electric-car fans and old-school long-distance road-trippers alike. Best of all, the 2019 Clarity is pure Honda. Imagine your favorite Honda sedan, Accord or Civic for instance, and rest assured the Clarity driving experience is just as rewarding.
Luxury Car: Lexus ES
Completely redesigned from the ground up, the seventh-generation ES sedan is built on the company's Global Architecture-K platform. Compared to its predecessor, the 2019 Lexus ES is longer, lower, and wider, which translates to a more comfortable and stable ride and a more spacious interior.
Edmunds Buyers Most Wanted Awards
Edmunds, the car shopping experts, today announced the 2019 Edmunds Buyers Most Wanted Awards, its annual list of shoppers' favorite vehicles. The awards recognize the most in-demand vehicles in 17 segments, based on sales, days-to-turn and shopper interest data on Edmunds.
"With only three newcomers on the list in 2019, it's obvious that car shoppers are brand-loyal and willing to reward the automakers that stick to winning formulas with their hard-earned dollars year after year," said Ivan Drury, senior manager of industry analysis at Edmunds. "However, this year's list wasn't without a few surprises. The competition in the luxury SUV segment has gotten intense, and compelling all-new entries from Audi and Lincoln ousted perennial favorite Mercedes out of the SUV winner's circle."
Honda dominated the Edmunds Buyers Most Wanted Awards for a second year, holding steady at four vehicles out of 10 in the standard categories. Honda took home honors for the Civic, CR-V, Accord and Odyssey in the Compact Car, Compact SUV, Midsize Car and Minivan segments, respectively. Toyota and Ford came in second in the standard categories with two wins each, and Chevrolet and Chrysler each brought home one. In the luxury categories, Mercedes and Lexus took home two trophies each: Mercedes earned honors for the S-Class for Luxury Large Car and the C-Class for Luxury Compact Car, while the Lexus ES 350 and RX 350 won in the Luxury Midsize Car and Luxury Midsize SUV classes, respectively. Porsche, Audi and Lincoln rounded out the luxury categories with one winner each.
Although the winners were consistent in 2019 compared to 2018, Edmunds analysts say that may not be the case when 2020 comes around.
Edmunds analyzed data from the first nine months of 2018 for all qualifying new models on sale during the entirety of that period to determine the winners in each of the 17 segments of the 2019 Edmunds Most Wanted Awards. For each segment, Edmunds identified which models had the highest levels of two types of shopper consideration based on Edmunds site activity, the highest sales and the lowest average days-to-turn. Edmunds equally weighted each of the data sets to determine the winner in each segment.
In the luxury categories, Mercedes and Lexus took home two trophies each. Mercedes earned honors for the S-Class for Luxury Large Car and the C-Class for Luxury Compact Car, while the Lexus ES 350 and the RX 350 won in the Luxury Midsize Car and Luxury Midsize SUV classes, respectively. Porsche, Audi and Lincoln rounded out the luxury categories with one winner each.
| | | |
| --- | --- | --- |
| Category | Make | Model |
| Compact Car | Honda | Civic |
| Compact SUV | Honda | CR-V |
| Large Car | Chrysler | 300 |
| Large Truck | Ford | F-150 |
| Large SUV | Chevrolet | Tahoe |
| Luxury Compact Car | Mercedes-Benz | C-Class |
| Luxury Compact SUV | Audi | Q5 |
| Luxury Large Car | Mercedes-Benz | S-Class |
| Luxury Large SUV | Lincoln | Navigator |
| Luxury Midsize Car | Lexus | ES 350 |
| Luxury Midsize SUV | Lexus | RX 350 |
| Luxury Sports Car | Porsche | 911 |
| Midsize Car | Honda | Accord |
| Midsize SUV | Toyota | Highlander |
| Midsize Truck | Toyota | Tacoma |
| Minivan | Honda | Odyssey |
| Sports Car | Ford | Mustang |