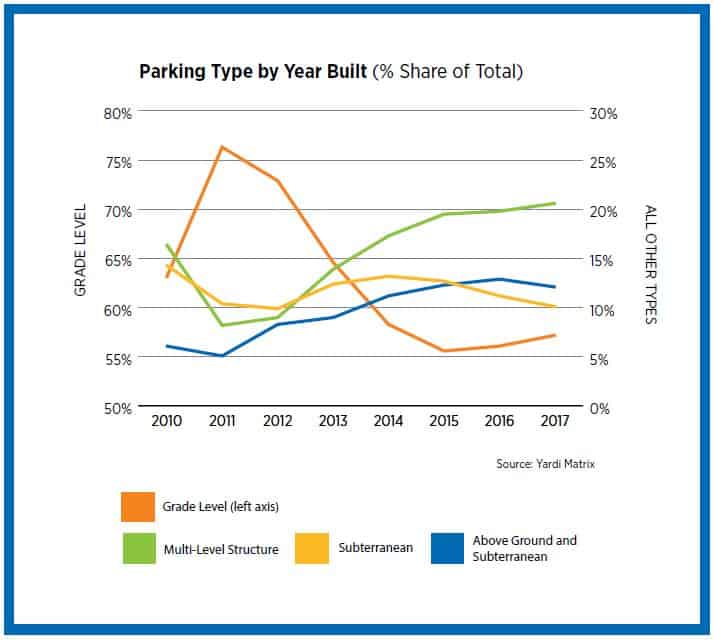 The National Apartment Association (NAA) released  "The Transformation of Parking," an original report examining demand, cost and rent premiums and how these factors are changing the way the rental housing industry views parking.
The ratio of parking spots per unit has been declining for about a decade, with Miami witnessing the largest decline because of the elimination of minimum parking requirements, although a handful of markets, led by Nashville, saw a slight increase.
Average parking ratios for apartment properties with 50 or more units peaked at 1.62 in the 2000s before declining to 1.46 in the current decade, its lowest rate since the 1960s.
The types of structure have also changed, with multi-level parking structures rising due to lack of available land, and many of those new structures also include charging stations for electric vehicles. Parking structure costs also drive up the price of construction, with a hefty price tag that ranges from $30,000 to $75,000 per space, which negatively affects housing affordability.
Changes in parking can also affect what residents pay. Indianapolis residents pay the highest premiums for parking while San Franciscans pay the lowest due to public transportation and rates of car ownership. Other cities paying a higher premium for parking include Houston, Orlando, Philadelphia and Chicago.
As the demand for parking changes, some people are looking toward the future and designing parking that can easily be converted to other uses, while others are putting more emphasis on managing demand rather than managing supply. Some communities are even putting real-time arrival and departure boards for subways, buses and commuter trains in their lobbies while also offering discounted public transit passes.
The percentage of newly constructed apartment properties with car charging stations steadily increased through much of this decade, and has leveled out in the 25 percent range, according to data from CoStar. This trend is expected to continue given the surge in mainstream popularity of electric vehicles beginning in the early 2010s and mass-produced offerings from brands like Tesla, Nissan and BMW. Charging stations have clearly become a more popular community amenity for apartment developers looking to attract residents with specific lifestyle preferences.
"Urban revival is leading to a reduction in the need for parking, with electric vehicles, autonomous cars and the rise of the sharing economy—rides, bikes, scooters—affecting demand," NAA President & CEO Robert Pinnegar, CAE, said. "However, parking is not going away overnight. It is important for community developers, owners and operators to be flexible and help their residents navigate all forms of transportation while addressing it in their business plans. They otherwise might find themselves missing operational efficiencies and opportunities to maximize revenue sources."