Los, Angeles California. Recently, I went to Santa Monica and Venice Beach, I hadn't been there since January. Mobile-rented electric scooters are swarming the the sidewalks and bike paths in epic proportions. The gorgeous bike path with a massive panoramic view of the ocean is now over sixty-percent e-scooters. The city of Santa Monica  successfully fined Bird for operation without a license. Then on June 12, launched a pilot licensing program. The mobility product is called e-scooters, scooter sharing or dock free transportation.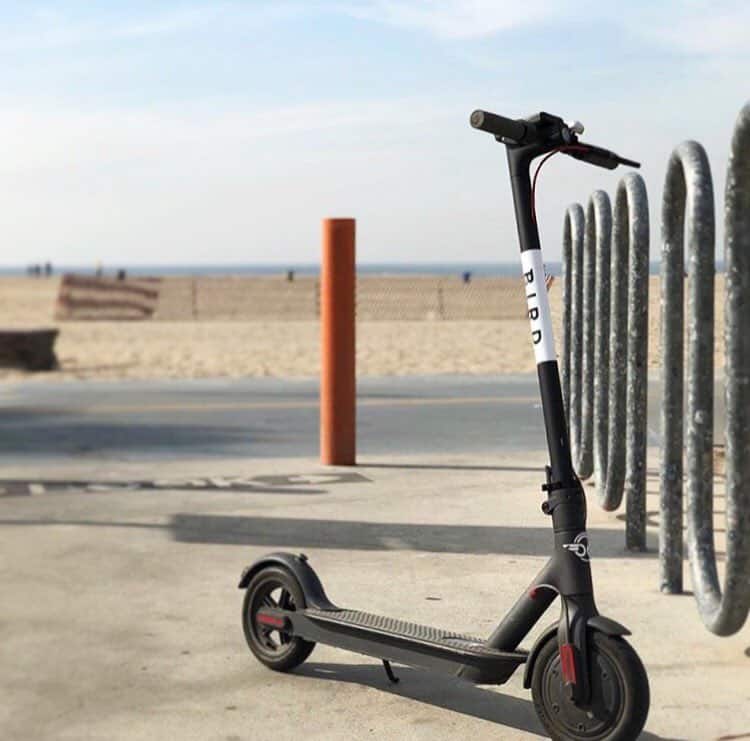 As I walked the three mile stretch, down the beach with my dog it became apparent why the scooters are so popular—in summer traffic, the scooters are faster than cars. I  saw hundreds of Bird and Lime riders on the bike path, several e-scooters had two people on them.
Scooters are abandoned on parkways, wherever the rider goes. The parkways are filled with scooters in odd places. This phenomenon illustrates the last-mile and first-mile problem with public transport. A Metro train now delivers thousands of people an hour to the beach, who then app for Uber and Lyft rides to restaurants, bars and other attractions creating even more traffic. The scooter people claim that the scooters reduce traffic. The dog walkers, I talked to —hate it. I tried to move a Bird out of the way of the dogs and it made an annoying beep, my dog hated it too.
For the Venice boardwalk, there have been signs for years, that warn no bicycles, motorized mobility on the boardwalk and no dogs on weekends. As I walked down the Santa Monica beach walk into Venice I noticed a group of safety officers. The safety officers direct the scooters onto the bike path and away from the pedestrians. I asked the man in charge who they were. The Venice home-owners and businesses(Venice BID) hired the group to protect the boardwalk.
A sign on a bike rental place on the Venice boardwalk that rents scooters for $15 an hour with a fee helmet, noted "Fine for scooter-use without a helmet $200.00."
The main office for Bird is in Silicon Beach, in Venice,  hey rallied support at a Santa Monica Council Meeting to not cap the number of scooters in the city. Instead, starting in September, there will be a dynamic cap for scooter operators who have to provide fees and data showing that each scooter is used at least three times a day. They also want to educate users.
As I  walked up Main Street, Santa Monica, I stopped in a trendy clothing shop. The cute twenty-something shop girl said that she takes the train from downtown Los Angeles and then hops on a Bird to go to the shop which is about eight blocks south of the train station. It costs $1.00 to start and 15 cents a minute for the rest of the ride averaging $2.00 a day.
Later that night, when the streets were dark, twenty-four blocks east of the beach in an area filled with apartments, my friend and I with our two dogs saw a group of twenty-somethings who were drunk or stoned come out of an apartment, giggling. They hopped on Bird scooters totally ignoring the canines, going out for drinks. None of them wore helmets and a couple of two joined the throng on one Bird with no lights visible..
I observed thousands of scooter-appers, on Saturday, I only saw two Birders or Limers  with helmets. The scooter drivers are supposed to have drivers' licenses and be at least eighteen-years-old. I saw teens and tweens on them.
The scooter companies deploy in cities, get users addicted to the rides and then show data showing how much carbon emissions they claim to have saved. San Francisco is running pilot program licensing program for scooters that started June 1.
Scooters are fast and definitely fun. Because they are in the bike path right next to the cars, and the riders are not wearing helmets, aren't people going to hurt?
I delved into the contract agreement for Bird, riders are not provided insurance:
"Rider expressly agrees to indemnify, release and hold harmless Released Persons from all liability for any such property loss or damage, personal injury or loss of life, whether caused by the sole or partial negligence of Bird and/or the negligence of others, whether based upon breach of contract, breach of warranty, active or passive negligence or any other legal theory, in consideration for using and/or operating the Vehicle. "
However an accident attorney Liljegren Law's website warns:"
"If you incur an injury while using a Bird scooter or trip over a Bird scooter on the sidewalk, you could have a liability claim against the Bird Rides, Inc. Since the company has already been guilty of other offenses – such as operating without a license – it may also be liable for any injuries that arise from its products. The company has a responsibility to reasonably maintain its scooters and warn riders of the risks. If it doesn't, it may be liable for injuries that result."
The e-scooters are currently capped at 15 mph and are not allowed on sidewalks. Bird's founder Travis VanderZanden, is a former Lyft and Uber executive. Recent reports claim that Bird is valued at $2 Billion.

You are welcome to give you opinion of scooter mobility services in the comments below.
Analysis & Commentary from AUTO Connected Car News:
We have some suggestions for safety of riders and the community:
Provide Helmets. Since a mass majority of people don't carry helmets with them, e-scooter companies should provide helmets. The companies must not be providing helmets for a legal reason.  Adult helmets are fairly uniform in sizing, it would easy to have helmets locked to the e-scooters and unlocked upon activation. If the rider doesn't return the helmet, s/he is charged for the helmet. The helmets can be sanitized when the e-scooters are charged.
Program GPS- Add Sidewalk or Location Governor. The e-scooters must have accurate GPS in order to be found and located. The GPS location could be used in a software program to significantly slow down through a speed governor when the scooters are on sidewalks, even though they are technically not allowed to operate on sidewalks. A loud annoying sound could be initiated when the rider begins to ride on a sidewalk which is illegal. The maximum speed in certain areas could be reduced greatly. For example, on the Santa Monica bike path and Venice boardwalk the speed could be reduced to 11 mph which allows bicyclists to pass them.  At 15mph young children and slower bikers may not be able to pass the e-scooters. It has been reported that Bird is based on the Xiaomi Mi Electric Scooter, it's advertising spec states it goes up to 15.5 mph which is five times faster than walking. It costs $500, if someone rented an e-scooter every work day twice, and works 50 weeks out of the year, they can buy a scooter and only have to pay for minimal electricity. The Mi scooters come with a cruise control, suggesting that yes there could be a way of controlling the speed.
Provide Location and Speed Data to Municipalities –  The e-scooter companies may collect of speeds, locations and riders. It will be clear from the data of location and speed if the e-scooters are being used to commute to work or for "thrill rides." The data will also show if the e-scooters are parked in front of bars.
Companies Should Track Chargers Carbon Emissions – If the e-scooter companies claim that they are reducing carbon emissions from vehicles they should also track the "chargers" mileage. These vehicles which are probably late-model, vans, SUVS or even sliver convertibles are driving around scavenging for scooters. These vehicles are probably running while individuals load the vans/trucks with scooters. Then the scavengers drive back to their home or garage which may not be local, charge them and must return them to the streets. Chargers' vans or trucks could rack up many high CO2 miles than the scooters are removing.
Addendum: Wranglers Shoot-Outs
The e-scooter movement has been likened to the "Wild West." Birds and e-scooters are captured at night by Bird chargers or wranglers who are contracted for the service. The video below shows the pecking order of how the Bird system works and bounties are paid for Birds that are missing.
Fees paid to charge the Birds can be $5.00 or up to $20.00 if the scooter is considered missing. Some Bird chargers hide the Birds in a garage until they are reported missing for a higher fee. There are no background checks for chargers who are contractors and the fees can add up quickly. On Saturday, I saw one long-haired Venice guy on top of about 10 Birds taking them away to be charged which equates to at least $50. The the beach dude's silver convertible (see video below) bounty could be over $100. However, the police won't let him drive the car with so many scooters in it.