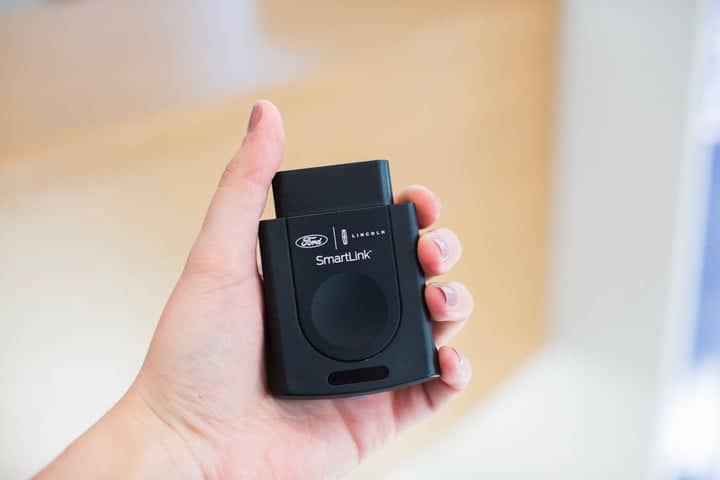 Millions of current Ford customers stand to benefit from Ford SmartLink, a technology that enables connectivity features normally only available on new modem-equipped vehicles. Using a simple device that plugs into the OBD II port below the steering wheel, Ford SmartLink will give customers who own 2010 – 2016 model year Ford and Lincoln vehicles that are not equipped with a modem access to:
Smartphone-based remote start, lock and unlock.
4G Wi-Fi hotspot capable of accepting up to eight devices.
Vehicle health and security alerts.
Vehicle location assistance.
SmartLink can be obtained at Ford and Lincoln dealerships starting this summer.
It costs $17 per month with a two-year commitment (plus the cost of installation) to get a SmartLink in your vehicle. It comes with a 1GB or 30-day (whichever comes first) trial for Verizon 4G LTE that turns your car into a WiFi hotspot.
To continued Wi-Fi use, owners must add the service to their account with the Verizon register a new one if they don't already have one).
Those interested can pick up a SmartLink at Ford dealerships starting in mid-2018.
With more than two years of research and development invested, the Ford SmartLink team of engineers, in collaboration with Delphi Automotive and Verizon Telematics, have ensured the technology will work seamlessly with Ford and Lincoln vehicles.
"From security to performance, we've conducted extensive testing and made a number of improvements to ensure Ford SmartLink enhances the customer experience for our owners," said Raj Nair, executive vice president, Global Product Development, and chief technical officer.
"We are thrilled to offer this level of convenience and connectivity to our existing customers, extending the value of their vehicles and giving them just one more reason to love their Ford and Lincoln vehicles."