The next auto show following NAIAS is the Chicago Auto with new car releases, events and media previews starting February 9-10. With more than 1 million sq. ft. of exhibit space, the show is the largest in North America and has been held more times than any other auto exposition on the continent.
We can expect vehicle introductions from Fiat, Ford, Hyundai, MOPAR, Nissan, Polaris/Slingshot, Subaru, Toyota and Volkswagen, keynote addresses from Thomas Doll and Hinrich Woebcken and women discussions at the What Drives Her Luncheon, the Chicago Auto Show
Vehicle models that will be on display to the media and public:
Toyota, new Toyota off-road rigs will be featured at this year's Chicago Auto Show. The powerful and sleek trucks and SUV will be on display alongside the all-new 2019. Along with the Avalon will be the FT-4X concept, one-of-a-kind NASCAR Camry designs, the Chicago Speedway Pace Car and two 4Runners wrapped with the Chicago Cubs and Chicago White Sox logos. Toyota will display the 2019 TRD Pro off-road editions of its trucks.
The Toyota FT-AC concept vehicle is designed for outdoor enthusiasts who want to dial up the adventure on their weekend getaways. The FT-AC, which stands for Future Toyota Adventure Concept, could boast a gasoline-powered engine as well as a hybrid drivetrain if built in the near future.
Ford is expect to show the a revamp of its Transit Connect, the Mustang Bullet and Ranger midsize pickup. There are rumors that the company may show the Shelby Mustang GT500. Listed debuts include the 2019 Ford Edge Titanium Elite and Ford Ranger.
Volkswagen will launch the American version of the 2018 Arteon.
Hyundai will reveal the updated Sonata Hybrid and Plug-in as well as more Amazon Alexa integration and USB ports. The 2018 Hyundai Kona and 2018 Hyundai Veloster can be viewed by visitors.
Nissan is know for its special editions and it is reported that Nissan Armada and 370Z, called the Armada Snow Patrol and Nissan 370Zki will be exhibited.
Subaru with its 50th anniversary in the United States may bring out anniversary editions to its models. The 2019 Subaru Ascent s an all-new, seven or eight-passenger crossover SUV with 19 cupholders.
Jeep will be displaying the 2019 Jeep Cherokee, 2018 Jeep Wrangler along with Jeep Renegade and Jeep Grande Cherokee.
Nissan's luxury brand will show The Infiniti Q Inspiration Concept is a prototype vehicle commissioned with showcasing the brand's newest autonomous drive technologies, as well as Infiniti's new form language and advanced powertrains. The 2018 Infiniti QX50 is a five-seat crossover SUV with semi-autonomous driving technologies, moonroof, leather seats, dual-zone climate control, navigation system, USB ports, Bluetooth, premium audio, satellite radio, smart cruise control, distance-based cruise control, keyless entry and push-button start.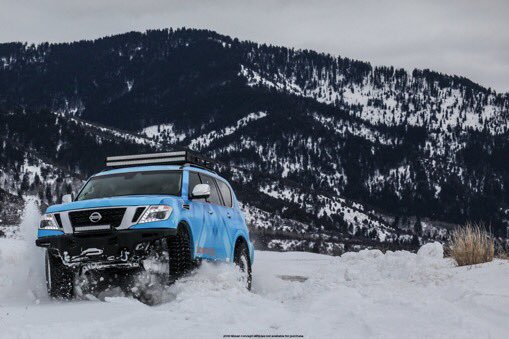 Nisan's 370Zki and Armada Snow Patrol are ready for every snow and icy situation.
Chevrolet will debut the 2018 Corvett and Silverado 1500.
Cadillac is listed to show the Cadillac Escala concept and debut the 2018 Cadillac XTS. The Escala showcases the future design and technical systems that are currently in development at Cadillac.
BMW debutes include the BMW i8 and BMW X2.
Mopar will reveal more Durango performance add-ons such as the striping, premium dashboards and suspension.
Acura will reveal the the Acura RDX Prototype.The all-new, third generation RDX has been re-engineered on a new, Acura-exclusive platform. The 2019 Acura RDX Prototype also debuts a completely new, Acura True Touchpad Interface, designed from a clean slate, combining the best elements of a touchscreen and remote interface in one powerful system.
Kia will feature a concept you can drive; a Soul built from canned food; a huge indoor gym for sport utility vehicles.  The all-new Stinger, Forte and Niro will be exhibited.
Mazda will show the 2018 Mazda 6, Mazda 3, CX-3,  CX-5, CX-9 and MX-5.
Mistubishi
Mistubishi Recreates First Model A
To celebrate its 100th anniversary, Mitsubishi Motors partnered with the team at West Coast Customs to recreate the brands very first 1917 production vehicle, the Model A. The Mitsubishi Re-Model A was built on the platform of Mitsubishi's most technologically advanced vehicle, the Outlander PHEV, while keeping the overall aesthetics of the original 1917 vehicle. Additional modern day technologies, included in current lineup of Mitsubishi vehicles, have been integrated into the Mitsubishi Re-Model A to further tie the past and present together. The Mitsubishi Re-Model A has been equipped with Super All-Wheel Control – our advanced 4 wheel drive system, plug-in capabilities, Forward Collision Mitigation and Smartphone Display Audio.
Lexus' striking new concept vehicle – the Lexus LF-1 Limitless – will take center stage while the 2019 Lexus GS F and RC F 10th anniversary will be celebrated with matte paint finishes and unique interior color schemes.
Electric Test Drives
The public can make test drives in the all-new 2018 Nissan LEAF, new 2018 Chrysler Pacifica Hybrid, and all-new 2018 Mitsubishi Outlander PHEV.
MotorWeek will announce its Driver's Choice Awards.
What Drives Her" industry networking event and panel discussion, 10:30 a.m. – 1p.m. at the Grand Concourse Media Stage. With presenting sponsorship from the Alliance of Automobile Manufacturers, organizers have partnered with A Girls Guide to Cars and Women in Automotive to host the event which will feature a robust lineup of female speakers that will discuss the integral role women play within the auto industry as contributors, consumers and drivers of purchasing decisions.
The Coffee Chat (10:30 a.m. – 12 p.m.) lineup features an intentionally diverse lineup of industry women, including:
Cars.com Editor in Chief Jennifer Newman.
Facebook's Industry Manager, Auto Team, Kim Stonehouse.
Ford's Mini and Medium Utility Marketing Manager Cristina Aquino.
General Motors Women's Retail Network Director Celeste Briggs.
National Automobile Dealer Association (NADA) Director of Instructor Led Training and Business Development Camron Wilson.
Steel Market Development Institute (SMDI) Vice President, Automotive Market, Dr. Jody Hall.
With its new premier partner status, Cars.com will enjoy category exclusivity and power the show's new BUZZHUB, a space designed for social media engagement featuring a 21-ft. wall broadcasting real-time trending feeds, giant #CAS18 block letters for pose-worthy moments, enlarged Instagram frame and charging stations to refuel attendees' smartphones. The new #CAS18 BUZZHUB is also home to live radio broadcasts and Best of Show voting kiosks.
For 2018, show organizers have a robust lineup of social media and interactive fun in store for attendees, including:#CAS18 Challenges –Show organizers are working with local Instagram influencers to generate creative, compelling content from the show floor. Each morning, a new image will be shared via official Chicago Auto Show social media channels challenging fans to beat that image on Instagram. The hashtag to use is #instaCAS.The official Chicago Auto Show mobile app, available for Apple or Android smartphones, is the virtual tour guide to the nation's largest auto show. Street team #CAS18 Social Squad members will be checking with show-goers to see if they have the app on their phone; if they do, they will win instant show swag and apparel.New premier partner Wintrust will team up with the show on a Super Car Social Challenge. Fans can share a picture of their favorite "super car" or concept car on the show floor with #WintrustSuperCar for the chance to win exclusive access into the show's popular Super Car Gallery, which features rare, exotic vehicles.Speaking of fast cars, #XFINITYFast will also host a social media challenge where fans are encouraged to share a picture of their dream car for the chance to win prizes.Show-goers who spot Chicago Auto Show #CAS18 Social Squad team members on the show floor, take their picture in an enlarged Instagram frame and post to social media with #CAS18, will also be entered to win prizes such as gas gift cards.