It
was another day of announcements and demonstrations at IAA Frankfurt from ACEA, Hyundai, Michelin, Maxion, Immarsat, HARMAN,  IBM, G+D, Irdeto, Nuance, Audi, Volkswagen and Segway.
ACEA Shows CO2 Data, Suggesting Need for Electric Cars & Diesel
Before the European Commission reveals its proposal on CO2 targets for cars post-2021 later this year, the European Automobile Manufacturers' Association (ACEA) laid out the industry's pathway to future CO2 reductions at the Frankfurt Motor Show today.
Regarding the timeframe and ambition level for the new targets, ACEA proposes a 20% CO2 reduction for passenger cars by 2030, compared to 2021. "This is a steep reduction," stated ACEA President, Dieter Zetsche. "It's also in line with what is expected of other industry sectors, as well as the EU Climate and Energy Framework and the global Paris agreement."
This target should be conditional on the real market uptake of electrically-chargeable vehicles and the availability of charging infrastructure for alternatively-powered vehicles – which are crucial to achieve any significant CO2 reductions beyond 2020 levels. Concretely this means that, based on a mid-term review in 2025, this target could be adapted either upwards or downwards.
The latest ACEA data show that in the first half of 2017 electrically-chargeable vehicles made up 1.2% of total new car sales. Alternative powertrains will undoubtedly play an increasing role in the transport mix, and all ACEA's members are investing heavily in them. However, equally important is that all EU member states start delivering on their commitments to step up investments in the necessary recharging and refuelling infrastructure.
In the interim, modern diesel technology will continue to play an important role in the gradual transition to low-carbon vehicles. Zetsche: "The latest generation of diesel vehicles is a very effective lever to achieve climate goals in the near future, because they emit 15-20% less CO2 than equivalent petrol vehicles."
Hyundai Present i30 N, I30 Fastback and KONA + IONIQ Sharing
Hyundai Motor is presenting three public debuts of new vehicles at the 67th International Frankfurt Motor Show: Hyundai's first high-performance car i30 N, the elegant five-door coupé i30 Fastback and the bold, sub-compact SUV, the All-New KONA. These new models are the latest milestones on Hyundai Motor's journey to become the number one Asian automotive brand in Europe by 2021. The public debut at Frankfurt Motor Show will be a homecoming for the three models: after all, the brand has its European and German headquarters, design, technical and testing centres and its motorsport operations rooted in the region.
Visitors of the IAA can also take a look into future powertrain technologies. Hyundai Motor presents Smart Stream, their new efficient and fuel saving powertrain line-up. Additionally, visitors can see the full IONIQ line-up with the Hybrid, Electric and Plug-in Hybrid version at the home motor show. The IONIQ is the world's first car with three electric powertrains and is Hyundai Motor's contribution to a cleaner future and low-to-zero emission driving.
The i30 N is Hyundai Motor's first high-performance car under the N line-up inspired by motorsport. Built on the New Generation i30, this car has been developed from the ground up to deliver maximum fun to drive in everyday life on the road as well as on the track.
At the 2017 Frankfurt Motor Show, Hyundai Motor further announced its plans to launch its first pure-electric car sharing programme in metropolitan Amsterdam in early October.
Immarsat Connected Car satellite
Inmarsat is showcasing its connectivity solutions for the next generation of connected vehicles at the upcoming International Motor Show (IAA) and New Mobility World, a conference focused on the future of mobility running alongside IAA in Frankfurt.
The Inmarsat Connected Car team is  demonstrating its satellite-powered connectivity solutions that will have the capability to enable automakers to efficiently, cost effectively and securely deliver a wider range of operational services and applications to their fleets of connected vehicles around the globe.
Inmarsat Connected Car is working with automotive manufacturers and suppliers around the globe to begin incorporating satellite as part of a 'network of networks' that has the capability to provide the connectivity needed to the next generation of connected vehicles. With Inmarsat embedded into the vehicle, motor manufacturers will be able to efficiently and securely transmit critical updates to its fleet of vehicles using the company's highly reliable, fully owned and operated global network – reducing millions in recall and warranty costs and drastically decreasing the need for the driver to bring the car into the dealer or servicing center. Additionally, Inmarsat's satellite network will be able to deliver enhanced GNSS data for more precise and detailed positioning that will be critical as autonomous driving vehicles become more prevalent.
Earlier this year, Inmarsat entered into a partnership with Continental to begin developing the satellite equipment that will be able to be embedded into a vehicle's existing antenna and internal electronics units to access Inmarsat's global, two-way data network.
HARMAN Parthners with IBM, G&D & Irdeto
HARMAN announced its collaboration with IBM, G+D Mobile Security and Irdeto, to present a multi-vendor automotive cybersecurity solution for OEMs and fleet managers. At the IAA New Mobility World in Frankfurt on September 12-17, the companies will demonstrate how HARMAN's SHIELD Platform can be integrated with the IBM QRadar Security Intelligence Platform, Irdeto's ECU protection solution – Cloakware™ Secure Environment and G+D's Automotive Security Management Framework to cyber-shield connected cars.
As part of HARMAN's ongoing commitment to keep connected cars protected against cyber-attacks, such as ransomware attempts, the integrated system brings together four industry-leading solutions to deliver complete visibility, detection and mitigation capabilities. HARMAN and IBM recently combined their respective SHIELD and QRadar platforms in June 2017 to deliver an end-to-end solution that offers on-board detection and mitigation of a range of security threats, along with a robust backend analysis and forensic system. G+D's Automotive Security Management Framework (ASMF) is a dedicated security management platform to provide security provisioning services for various connected car and mobility use cases. By adding Secure Environment, a component of Cloakware™ for Automotive by Irdeto along with G+D's Automotive Security Management Framework (ASMF), these capabilities will be expanded and enhanced, allowing OEMs and fleet managers to establish a strong security foundation in their vehicles from the start.
Nuance's Dragon Drive Derives Audi A8 Voice
Nuance Communications announced that its Dragon Drive connected car platform will power all conversational, connected services in the new Audi A8, with additional Audi models to follow. Dragon Drive utilizes cloud-based speech recognition, natural language understanding, and text-to-speech (TTS) to create a truly conversational automotive assistant that listens, understands and responds to drivers.
Dragon Drive will provide Audi A8 drivers with a fully customized, conversational system that is deeply integrated with the Audi vehicle, giving them voice-controlled access to all connected services, including weather, points of interest and addresses, parking, gas stations, as well as calendars and notes. The platform also provides access to embedded services like music and navigation and in-car functions such as air conditioning. Dragon Drive can interact with drivers through automotive-grade signal enhancement and acoustics innovation combined with hybrid embedded-cloud speech recognition and natural language understanding, as well as text-to-speech.
Dragon Drive will be available in the Audi A8 in multiple languages, including US and UK English, French, German, Italian, Russian, Spanish, Mandarin Chinese, Korean, and more. In addition, message dictation will be supported in Czech, Dutch, Portuguese (EU), Swedish and Turkish. Nuance worked with Audi to further improve the sound of its exclusive German TTS voice to provide a natural sounding Audi experience for drivers.
VW I.D. CROZZ New EV SUV Cross Over
Volkswagen announced the new I.D. CROZZ , a crossover of an SUV and a four-door coupé, which has been further improved towards a production implementation. This can be seen, for instance, in various design changes to the front and rear ends of the concept car that is painted in 'Hibiscus Red Metallic'. The I.D. CROZZ makes a powerful and masculine impression with its wide bonnet, cleanly contoured wings and roof with a high-gloss black exterior finish. The striking design of the LEDs of the headlights also point the way towards production and generate an unmistakable light graphic.
The interior has also been re-equipped and further developed – as an Open Space – with a superior amount of space and highly versatile seating concept. B-pillars were omitted in the I.D. CROZZ, so that the large swinging and sliding doors can be opened wide, and it is even possible to transport a crossbike without any trouble.
The I.D. CROZZ is a sporty, zero-emission all-round vehicle that is designed to be interactive, and whose electric 4MOTION all-wheel drive system is as impressive on unpaved trails as it is in adverse weather conditions. One electric motor works at the front axle and one at the rear, and torque distribution is controlled via an 'electric propshaft'. The driving range of the SUV that outputs 225 kW (system power) and boasts a top speed of 180 km/h is up to 500 kilometres (NEDC) on one battery charge. The high-performance battery can be charged to 80% of its energy capacity in 30 minutes using a fast-charging system.
The future generation of the I.D. family will extend the Volkswagen model range. In 2020, Volkswagen will already launch the compact, all-electric, four-door I.D. in the Golf segment, while launching the modern I.D. CROZZ in the SUV segment. In addition, the I.D. BUZZ – a re-interpretation of the legendary Volkswagen Bulli – will enter the market in 2022. All three I.D. concept cars share the new 'all-electric architecture' that was developed as a common platform and a completely new and avant-garde design. Other characteristics are zero-emission driving ranges up to 600 kilometres, a large amount of space, compact exterior dimensions and digitalisation of all displays and controls. In addition, the new and innovative 'vw.OS' operating system, which enables fast software updates and upgrades, will support each member of the I.D. family – in a way similar to the usual updating methods for smartphones.
Mobileye Partners with Munich Reinsurance America Inc.
Mobileye, an Intel company, the global leader in advanced driver assistance systems (ADAS) and autonomous driving technologies announced a unique collaboration intended to reduce commercial fleet collisions and enhance road safety in the United States.
Beginning immediately, Munich Reinsurance America Inc. (Munich Re, US) will make available Mobileye's aftermarket Advanced Collision Avoidance System to its clients, including commercial fleets. The new program will provide Munich Re, US clients with the option of retrofitting existing vehicles with Mobileye ADAS technology, designed to help mitigate the potential for collisions among fleets and improve driver behavior through the use of warning signals. Munich Re, US will also conduct a loss analysis to help quantify the potential impact of Mobileye's technology on a client company's portfolio of commercial fleet business.
Flexible Wheels to Prevent Road Damage Running Flat from Michelin & Maxion
MICHELIN ACORUS Technology, in partnership with Maxion Wheels, Michelin is reinventing the wheel to help eliminate road-based damage to tires and rims.
The patented new technology, developed by Michelin and Maxion Wheels for the passenger car wheel market, incorporates two flexible rubber flanges mounted on a special wheel body to create a flexible wheel that improves the ride and comfort and also absorbs impacts from potholes and curbs. The new wheel is compatible with all tires on the market and comprises an alloy rim – which is narrower than normal, two rubber flanges and an optional cosmetic insert to protect the alloy wheel.
In tests with a 285/30R21 tire driven through a pothole, the standard rim version punctured the tire at 28kph whereas the Flexible Wheel with the MICHELIN ACORUS Technology did not puncture, or sustain damage at any speed.
In addition to damage reduction, safety and improved mobility, the Maxion Flexible Wheel with MICHELIN ACORUS Technology has other benefits for the driver. It helps overcome other shortcomings associated with low profile tires with short sidewalls – comfort and noise levels are both improved due to the flexible rubber flange which sits between the wheel and the tire. There is also an environmental benefit in using MICHELIN ACORUS Technology; the Flexible Wheel is designed to work with any brand of tire, including low rolling resistance tires – meaning lower CO2 emissions and better fuel economy. The innovative wheel solution also means fewer damaged tires and wheels are being thrown away following pothole damage.
MICHELIN ACORUS Technology is the product of Michelin's research Group. The Incubator Program shortened the time to market by showing and testing it with customers. Having designed and developed this unique patented technology, Michelin started to work in partnership with Maxion Wheels, a leader in the wheel business, to bring the Flexible Wheel to market.
The name ACORUS is taken from Acorus Calamus, a wetland plant that looks like a reed, which features in a famous French fable 'the oak and the reed' with the wisdom that "a reed bends but does not break". The Flexible Wheel not only safeguards against potholes and poor roads, but marks an end to the compromise in passenger car wheel design between robustness and premium look.
The Maxion Flexible Wheel with MICHELIN ACORUS Technology, launched at the Frankfurt IAA, will initially be sold in 19" and above sizes to the OE premium automakers by the partnership between MICHELIN and Maxion Wheels.
Segway CityGo Scouter & App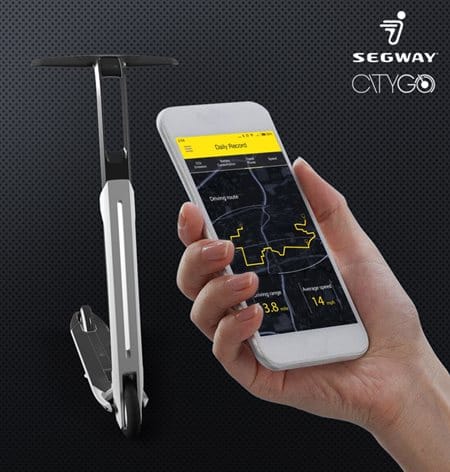 At IAA 2017,  Segway shows a new concept of efficient, green and smart transportation with the announcement of the CityGo Last Mile System. A smart electric kickscooter network that could reshape the future landscape of transportation within cities.
The elegantly designed CityGo scooter will be lightweight and easy to fold which allows users to store it in their cars or conveniently carry it on and off public transport to make it the ideal vehicle for daily commute.
Features like the unique adaptive power assist system enables users to activate and adjust speed intuitively, and to personalize riding preferences accordingly. With a maximum speed of 25 km/h and three different riding modes, Novice, Standard and Sport, the CityGo scooters will fit the needs of all kind of users.
Segway CityGo App
All CityGo scooters are mobile phone ready, and can be lock/unlock, personalized and monitored via Bluetooth communications. In addition, The CityGo apps will be powered by a cloud based management system, which allows all scooters, charge stations and car trunk storage units to work together seamlessly.
Other IAA Articles from AUTO Connected Car News:
IAA Best New Connected Car Releases: Honda, Porsche, Mercedes, Continental, IBM, ZF, VW, HARMAN, eWallet, DEKRA, Honeywell, Lear, TomTom & Irdeto
IAA Frankfurt Round-Up: Top Best Connected Cars/Suppliers: Magna, Porsche, MINI, BMW, Mercedes, VW, Adient, Honda & DENSO