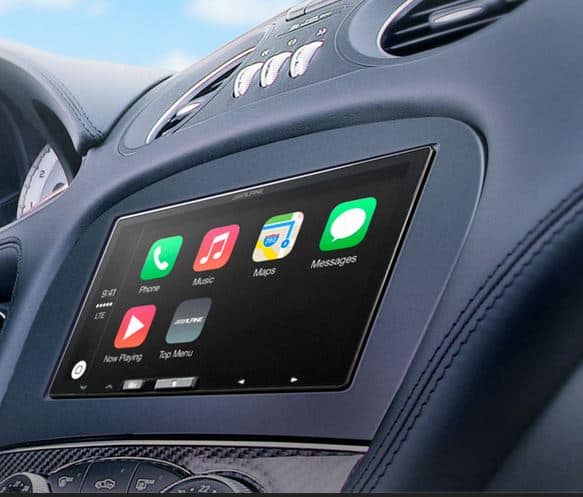 Alpine's wireless CarPlay aftermarket receiver/infotainment system, the iLX-107, announced at CES, is now shipping and available through authorized retailers including some online stores where it is discounted
Update 2/28: We are sorry we made a mistake only the iLX-007 is available on Amazon. We searched for the iLX-107 and it came up with the iLX-007. We have been corrected by our readers. The units are available from brick and mortar retailers.
Wireless Apple CarPlay lets iPhone users make and receive calls, access text messages, play music, and get directions optimized for traffic conditions in a way that allows them to stay focused on the road. Other versions of CarPlay required the iPhone to be connected to the USB port which means you have to take the iPhone out of your pocket or purse.
Through its 7-inch Capacitive Touchscreen the iLX-007 is designed for use in the car with your iPhone through Apple CarPlay. Conveniently located volume, track, home and Siri hard keys are accessible for quick access and simple control.
The system allows for the addition of Drive Assist camera systems to any Alpine AVN system.  Alpine cameras are durable and specifically designed for wide-angle and multi-angle views for front and rear applications.
The iLX-107 is an AM/FM receiver with a 7-inch WVGA capacitive touch screen and LED backlighting for bright visibility. Apple CarPlay is accessed through the iLX-107's touch screen or through Siri voice control. Music, driving directions and phone calls are played through the vehicle's speaker system. Apple CarPlay is compatible with iPhone 5 and later, including iPhone 7, iPhone 7 Plus and the latest version of iOS.
Once wireless Apple CarPlay has been set up, the iLX-107 will automatically search for and connect to the most frequently paired iPhone.. Since the Apple CarPlay connection to the iLX-107 is wireless, there is no need to remove the iPhone from a pocket or purse to use it in the vehicle. The iLX-107 uses the 5 GHz Wi0Fi band to optimize wireless connectivity performance.
The iLX-107 is compatible with the Alpine TuneIt App, a free smartphone app that provides custom sound tuning for the iLX-107 and other Alpine audio systems. Other iLX-107 features include three (2V) preouts, one aux input, Alpine's MediaXpander™ technology for improved playback of compressed media, and an input for a rear view camera system (camera system sold separately).
The iLX-107 retains select factory vehicle features when used with an iDatalink® Maestro® module (vehicle specific, sold separately). Users may also view customized vehicle information (selectable gauge screen, parking assist screen, etc.) on the 7-inch display.  The retained features and customized information will vary by vehicle model.
System Expansion
Vehicle owners can also use the iLX-107 to control external accessories like a light bar, motorized tonneau cover, or winch when used with the optional KAC-001 External Accessory Controller ($250 SRI, sold separately). The KAC-001 works with up to eight relay-connected accessories which can be controlled from the iLX-107's touch screen. A graphical icon and name can be assigned to each accessory for quick identification on the touch screen.
Alpine's Apple CarPlay Lineup
The iLX-107 wireless Apple CarPlay system will be available now for $900 SRI.
The earlier model the iLX-007 is discounted online is available from Amazon and Best Buy.
At Amazon the Alpine iLX-007
is selling for $593-$594 with free shipping from some authorized retailers.
Best Buy shows the price for  the Alpine iLX-007
at $599 with price match. An even better deal is for the same price of $599 ($99 off) for Alpine iLX-007 with Geek Squad installation making it cost less the price of a some new iPhone models. It looks like the unit is not available at all Best Buy stores, but its worth checking back because from the Apline website we saw a few stores with units in stock.