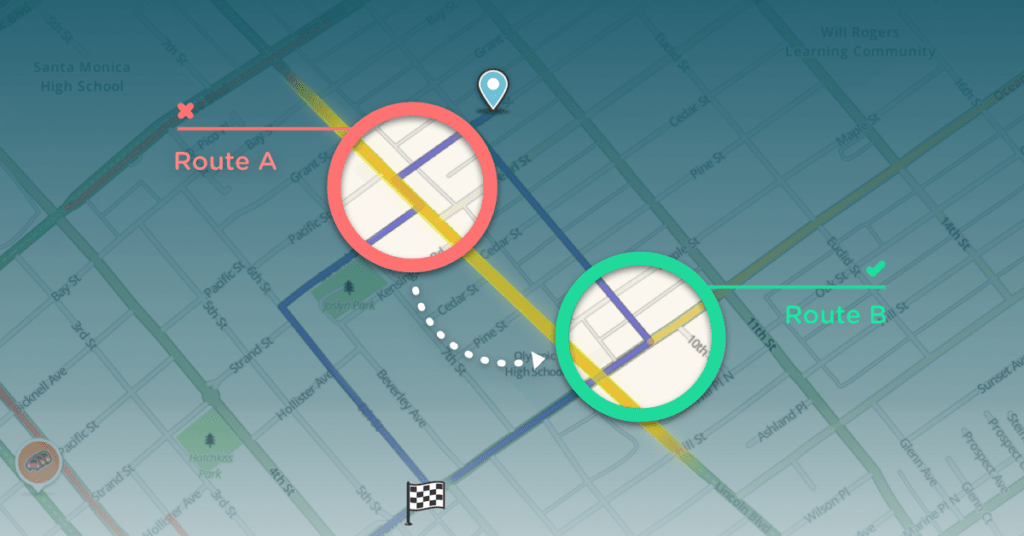 Probably the most stressful situations in driving are times when you arrive at an intersection with no traffic light, a constant flow of traffic, limited visibility, or some combination of all three. Turning left or going straight becomes a stressful scenario that requires crossing multiple lanes of oncoming traffic. The situation is significantly worse when traffic peaks at rush hour, making it tense and often very difficult to cross or turn.
Waze has created a new feature, called the "difficult intersections" feature which you can avoid this frustration trap.The routing bypasses difficult intersections when possible, to promote a safer less stressful drive.
The arrival time is not increased greatly depending upon the destination and route.
The feature is designed to balance an efficient ETA with limiting as many of difficult intersections as possible. By default, Waze will calculate the best possible route that bypasses a difficult intersection.
If bypassing route is significantly longer, a driver may still be routed through a difficult intersection. The goal of the feature is to reduce the amount of these intersections, not completely eliminate them. The Difficult Intersections setting is automatically enabled for LA drivers; however Wazers who prefer to drive through all intersections can easily disable the feature in Settings.
To identify which intersections cause Angelenos the most pain, Waze worked closely with the local map editor and employee community. They shared lists of what they perceived to be the most difficult intersections and provided alternate solutions. Waze also received a tremendous amount of support from  Connected Citizens Program partner, the City of Los Angeles, who helped Waze understand this hyperlocal challenge from a municipal perspective.
This feature is currently only available in Los Angeles, but we will expand to New Orleans soon and globally as needs are identified by the Waze community. If there is a difficult intersection you think needs attention, let us know by reporting it from the app under Report > Map Issue.
Another feature to help Wazers avoid areas that are reported to have high-crime rates is set to  launch first in Brazil. After the tragic death of tourists in Brazil who were routed through a dangerous neighborhood and shot. The feature is expected to launch before the Summer Olympics.