There were many news stories for those interested in embedded chips and connects car news tips from Uber, CGI, Xilinix, Ficonic, Lexis Nexis, J.D. Power, Aria Systems and TU Automotive.
Uber will Pay Hackers
Uber wants white hat hackers to find vulnerabilities in its products.Uber announced an official bug bounty program. Payouts will go up to $10,000 for critical issues.
The first reward program season will be begin on May 1 and it will last 90 days.
Bounty hunters will be eligible for the reward program once they have found four issues that have been accepted by Uber as genuine bugs.
If they find a fifth issue within the 90 day session, they will get an additional, bonus payout. This will be equivalent to 10% of the average payouts for all the other issues found in that session.
CGI Testing for Volvo
CGI  has signed a contract with Volvo Cars for the delivery of software testing services. By carrying out tests regularly, Volvo Cars can ensure that it maintains high quality while also streamlining its projects and reducing costs. The testing services will initially include functional tests, performance tests, automated tests and safety tests.
CGI supplies testing services in accordance with its global best practices in the field of managed testing services. It is able to offer customized services through a combination of its local presence and access to unique global expertise
Xilinx Winner
Based on its recent analysis of the automotive programmable logic devices (PLDs) market for advanced driver assistance systems (ADAS), Frost & Sullivan recognizes Xilinx with the 2016 North American Frost & Sullivan Award for Product Leadership. With the region's ADAS market expected to grow four-fold in revenue by 2020, Xilinx is uniquely positioned to cater to current and future market needs.
New Ficonic Infotainment
TeliaSonera Finland Plc and Ficonic Solutions Ltd have signed a LOI to develop and roll-out a new service for drivers. The new service is based on the infotainment system concept developed by Ficonic under its Project 1B.
LexisNexis is on Nationwide's Side
LexisNexis Risk Solutions announced that Nationwide, has selected the company to deliver the insurer's next-generation insurance telematics program, SmartRide Mobile. This usage-based insurance program provides discounts for safe driving for members who choose to participate. All members save an average of 10 percent for joining, and can save up to a possible 40 percent after 6 months with no penalty for joining.
J.D. Power New SafetyIQ
As the number of vehicle recalls, technical service bulletins and complaints continue to set records each year, J.D. Power has developed a new application to help auto industry professionals analyze vehicle safety data more efficiently. SafetyIQ, launched today, is an online application that integrates National Highway Traffic Safety Administration (NHTSA) data with J.D. Power automotive data, all searchable by vehicle make, model, year, age and component.
J.D. Power SafetyIQ is updated daily with the latest data on recalls, technical service bulletins, customer complaints, and investigations. All data is standardized through an easy-to-use interface, allowing auto industry professionals to spot trends, develop benchmarks vs. competitors and prioritize areas of focus.
Embbed Software Summit Discount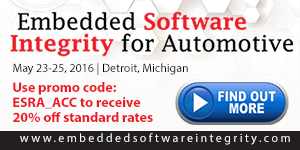 Automotive and embedded software experts with intimate knowledge of the industry's challenges will discuss how to properly develop and test embedded software at the Embedded Software Integrity for Automotive Summit this May 23-25 in Detroit. Leaders from companies such as Delphi, Bosch, GE, Kia, Continental, and more, will work to mitigate the unintended behaviors and failure rates from automotive software and hardware bugs. Use promo/coupon code ESRA_ACC to receive 20% off standard rates.
Web-Smart Car Buyers
Of the time spent in the car buying process, 60 percent – 5 hours and 12 minutes – is allocated to using third-party sites or apps to research and shop online, according to the inaugural Car Buyer Journey study commissioned by Autotrader and conducted by IHS Automotive. The study found that of the 88 percent of shoppers using the Internet for vehicle shopping, 78 percent use third-party sites or apps during the car buying process. Consumers that research or shop on the Internet use Autotrader or Kelley Blue Book 73 percent of the time.
Prior to purchasing a vehicle, 46 percent of respondents that are Internet users access automotive information using their smartphones. Of all buyers, 23 percent used a smartphone to do research or shop while at a dealership. The top five uses of a mobile device at a dealership are: comparing prices for vehicles at other dealerships (59 percent); finding prices for vehicles at the dealership where the consumer was (41 percent); comparing inventory at other dealerships (38 percent); check inventory at the dealership where the consumer was (36 percent); and research trade-in pricing (33 percent).
Aria Systems Supplies Monetization for Edmunds
Aria Systems, which helps enterprises grow recurring revenue, today announced that Edmunds.com, the premier destination for car shoppers with 20 million monthly visitors, has chosen Aria's active monetization platform to help scale their billing operations to meet the skyrocketing demands of its customer base.
Discount Code for TU-Automotive Detroit
The TU-Automotive Detroit 2016 (June 8-9, Novi Michigan), conference and exhibition for automotive technology and connected cars is offering a vast program of speakers, topics and trends. AUTO Connected Car readers can get a $100 discount using the code 4312ACCAR.
You are welcome to subscribe to receive email notification of publication of Embedded Chips & Tips, you can also get weekly news summaries or email ASAP (As Soon As Published) for everything.