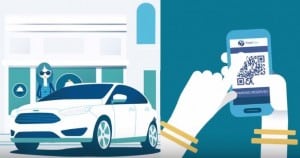 We thought Ford made a lot of announcements at CES (5) but for the Detroit Auto Show (NAIAS) the company pulled out all the PR stops, today with nine annoucements. Ford news includes data mobility experiments, snow testing of autonomous vehicles, vehicle sharing, wearables, new SYNC Connect models and a concierge ride sharing/parking/rewards program.
Ford Hopes Consumers Won't Pass by Ford Pass
FordPass is part of Ford's transformation into an auto and mobility company. Launching in April, FordPass reimagines the customer relationship with free membership for Ford vehicle owners or anyone. Benefits include:
Marketplace offering mobility services.
Automatically warm the car before leaving for work.
A suite of mobility functions all in one place.
FordGuides, who are always there to help you move.
Appreciation, for membership loyalty.
FordHubs, where you can go to experience the company's latest innovations.
ParkWhiz parking Ford partnering with ParkWhiz to help drivers find and pay for advance parking more easily.
FlightCar wil help consumers share and borrow..
FordPay makes it easy to pay for mobility expenses.
Ford is also partnering with McDonald's and 7-Eleven to reward FordPass members with merchandise and unique experiences. FordHubs to open in New York, London, Shanghai and San Francisco; first will open later this year at New York's Westfield World Trade Center.
For 18 months, team members charged with improving Ford's relationship with customers covered the walls and ceilings of their Command Center in Dearborn with sketches, post-its and printouts – benchmarking customer experiences of other leading-class firms.
Let It Snow Autonomous
Ford claims it is the first automaker to test fully autonomous vehicles in winter weather, including snow. Ford's fully autonomous vehicle strategy uses high-resolution 3D mapping and LiDAR for localization to facilitate driving when road markings are not visible. We believe that Volvo is also testing in winter weather. In fact Volvo is investing magnetic road markers for snow use.
LiDAR is much more accurate than GPS – identifying the Fusion Hybrid's lane location right down to the centimeter. LiDAR emits short pulses of laser light to precisely allow the vehicle to create a real-time, high-definition 3D image of what's around it.
In ideal weather, LiDAR is the most efficient means of gathering important information and metadata – underlying information about the data itself – from the surrounding environment, sensing nearby objects and using cues to determine the best driving path. But on snow-covered roads or in high-density traffic, LiDAR and other sensors such as cameras can't see the road. This is also the case when the sensor lens is covered by snow, grime or debris.
An autonomous vehicle creates the maps while driving the test environment in favorable weather, with technologies automatically annotating features like traffic signs, trees and buildings. When the vehicle can't see the ground, it detects above-ground landmarks to pinpoint itself on the map, and then subsequently uses the map to drive successfully in inclement conditions.
Ford's winter weather testing takes place in Michigan, including at Mcity – a 32-acre, full-scale simulated real-world urban environment at the University of Michigan.
Ford Data.
Data Shared for Better Driving
Ford and IBM are working together on a pilot platform that can spot patterns. The Smart Mobility Experimentation Platform allows Ford research scientists to look at tiny pieces of data – 10 or 15 seconds at a time – to spot tendencies and behaviors. Scientists can then write and refine code based on this. The platform uses IBM streaming analytics delivered via IBM's Cloud to allow for continuous updating. This acts as the brains underpinning parking and shuttle services Ford is developing.
Using real-time analytics to coach people on efficient ways to use multimodal travel options including public transport. As part of the company's GoPark Painless Parking experiment, Ford is looking to deploy parking space prediction technology.
Friend, Family and Group Leasing
A Ford Motor Credit Company leasing pilot program allows families and small groups of friends and neighbors can now share a Ford vehicle. Ford Credit Link – a pilot for Ford Credit customers in Austin, Texas – is aimed at consumers who don't need a vehicle full time, but would like access to their own set of wheels.Starting next month, Ford Credit is offering leases on Ford vehicles to self-organized groups of three to six people.
Lease groups can reserve drive time, check vehicle status, keep up with maintenance, communicate with each other, view their account, and make payments through a vehicle plug-in device and app.
The 24-month group leases will be available at three Austin dealerships – Covert Ford, Leif Johnson Ford and Maxwell Ford.
Wearables to Help Drivers & Safety Systems
Ford is opening the Automotive Wearables Experience lab at its Research and Innovation Center in Dearborn, Michigan. Potential smartwatch applications include linking health data to active vehicle driver-assist features to enable these technologies to be more aware of the driver behind the wheel – particularly when that person is stressed or sleepy. A new app challenge seeks innovative ways to measure in-vehicle health metrics. Or, if a driver's heart rate increases as traffic intensifies, the vehicle's adaptive cruise control or Blind Spot Information System could increase the distance between vehicles – giving the driver some breathing room.
Lincoln Pilot Program Give Credit for Unused Miles
Lincoln Automotive Financial Services is testing new ways to help customers manage lease mileage and earn up to $1,000 toward their next Lincoln vehicle.
By the end of January, qualified lease clients nationwide will be invited to join the pilot, which allows them to monitor mileage daily and predicted lease-end mileage through mobile and online updates. Lincoln Miles participants receive $100 to $1,000 in credits for unused miles on their lease contract. The credits can be applied toward a future Lincoln lease or purchase.
New Models with Connected Car Features
The new 2017 model year Ford Escape to reach showrooms in the spring and first for Ford, SYNC Connect allows drivers to use a smartphone app to start their Escape, lock doors and check fuel level from anywhere.
The Ford Fusion is the first Ford car in North America with a pedestrian detection system with other advanced technologies that include hands-free parallel and perpendicular parking and SYNC 3.