The Los Angeles Auto Show shows what car culture can do to cars and people. It's a giant reflecting pond of the top automotive trends in 2015. Just about everything automotive meets and greets the Big Orange.
Electric is the New Clean Diesel
Electric is the clean diesel. Audi of America President Scott Keogh announced the company's commitment to achieve at least 25% of U.S. sales from electric vehicles by 2025. Audi will start with the A3 Sportback e-tron plug-in hybrid later this year, followed by the Audi e-tron quattro concept SUV by 2018, with more models later on. Audi will develop a nationwide 150 kilowatt fast charging network that would provide an 80 percent charge in only 30 minutes – enough for 200 miles worth of driving in the Audi e-tron quattro.
Organization Takes Charge of Cooperation in Charging Payments
The providers of charging for electric cars are networking. BMW of North America and Nissan, together with charging networks, CarCharging/Blink (OTCQB: CCGI), ChargePoint, and NRG EVgo, announced the creation of the ROEV Association ("ROEV"), a neutral collaboration of industry stakeholders designed to support EV adoption by facilitating public charging network interoperability. ROEV expects that charging network interoperability will increase the appeal of electric car ownership to an even larger number of drivers in the U.S and is currently recruiting additional members and associates from across the EV industry.
Amercian Cars Get More Tech Bang for Bucks
In the luxury auto market car buyers get much more technology for the money with American-made cars such as the case with the Buick LaCrosse it comes packed by technologies not offered on competitors such as the Lexus ES. Technologies include available wireless charging, available Teen Driver watch, LED driver information center with 8-inch-diagonal color display, IntelliLink with frameless 8-inch-diagonal color touchscreen featuring Apple CarPlay, Android Auto and OnStar 4G LTE with Wi-Fi hotspot integration. Safety feature include,Front Pedestrian Braking, Lane Keep Assist, Lane Departure Warning alerts, Automatic Park Assist, Adaptive Cruise Control, Forward Automatic Braking, Forward Collision Alert Lane Change Alert, Side Blind Zone Alert, rearview camera and Safety Alert Seat. For those who like shade there is a power rear sunshade.
Apple CarPlay and Android Auto Oughta' Work Better in Demos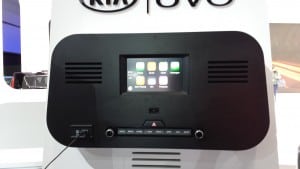 We stopped by several booths and tried to get a demo or learn more about how Android Auto and Apple CarPlay or smartphones will work in automakers vehicles. The Kia booth had kioks with both systems mixed with UVO. The tech expert wasn't at the booth but their rep had an iPhone that was supposed to work with the system. Siri sort of works except there was something incorrect in the map settings. There was no Android Phone available. The Honda both didn't have the cable. We tried to pair a few phones and were not able to pair Bluetooth to my two Android phones but we were able to pair an iPhone to the HondaLink system in an Accord. A Ford SYNC 3 (video will be coming later) was able to pair an iPhone as well as one of my Android phones with the system. In fact, the SYNC 3 was the easiest way to pair we had seen so far. We couldn't test the SYNC 3 apps because they all weren't on the presenters iPhone.
In one case, we saw a beautiful spokesmodel in a bright red dress with a microphone who had no idea what Android Auto and Apple CarPlay were but she could read cue cards. We checked a the Mercedes Benz both to see if we could learn more about mBrace but weren't embraced. The tech guy flew in for one day only. We wanted to confirm Android Auto and Apple CarPlay for the Mercedes-Benz A and B classes.
Games, VR & AR Show the Show
We took the VR distracted driving test by Toyota and the VR was so distracting we crashed the car after one block of driving.
Augmented Reality is the basis for the Hyundai Virtual Assistant App that shows what the dials, warnings and buttons mean of the the dash. It also gives advice on how to change the oil, how to pair Bluetooth and how to fill the windshield washer fluid.
Last year at the LA Show,  Volvo showed Google Cardboard virtual reality.This year, in virtual reality, Volvo demoed its new pact with Microsoft  to jointly develop next generation automotive technologies through Microsoft HoloLens.
HoloLens is an untethered holographic computer that might be used in future to redefine how customers first encounter and explore a car, as well as how cars might be bought and sold in future.  Areas of future collaboration between the two companies could include autonomous driving technologies and the utilization of data generated from connected cars to create new services. HoloLens technology might also liberate dealers from more traditional sales environments and allow them to take a car configurator out on the road in small Pop-Up stores, shopping malls or on the street, opening up new sales channels and introducing cars to a far larger potential audience.
Other areas of cooperation are expected to include how information gathered by cars and their drivers can be used to enhance the driving experience and the possibility of using predictive analytics to improve safety.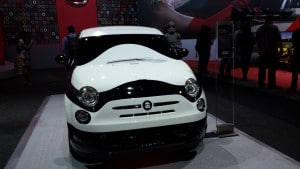 Another new feature, we saw, was new colors and ways to paint cars. The Lexus has a beautiful purple (through a wrap process) sheen and a Fiat 500 was painted as a Star Wars Storm Trooper.
The LA Auto Show is not totally devoted to traditional cars, the reveal of Elio Motors box-car like low-mpg super economy three-wheeler is just one of the new style of vehicles.
For those who prefer no wheels at all, the Lexus Hoverboard is on display.
😳😳😳 it's REAL. #hoverboard @Lexus #LAAutoShow pic.twitter.com/iRgNmsSKA1

— LA AUTO SHOW (@LAAutoShow) November 22, 2015