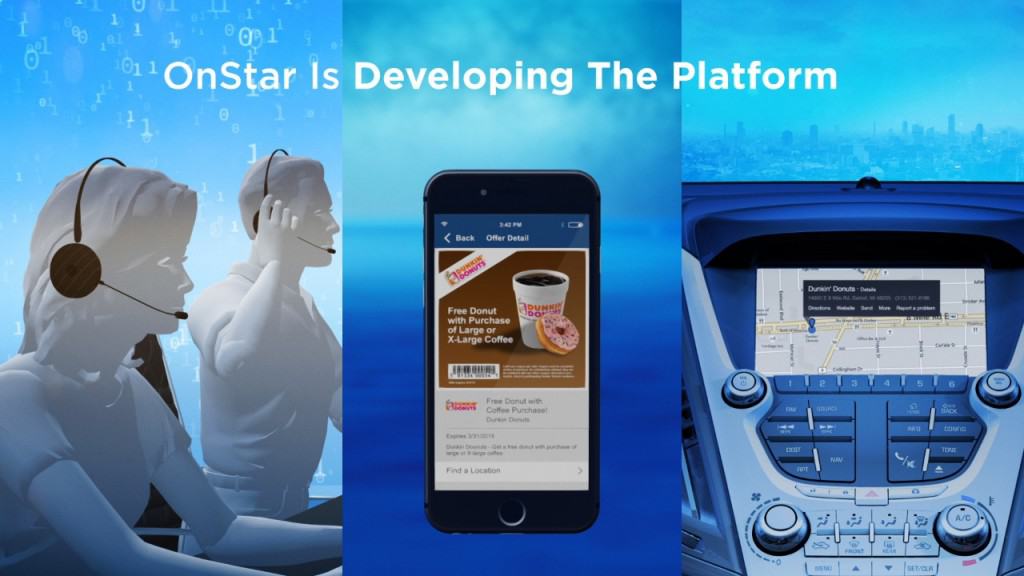 OnStar AtYourService will be available through the OnStar RemoteLink mobile app, with coupons, discounts and guidance near their location.
AtYourService will allows  Chevrolet, Buick, GMC and Cadillac owners to learn about deals in the area. AtYourService is currently available through OnStar advisors.
Customers with an active OnStar subscription will be able to use the RemoteLink mobile app to access an AtYourService tab before they leave.
The new tab includes featured offers, sponsored locations and a search tool to locate deals for dining, retail, fuel and services. The content will update based on the subscriber's location, time of day and day of the week. Offers can be saved for use anytime and the app can be personalized by favoriting frequently visited locations. Guidance plan subscribers can have directions to the location-based offer downloaded directly to their vehicle.
Some of the companies offer deals through the AtYourService platform include Dunkin' Donuts and RetailMeNot for national retailers in numerous categories. Customers will also be able to access special deals from Audiobooks.com, which is offering an extended trial and access to more than 60,000 audio books.
Approximately 35 percent of OnStar point-of-interest navigation requests in North America are for retail locations, 20 percent are for restaurants and 10 percent are for hotels.
Currently with an AtYourService, Guidance plan customers can have an OnStar advisor book hotel rooms on  through Priceline.com. AtYourService offers are available to any subscriber with a paid OnStar plan.
RemoteLink has more than 1.6 million active users who use the app to remotely start their vehicle, unlock doors, get vehicle information, send routes to their vehicle and customize Wi-Fi settings.
Read review of OnStar RemoteLink.