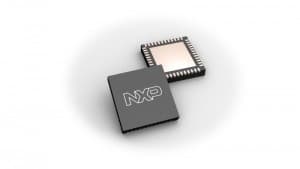 At the IAA international motor show in Frankfurt, Germany, NXP Semiconductors announced the new Mantra RF portfolio — a family of high-performance transceivers and receivers for secure car access and vehicle management from as much as 500 yards away.
The chip family offers a long-range, two-way RF link that enables robust bi-directional communication between key fob and car over a distance of several hundred meters. Car keys with Mantra enable users to conveniently check the fuel, battery levels, and latest maintenance data from a distance. Car owners can also verify if the doors and windows are locked, remotely operate the locks, start the car and pre-set the car's temperature.
NXP claims that the new Mantra RF solution is the new industry benchmark for secure bi-directional long-range communication.Designed for the mid-to-high-end car access market, the Mantra family offers very high sensitivity and blocking performance for improved robustness against radio jamming and undisturbed signal reception.
Key Features
Multi-channel transceiver and receiver solutions.
Single IC for bands (315, 345, 426, 434, 447, 868, 915, 950 MHz).
Simultaneous reception of up to three channels in parallel.
Two RF inputs allowing sequential antenna diversity.
Low receiver power consumption.
Flexible customization at ultra-low power with the programmable uC core.
High-performance, low-noise front end.
The family of chips, offers a triple-receiver for simultaneous reception of up to three channels. This multi-channel reception ensures that no signals are missed, offering very high system robustness at very low power consumption.
It enables the integration of different receiver units, such as tire-pressure monitoring, car diagnostics and car management, into the car-access module to reduce the overall system costs. The Mantra family provides strong security and authentication features to prevent unauthorized access.