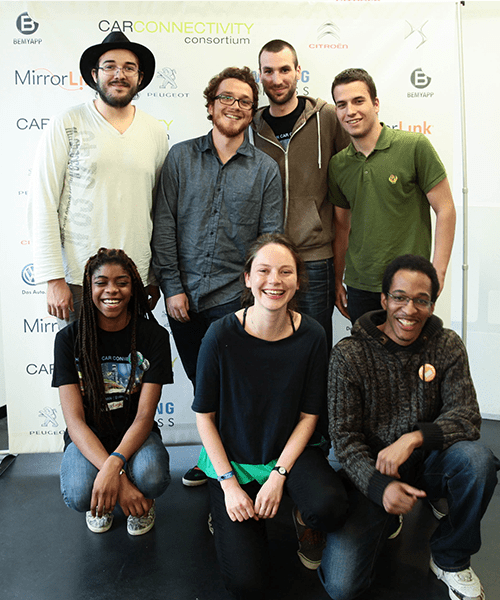 A great way to encourage more apps are contests and hackathons. Today we learned the winners of one connected car app contest and an invitation for developers to another hackathon.
The Car Connectivity Consortium announced the phase-one winners of the MirrorLink Hackathon held in Paris. Mojio and AT&T are inviting developers to make Hack Your Ride Apps.
MirrorLink mirrors what is on the smartphone to the infotainment system. The winners are
Adventure – the app features interactive storytelling that uses voice recognition to stave off boredom behind the wheel.
Drive Together – makes driving in a convoy easier and offers a solution to the common frustrations of guests heading to a venue.
Edgar – connects drivers with their cars.
RidZinGa – a fun, quiz-based app that uses voice recognition without compromising driver security.
Selected from a three-day competition in Paris between 21 teams of more than 90 developers, winning teams receive 10,000€. All four also receive an incubation package from BeMyApp, Phase Two of the MirrorLink Hackathon, for further development. The incubation period concludes in September, when the CCC will choose one final winner. The grand prize will be an additional 10,000€ and support from the CCC to officially launch the app.
MirrorLink is available on Volkswagen models and aftermarket audio systems.
Mo' Mojio Apps
Mojio announced the Hack Your Ride Apps for Cars hackathon sponsored by AT&T and Invoke. Beginning from June 16 to September 3. They are requesting developers to create apps for connected cars using the Mojio developer center and integrating AT&T APIs to win an "app-celerator" package provided by Invoke.
Jay Giraud, CEO, Mojio said "…There is an immense business opportunity today that will pay off exponentially as the connected car space grows."
Developers can register as teams or as individuals. To enter, developers submit a video that falls into one of four categories by the deadline of August 10, 2015. The app must be developed for the Android or iOS operating systems. Categories include:
Eco Friendly Driving App – apps that use data from the car and how people drive to help them become better drivers by lowering their carbon footprint.
Safer Driving App – apps that aim to reduce the social urgency to use a smartphone while driving.
Connected Life App – apps that connect the car to the Internet of Things.
Wildcard App – for any idea that doesn't fit into the above categories.
Entries will be scored on originality, ease of use, and their ability to enhance the driving experience.
The top two app demos from each category will be recognized as semi-finalists, with each semi-finalist having two weeks to refine and polish their applications in preparation for the final round.
In the final round, the top 8 will present their app to the judging panel and the top scoring connected car app from each of the four categories will be named as category winner, with one select overall grand prize hackathon winner. The grand prize winner will receive an "app-celerator" package worth $5,000 and other prizes.