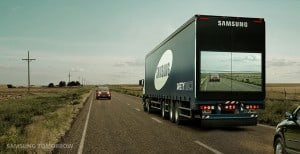 Car drivers can't see what's in front of a big rig truck. Samsung created a prototype truck with screens on the rear that show video from the front of the truck called the Samsung Safety Truck.
Samsung posted a video on YouTube, showing how difficult it is to pass a truck in country with so many single lane roads. Argentina has the highest traffic accidents rates in the world with most of the accidents occur on two-lane roads and when trying to pass large vehicles.
The Samsung Safety truck has four monitors on the rear of the truck that show the view from a wireless camera on the front of the truck. The monitors have a night-vision mode for night driving. Samsung claims it is an idea that instead of changing people's lives, saves them.
Another advantage of the Safety Truck is that it may reduce the risk of accidents caused by sudden braking or animals crossing the road because the cars behind will see the animals and know to break along with the truck.
Samsung led the prototype development, gave the large format displays and conducted a test with a local client.
The prototype truck is no longer working, however, Samsung knows that technology works and that this idea can definitely save lives.
Samsung reports that it will perform tests in order to comply with the laws and regulation. It will then obtain the necessary permits and approvals. For this, Samsung is working together with safe driving NGOs and the Argentine government.