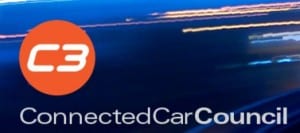 Connected Car Conference (C3) founder Doug Newcomb  announced the formation of the Connect Car Council and its inaugural members.
The Connected Car Council will market its members and help shape future C3 with topics such as distracted driving, data, networking, infotainment and privacy/security.
The council will provide expert information, research and opinion.
Members of the Connected Car Council include representatives form  QNX Software Systems, Cisco, Waggener Edstrom, Telenav, Intel, Delphi Labs @ Silicon Valley, NVIDIA, Hyundai Ventures and  Auto Alliance of Automobile Manufacturers.
This should not be confused with the Connected Car Expo at the LA Auto Show with representatives from Aeris, MERA, Ford, AT&T, Google, Strategy Analytics and Pandora.
Since AUTO Connected Car is located in Los Angeles we will give you a much deeper look into the Connected Car Expo.