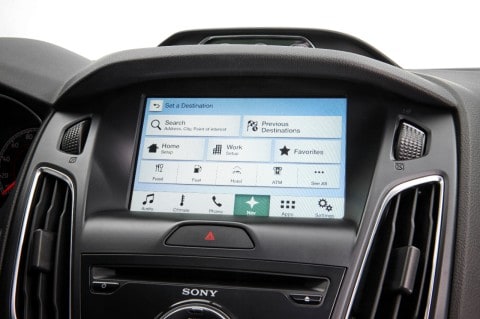 Ford introduced SYNC 3, its new entertainment system with voice commands and faster speeds that will be coming on new Ford cars, next year.
The voice recognition is more conversational and the touchscreen is more smartphone-like. Software can be updated via a local secure Wi-Fi network.
Ford considered recommendations from drivers, researchers and testing while developing SYNC 3 while making it optimized for hands-free use.
The interface offers faster responses to touch as well as voice commands and smartphone-like gestures including pinch-to-zoom and swipe are central to SYNC 3, along clean clear graphics.
Under dark conditions the screen automatically switches to a dark background to help reduce eye fatigue and minimize reflections on the windows.
The home screen features three zone choices – Navigation, Audio and Phone to make it easier to use.
With SYNC 3, when you say "play, song, artist, album or genre, that prompts the system to play the desired song, artist, playlist or album. To change back to a radio station, the user just says the name of the SiriusXM station or terrestrial radio station number. Voice search doesn't have to exact.
SYNC 3 allows for Siri Eyes-Free control, by holding down the steering wheel button.
AppLink allows customers to connect their smartphone to their vehicle and control their compatible apps using voice commands or buttons on the vehicle display screen. AppLink now automatically discovers smartphone apps including Spotify, Pandora, Stitcher, NPR One, SiriusXM Radio and iHeartRadio Auto, and displays their unique graphics and branding. Music and news apps are automatically displayed along with other media sources, just like AM/FM or SiriusXM. SYNC 3 also offers subscription-free emergency service 911 Assist.
The driver's Bluetooth-connected phone is used to dial 911 in case of an accident. With SYNC 3, the car relays additional information, including if airbags were deployed, the type of crash (front, side, rear or rollover) and the number of safety belts detected in use,  to help emergency call dispatchers.