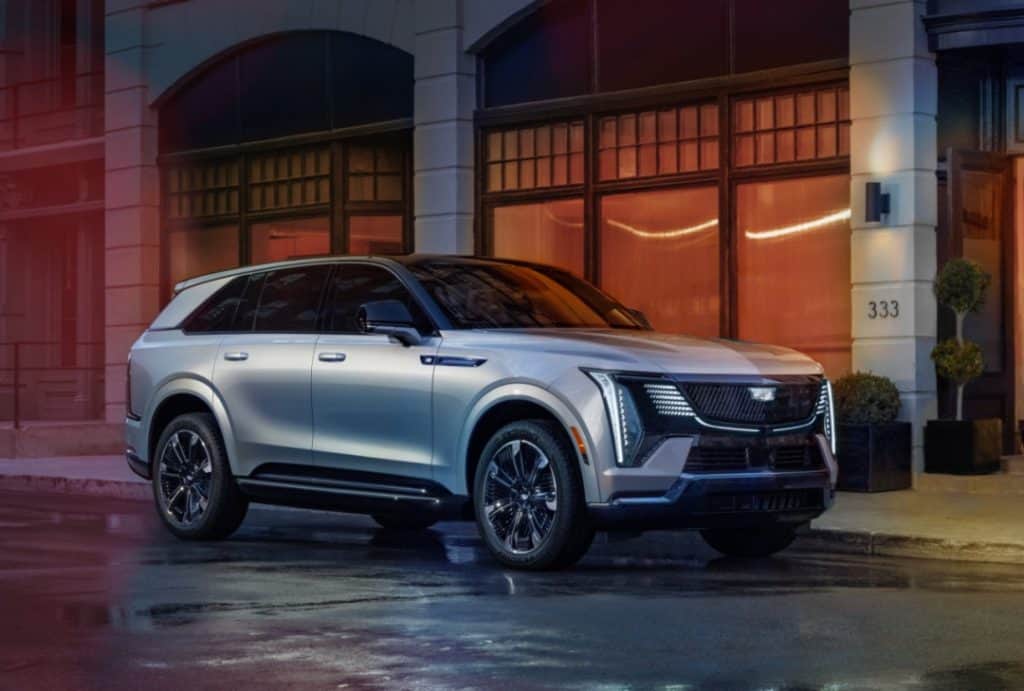 Cadillac today unveiled the first-ever all-electric 2025 ESCALADE IQ, a reimagination of the luxury full-size SUV experience, brimming with iconic design, the highest level of craftsmanship and the latest automotive technology.
Offering a Cadillac-estimated 450 miles of range1, the ESCALADE IQ elevates the driving experience with a curved pillar-to-pillar 55-inch total diagonal LED display, available Super Cruise® driver assistance technology2, vehicle-to-home bidirectional charging technology with GM Energy's available Ultium Home products, luxurious appointments with a bold interior and exterior design, no-compromise performance, and zero tailpipe emissions.
"ESCALADE IQ raises the standard just as the original Escalade redefined luxury a quarter-century ago," said John Roth, vice president, Global Cadillac. "This reimagining of an icon marks the next step in Cadillac's all-electric future."
"For more than 120 years, Cadillac's bold innovative spirit has defined American luxury," said Roth. "The ESCALADE IQ embodies this spirit in the most sophisticated form."
Bold yet nimble performance
ESCALADE IQ was envisioned to be the best-driving, most maneuverable Escalade to date, and the collaboration between Cadillac Engineering and Design ensured the production model remained faithful to the goal.
It's the first full-size SUV from Cadillac built on GM's innovative and modular EV propulsion architecture, the Ultium Platform, and incorporates GM's Ultifi software platform to support and deliver ongoing software updates to its expansive technologies.
Its dedicated EV architecture enables ESCALADE IQ's bold design and performance characteristics, from its expressive silhouette and generous space — for passengers and cargo — to its driving performance.
"ESCALADE IQ is first and foremost a Cadillac and delivers on a promise of innovative design supported by spirited performance and cutting-edge technologies," said Jamie Brewer, executive chief engineer, ESCALADE IQ. "The EV-specific architecture allows us to deliver a driving experience aligned with Cadillac's philosophy of isolated precision — quiet, smooth and effortless with a strong connection to the road for an engaging experience."
When it comes to performance, ESCALADE IQ features independent front and rear suspension, with power transferred to 24-inch wheels with 35-inch tires via front and rear drive motors that work in conjunction as an eAWD system.
A suite of fully integrated advanced technologies including Magnetic Ride Control 4.0 and Adaptive Air Ride Suspension isolate passengers from undesirable road surfaces while providing precise steering and feel.
The Adaptive Air Ride Suspension system enables the vehicle to be lowered up to 2 inches (50 mm) and raised 1 inch (25 mm), while additional features such as the standard Four-Wheel Steer, available Cadillac Arrival Mode3 and Low Ride Mode enhance capability as well as the ESCALADE IQ's presence.
Four-Wheel Steer reduces the turning diameter to only 39.4 feet (12 meters) at lower speeds and reduces the turning diameter by more than 6.5 feet for greater maneuverability in parking lots and tighter overall turning radius. It also enhances handling and stability at higher speed, particularly when trailering.
Cadillac Arrival Mode3 is a unique Four-Wheel Steer feature that allows the ESCALADE IQ to move diagonally, making it easier when pulling into or out of tight spaces, while making a statement.
Low Ride Mode enables the ESCALADE IQ to be driven at low speeds with the suspension fully lowered.
A 24-module Ultium battery serves as the foundation of the ESCALADE IQ, producing more than 200 kWh of available energy. It also employs a flexible, high-voltage architecture that enables 800-volt DC fast charging, the quickest form of charging currently available, providing up to 100 miles of range in 10 minutes of charge time4.
ESCALADE IQ will be equipped with Vehicle-to-Home (V2H) bidirectional charging technology with GM Energy's available Ultium Home products, providing customers with the ability to send power directly from the vehicle to a properly equipped home. This capability will be enabled via an over-the-air software update for the 2025 model year. ESCALADE IQ will also offer the option of Vehicle-to-Load (V2L) offboard power, allowing the vehicle to power external devices.
The ESCALADE IQ uses its Ultium battery pack as part of its fundamental body structure. This allows the battery pack to provide the vehicle's impressive Cadillac-estimated 450 miles of range1 while also protecting the battery in the event of a crash and adding overall strength and rigidity to the vehicle.
The powerful electric propulsion configuration — consisting of the battery pack, power electronics and a two-motor eAWD system — offers great power on demand and surprising performance, including:
Up to 750 horsepower (with driver-selectable Velocity Max5, Cadillac estimate)
Up to 785 lb-ft of torque (with driver-selectable Velocity Max5, Cadillac estimate)
0-60 mph in less than 5 seconds6 (with driver-selectable Velocity Max5, Cadillac estimate)
Up to 8,000 pounds of towing capability7 (Cadillac estimate)
Additionally, ESCALADE IQ offers One-Pedal Driving8 and Variable Regen on Demand9 to allow customers to feel more connected to their drive. Plus, Ultium Energy Recovery — an innovative heat pump thermal system — allows for energy to transfer between the battery/power electronics and the cabin, using every watt possible to optimize range and minimizing the power from the high-voltage battery used for five-zone climate control.
SUPER CRUISE – THE INDUSTRY'S FIRST TRUE HANDS-FREE ADVANCED DRIVER ASSISTANCE SYSTEM
ESCALADE IQ will have Super Cruise2 as a standard feature with three years of the OnStar Super Cruise plan10. Super Cruise is the industry's first true hands-free driver assistance technology that enables drivers to travel hands-free on more than 400,000 miles of compatible roads in the U.S. and Canada.
When Super Cruise is engaged, the vehicle's precision LiDAR map data, real-time cameras, radars and GPS keep the vehicle traveling along the lane path for a hands-free driving experience. These systems work together through "sensor fusion" to create a sensory field around the vehicle that assists in keeping it centered in the lane while elevating the driver's comfort and convenience.
Super Cruise accelerates or brakes the vehicle to maintain a selected following gap from a vehicle ahead and steers to maintain lane position. Additionally, Super Cruise can perform both driver and system-initiated lane changes to pass slower traffic and to move from a lane that may be ending, while monitoring the driver's head position and/or eyes in relation to the road to help ensure driver attention.
ESCALADE IQ also features a suite of standard active safety and driver assistance11 features, with highlights including:
Blind Zone Steering Assist: Can provide a brief, firm turn of the steering wheel when a potential crash is detected with a moving vehicle in the lane the vehicle is entering
Intersection Automatic Emergency Braking: Can help drivers avoid or reduce the severity of an intersection collision with a detected cross-traffic vehicle
HD Surround Vision: Provides selectable digital camera views of the area around the vehicle and can help drivers park or avoid vehicles and objects
Enhanced Automatic Parking Assist: Can automatically steer, brake and shift gears to park the vehicle into a dedicated parallel or perpendicular parking space and can help unpark the vehicle
Front Pedestrian and Bicyclist Braking: At speeds between 5 and 50 mph, can help drivers avoid or reduce the severity of a collision with a pedestrian or bicyclist it detects directly in front of them
"Escalade has always been about being bold, so that's what we set out to accomplish," said Mandi Damman, chief engineer, ESCALADE IQ. "ESCALADE IQ is what you get when you follow your soul instead of the crowd."
A reimagined yet familiar presence enabled by electrification
The design of ESCALADE IQ captures the bold presence of its predecessors, but its dedicated EV architecture provided the design team a blank-slate approach to its styling. The result is a reimagined yet familiar Escalade — one that makes a statement without compromises.
The electric architecture enables a sleeker profile, but one with a silhouette that remains instantly recognizable as an Escalade. It also enables a lower, flatter interior floor that contributes to ESCALADE IQ's exceptional spaciousness.
"Our intent for the ESCALADE IQ was to amplify the Escalade DNA with a distinctively premium profile and heroic stance, while complementing the Cadillac EV showroom. With the pillar-to-pillar 55-inch-total-diagonal screen, and available executive second row seating, the ESCALADE IQ is another proud expression of Cadillac's artful integration of leading innovation," said Bryan Nesbitt, executive director, Global Cadillac Design.
ESCALADE IQ's new design pushed the wheels farther to the corners, for a more powerful-looking and planted stance. The proportions speak to its presence and scale. Starting with a long, dynamic hood and ending with a faster-sloping roofline at the rear, all of which contributes to a sportier aesthetic.
GM'S MOST AERODYNAMIC FULL-SIZE SUV EVER
In addition to its bold design statement, ESCALADE IQ's sleeker profile pays dividends on the highway, as it is estimated to be the most aerodynamic full-size SUV ever produced by GM, with an approximately 15 percent lower coefficient of drag than previous generations.
That more efficient aero performance reduces wind resistance, contributing to the Cadillac-estimated 450 miles1 of range. Cadillac's aerodynamicists also worked the smallest details to achieve big aero gains, including a sharp trailing edge of Cadillac's iconic taillights, a smooth underbody, intelligent grille shutters that close off airflow when it's not needed and even the shape and profile of the wheels.
Much of the ESCALADE IQ's sophistication is derived from carefully and beautifully sculpted surfaces. The design team looked to create a dynamic balance between crispness and curvature. ESCALADE IQ's side profile features flush side glass and a large glass roof that gives the appearance of seamless body lines.
"We have added more sculpture to every surface," said Jawook Koo, design manager, Cadillac Exteriors. "It looks simple, but you see a graceful transition of every surface along with strong bodylines with gesture. It's such attention to detail that makes it more expressive."
The artful integration of lighting reinforces ESCALADE IQ's expressive design, helping to deepen the connection between the customer and their vehicle. The ESCALADE IQ features a strong vertical light signature for both day and night, with tall front daytime running light blades and vertically oriented high/low beams. Dramatic lighting choreography at both approach and departure showcases the technical prowess of Cadillac design while also creating a unique rhythm — a dynamic symphony of light with an impressive chorus of LEDs.
Additional ESCALADE IQ exterior details include:
Available power open-and-close exterior door entry system. All four doors power open and close at the touch of a button, and if activated, the driver's door will automatically open as the driver approaches with the key fob
Motorized charge port door that opens automatically with a touch
Large eTrunk compartment under the hood with 12 cubic feet of storage
Dynamic 24-inch wheel designs
In keeping with other vehicles in the Cadillac portfolio, ESCALADE IQ delineates itself with two personas: Luxury and Sport. This trim strategy enables the customer to choose a vehicle that matches their own personality and preferences. Each offers distinctive appearances, including brushed aluminum metallic finishes on areas such as the wheels and exterior moldings on Luxury, and a darkened metal finish on Sport.
Customers can also select a dramatic two-tone appearance by selecting the available black-painted roof — a stunning visual contrast to the six body colors in addition to black.
Ultramodern yet timeless interior
The all-new ESCALADE IQ seamlessly melds thoughtful details and architectural influence with advanced technologies, creating an interior environment befitting the iconic Escalade name.
"You have never seen an Escalade quite like this," said Craig Sass, design manager, Cadillac Interiors. "It's a true renaissance — an immersive interior experience that elevates the bar for the future of luxury transportation."
Inspired by the worlds of architecture, upscale furnishings, fashion and more, ESCALADE IQ is open, airy and spacious, and incorporates advanced technologies introduced on the ultra-luxury Cadillac CELESTIQ.
Highlights include:
A stunning, curved pillar-to-pillar 55-inch-total-diagonal LED display powered by a next generation Snapdragon®12 Cockpit Platform from Qualcomm Technologies, Inc. creates a vibrant first impression that only gets better over time with intuitive virtual Smart Controls, such as Universal Remote control when you pull up to your garage, which enhances the experience. Utilizing connectivity from Qualcomm Technologies' Snapdragon® Auto 5G Modem-RF system, the ESCALADE IQ raises the bar for in-vehicle experiences. The integrated infotainment experience is further personalized and enhanced with Google built-in13. With Google Assistant®14, Google Maps, and Google Play, customers can access hands-free communication, live traffic updates, information on nearby charging stations, download their favorite apps and more.
Attention to detail includes an available Executive Second-Row Seating package that blends beauty with task-oriented comfort, including features such as stowable tray tables, 12.6-inch-diagonal personal screens, a rear command center screen, dual wireless phone charging15 pads, USB-C16 and HDMI ports, massaging seats and headrest speakers.
Power folding third row allows for seven total passengers and folds flat for more storage.
Spaciousness is enhanced by the panoramic fixed glass roof that spans the first and second rows of seating, creating an immersive experience and spectacular view for every passenger. The roof glass is tinted and treated with a UV-filtering film that ensures the cabin stays comfortable, even on bright days.
Interior themes celebrate bold, progressive color combinations and contrasting details to further establish Cadillac's EV personality.
Immersive, 360-degree audio experience with available 40-speaker AKG Studio Reference audio system when equipped with the Executive Second Row package. The Luxury 2 and Sport 2 systems include a 36-speaker AKG Studio Reference audio system. The standard system for Luxury 1 and Sport 1 trims is a 19-speaker AKG Studio audio system.
Additionally, the ESCALADE IQ is connected by OnStar17 to elevate the in-vehicle experience through a variety of safety, entertainment, convenience and driver assistance technologies, including available Super Cruise2.
Whether a customer chooses Luxury or Sport, both offer superior levels of premium content, meaning every owner has the same uncompromising level of technology and comfort, with four total interior theme options to choose from.
"We pushed for more expressive colors and more artistic trim finishes, creating fully-designed 'themes' the customer can choose," says Sass. "Additionally, ultra-premium materials and thoughtful finishing touches add a tactile sensation. Indeed, every element of the vehicle is intended to deepen the connection between the customer and their vehicle."
As with the exterior, the dramatic interior lighting includes customizable ambient lighting with 126 color choices, allowing the owner to curate a more personal experience. With the available illuminated trim, even the interior décor illuminates, creating a warm, inviting glow.
The interior trim features delicate detailing in the daylight, with laser-etched patterns accenting the wood panels. They light up at night for a unique look and a distinctive aura.
'eTRUNK' ADDS TO ESCALADE IQ SPACIOUSNESS
Among the many benefits of the ESCALADE IQ's EV architecture is the large front storage compartment enabled by the lack of a combustion propulsion system. It offers a generous 12 cubic feet of cargo room18 with space to fit two golf bags, and additional features to increase convenience and space optimization like the available storage tray.
Its size and versatility were optimized by the design team, including incorporating the grille shield in the hood rather than on the front fascia, for a lower liftover threshold that makes it easier to load items.
Crafted at Factory ZERO
Regular production of the ESCALADE IQ begins next summer at GM's Factory ZERO Detroit-Hamtramck Assembly Center in Michigan, with domestic and globally sourced components.
Factory ZERO was renovated and retooled with a $2.2 billion investment to serve as the launchpad for GM's EV strategy.
Pricing starts at around $130,000 including destination charges19. Visit www.cadillac.com for more information.
1On a full charge based on development testing and/or analytical projection consistent with SAE J1634 revision 2017 – MCT. EPA estimate not yet available. Range subject to change prior to production. Actual range may vary based on several factors, including ambient temperature, terrain, battery age and condition, loading, and how you use and maintain your vehicle.
2Always pay attention while driving and when using Super Cruise. Do not use a hand-held device. Requires active Super Cruise plan or trial. Terms apply. Visit cadillac.com/supercruise for compatible roads and full details.
3Limited to low speeds. Read the vehicle Owner's Manual for important feature limitations and information.
4Actual charge times will vary based on battery starting state of charge, battery condition, output of charger, vehicle settings and battery temperature. See the Owner's Manuals for your vehicle and charger for additional details & limitations.
5On a closed course.
6On a closed course only. Based on initial vehicle movement.
7Maximum trailering ratings are intended for comparison purposes only. Before you buy a vehicle or use it for trailering, carefully review the trailering section of the Owner's Manual. The trailering capacity of your specific vehicle may vary. The weight of passengers, cargo and options or accessories may reduce the amount you can trailer.
8Feature may be limited when the battery temperatures are extremely cold or hot or when battery is near full charge.  Always use the brake pedal when you need to stop immediately.  See Owner's Manual for details.
9Feature may be limited when the battery temperatures are extremely cold or hot or when battery is near full charge.  See Owner's Manual for details.
10 After initial 3-year period, an eligible OnStar Super Cruise plan must be purchased. Services vary by vehicle and model and require active service plan, working electrical system, cell reception and GPS signal. Does not include safety services. Super Cruise vehicles are connected to emergency services. See onstar.com for details and limitations.
11Safety or driver assistance features are no substitute for the driver's responsibility to operate the vehicle in a safe manner. The driver should remain attentive to traffic, surroundings and road conditions at all times. Visibility, weather, and road conditions may affect feature performance. Read the vehicle's owner's manual for more important feature limitations and information.
12Snapdragon branded products are products of Qualcomm Technologies, Inc. and/or its subsidiaries. Snapdragon is a trademark or registered trademark of Qualcomm Incorporated.
13 Google built-in services are subject to limitations and availability may vary by vehicle, infotainment system, and location. Select service plan required. Certain Google actions and functionality may require account linking. User terms and privacy statements apply.
14 Service availability, features and functionality are subject to limitations and vary by vehicle, device, location and active service plan. Device data connection is required. Google Actions require account linking to use. Lock/unlock feature requires automatic locks. Remote start/stop requires GM factory-installed and -enabled remote start system. See onstar.com for details and limitations. ®2023 Google LLC. All rights reserved. Google, Android, Google Assistant and other related marks and logos are trademarks of Google LLC.
15The system wirelessly charges one compatible mobile device. Some phones have built-in wireless charging technology and others require a special adaptor/back cover. To check for phone or other device compatibility, see my.cadillac.com/learn or consult your carrier.
16Not compatible with all devices.
17See onstar.com for details and limitations. Services vary by model. Service plan required.
18Cargo and load capacity limited by weight and distribution.
19The Manufacturer's Suggested Retail Price excludes, tax, title, license, dealer fees and optional equipment. Dealer sets final price.
---
2025 CADILLAC ESCALADE IQ PRELIMINARY SPECIFCATIONS
EFFICIENCY
| | |
| --- | --- |
| Cadillac-estimated range1 | 450 miles (724+ km) |
1On a full charge based on development testing and/or analytical projection consistent with SAE J1634 revision 2017 – MCT. Range subject to change prior to production. Actual range may vary based on several factors, including ambient temperature, terrain, battery age and condition, loading, and how you use and maintain your vehicle.
BATTERY SYSTEM:
| | |
| --- | --- |
| Type: | Rechargeable energy storage system comprising multiple linked modules |
| Battery Chemistry: | Lithium-ion NCMA cathode, blended graphite anode |
| Battery Rated Energy: | 200 kWh |
ELECTRIC DRIVE:
System:
2 drive units with 1 motor each
Motor:
Permanent magnet, bar wound
Power1:
680 hp / 505 kW – Normal Mode
750 hp / 560 kW – Velocity Max
Torque1: (lb-ft / Nm):
615 lb-ft / 834 Nm – Normal Mode
785 lb-ft / 1064 Nm – Velocity Max
Final Drive Ratio (:1):
13.26:1 – front
11.63:1 – rear
1Based on GM testing
CHARGING TIMES1
| | |
| --- | --- |
| 240V (7.7 kW Including Dual-Level Charge Cord): | Approximately 14.8 miles of range per hour of charge |
| 240V2 (19.2 kW AC): | Approximately 37 miles of range per hour of charge time |
| DC Fast Charge (Public): | Up to 100 miles of range in 10 minutes of charge time |
1Actual charge times will vary based on battery condition, output of charger, vehicle settings and outside temperature. See the vehicle's Owner's Manual for additional limitations.
2Home charging requires professionally installed 100A dedicated charge station, sold separately.
CHASSIS & SUSPENSION
Front and Rear Suspension:
Short-Long Arm (SLA) suspension with air springs and MagneRide dampers. Balanced ride and handling with premium isolation.
Steering Type:
Front: Rack & Pinion Electric Power Steering;
Rear: Continuously variable actuator up to 10 degrees.
Turning Circle, Curb-to-Curb (ft. / m):
39.4 / 12
Brake Type:
4-wheel disc with DuraLife™ Rotors
Brake Rotor Size OD:
(in. / mm):
13.98 / 355 (front)
14.05 / 356.8 (rear)
Wheels:
24-inch alloy
Tires:
LT275/50R24
1Lower-profile tires wear faster. Tire and wheel damage may occur on rough or damaged roads or from surfaces, curbs, debris or obstacles. This damage is not covered by the GM New Vehicle Limited Warranty. For more details, go to my.cadillac.com/learnabout/tires or see your dealer.
EXTERIOR DIMENSIONS
Wheelbase (in. / mm):
136.2 / 3460
Overall Length (in. / mm):
224.3 / 5697
Overall Width (in. / mm):
94.1 / 2389 (with mirrors)
85.3 / 2167 (mirrors folded)
Overall Height (in. / mm):
76.1 / 1934
Track Width (in. / mm):
Front: 68.7 / 1745
Rear: 68.7 / 1745
Ground Clearance (in. / mm):
6.9 / 175
INTERIOR DIMENSIONS
Headroom (in. / mm):
1st row: 43.5 / 1106
2nd row: 39.9 / 1015
3rd row: 37.2 / 944
Legroom (in. / mm):
1st row: 45.2 / 1148
2nd row: 41.3 / 1051
3rd row: 30.1 / 765
Shoulder Room (in. / mm):
1st row: 65.4 / 1662
2nd row: 63.6 / 1615
3rd row: 56.5 / 1435
Hip Room (in. / mm):
1st row: 61.1 / 1551
2nd row: 60.3 / 1532
3rd row: 49.4 / 1256
CAPACITIES   
EPA Passenger Volume
(cu. ft. / L):
1st row: 1841
2nd row: 1651
3rd row: 1092
Cargo Volume1
(cu. ft. / L):
119.2 / 3374 (second and third rows folded)
69.1 / 1958 (third row folded)
23.7 / 670 (behind third row)
eTrunk Volume1
(cu. ft. / L):
12.2 / 345.4
Max Trailering Capacity2
(lb. / kg):
8000 / 3628
1Cargo and load capacity limited by weight and distribution
2Before you buy a vehicle or use it for trailering, carefully review the Trailering section of the Owner's Manual. The weight of passengers, cargo, and options or accessories may reduce the amount you can tow.