Cars.com™ (NYSE: CARS) t revealed the 100 vehicles on its 18th annual American-Made Index. Cars.com's automotive experts independently evaluate vehicles contributing the most to the U.S. economy  for manufacturing, parts sourcing and employment. In this year's AMI, electric vehicle automaker Tesla took the top spot for the third year and swept the first four spots. Honda held strong again, adding clout with appearances from its luxury brand Acura. Newcomer Volkswagen is making its debut in the index's top 10.
"The trends in this year's AMI reflect shifting consumer preferences. Only two sedans, Tesla's Model 3 and Model S, appear in the top 10, largely replaced by SUVs, now comprising almost 60% of the full list," said Jenni Newman, Cars.com editor-in-chief. "EVs, too, have experienced a meteoric rise since the first electrified vehicle, the Chevrolet Volt, made its only AMI top 10 appearance just five years ago. Half of the top 10 are EVs this year, and roughly 1 in every 5 vehicles on the full list comes electrified."
Consumers Want American-Made, Even If it Costs 30% More
A thriving automotive industry stimulates the economy in a variety of ways, from local dealerships to aftermarket parts and repair. According to a Cars.com consumer survey, about half of shoppers say they will pay more for a vehicle that creates U.S. jobs, with the number of Americans willing to pay an additional 30% or more to support U.S. jobs, almost doubling year over year.1 But what does it mean to buy American?
In 2022, 14% of respondents believed a manufacturer must be headquartered in the U.S. to qualify as "substantially contributing to the U.S. economy"; that number rose to 24% this year, good news for mainstream U.S. automakers like GM, which has the most models appearing on the AMI, and Ford, tied for second. Still, Ford and GM's Chevrolet are notably absent from the top rankings for the first time in the AMI's almost two-decade history. Besides Tesla, no U.S.-headquartered automaker appears until No. 33. Last year's No. 3, Ford's Lincoln Corsair, is the 2023 index's highest-ranking vehicle manufactured by a U.S.-based automaker that isn't Tesla, and it fell to No. 16 this year because of a drop in its domestic parts.
"Tesla debuted on the index just three years ago, but with headquarters and significant operations in the U.S., its rise shuffled the deck, displacing many traditional domestic manufacturers," said Newman. "More notably, we are seeing foreign-based manufacturers like Honda and Toyota move production to the U.S., particularly the South, challenging Americans' definitions of what constitutes 'American-made' and driving many of the changes in the AMI since last year."
That parts content mix is a key reason behind this year's outlier at the top, the Volkswagen ID.4. After its model-year 2021 debut as a German-made vehicle, production shifted for examples sold in the U.S. to VW's plant in Chattanooga, Tenn., replacing space on the line once held by the Passat sedan. With some (but, unlike the Passport, not all) variants of the ID.4 hitting 75% U.S. and Canadian parts content, plus powertrains credited entirely to the U.S. the ID.4 settles comfortably at the sharp end in its first appearance.
2023 AMI Honorees Show Southern Migration From Midwest
Just over half of the 2023 AMI vehicles were assembled in the South, which now has automotive manufacturing and assembly operations to rival the Midwest and Detroit's mantle as Motor City. The South recently gained plants in Mississippi, Tennessee, Kentucky, Texas and Alabama, which as a state, is second only to Michigan in factory representation on this year's index.
This year, the AMI consideration set comprises 388 vehicles. Only 100 made the cut, however, receiving a coveted AMI badge on their Cars.com vehicle display pages; this designation makes "American-Made" status clear during consumers' Cars.com shopping experience.
Rank

Make/Model

U.S. Assembly Location

1.

Tesla Model Y

Fremont, Calif.

Austin, TX

2.

Tesla Model 3

Fremont, Calif.

3.

Tesla Model X

Fremont, Calif.

4.

Tesla Model S

Fremont, Calif.

5.

Honda Passport

Lincoln, Ala.

6.

Volkswagen ID.4

Chattanooga, Tenn.

7.

Honda Odyssey

Lincoln, Ala.

8.

Acura MDX

East Liberty, Ohio

9.

Honda Ridgeline

Lincoln, Ala.

10.

Acura RDX

East Liberty, Ohio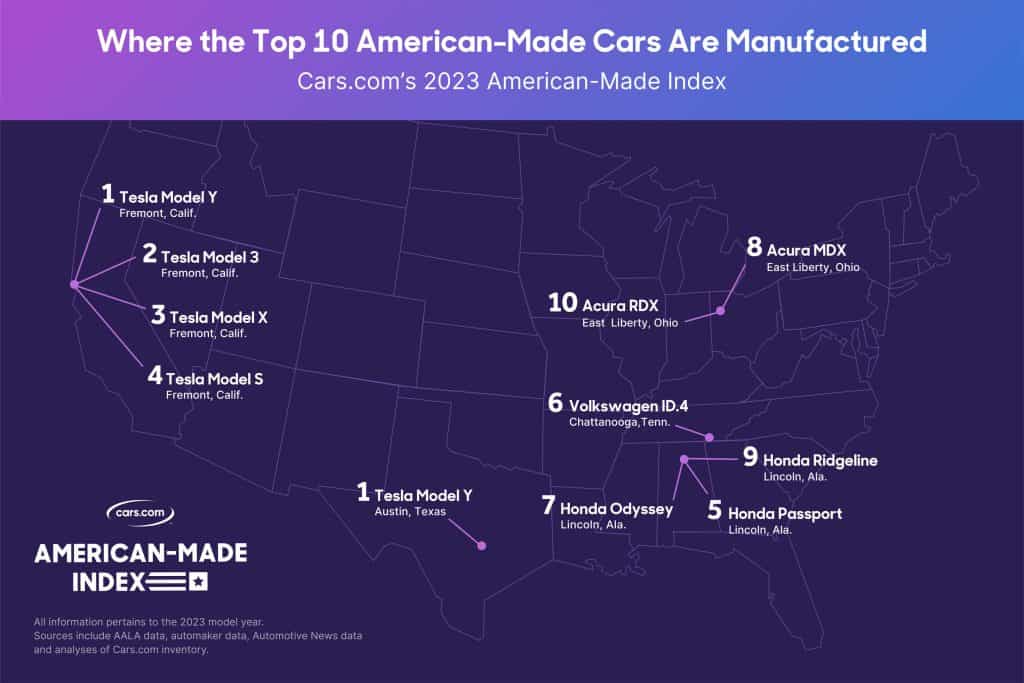 Is an American-Made Car 'Born,' 'Bred' or Both?
Owned by Netherlands-based Stellantis, the Jeep Wrangler 4xe had the largest jump from last year's list, moving up 39 places to No. 30 after shifting engine manufacturing operations from Italy to the U.S. Toyota and Honda, tied with Ford for the second-most vehicles on the list, also moved domestic parts, engine and transmission production to the U.S. On the other hand, the Ford Bronco dropped 65 places owing to a significant decrease in composite domestic parts content.
Asked to rank the "most American" vehicles, survey respondents cite the Ford F-150, Chevy Corvette and Ford Mustang, which appear on the AMI at Nos. 38, 19 and 72, respectively. Aside from Tesla in the top four, U.S. automakers first appear in the rankings with Ford (Lincoln Corsair, No. 16) and GM (Chevy Corvette, No. 19).
Methodology
Cars.com's American-Made Index ranks cars based on five factors: assembly location, parts sourcing as determined by the American Automobile Labeling Act, U.S. factory employment relative to vehicle production, engine sourcing and transmission sourcing.
The complete list is available at Cars.com/AMI.