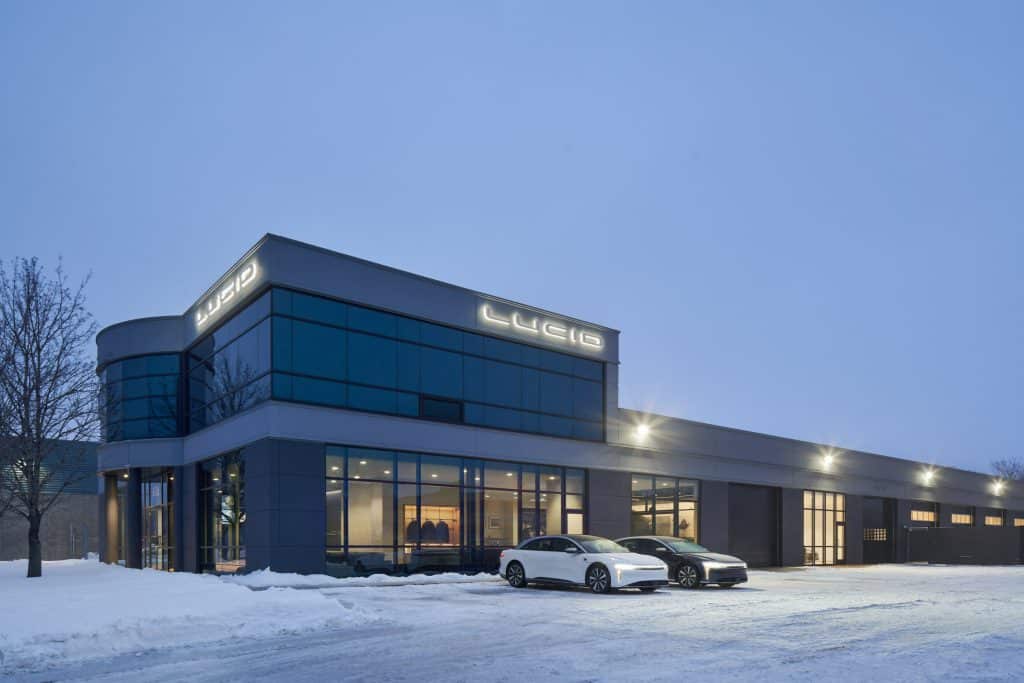 Lucid Group, Inc. (NASDAQ: LCID), setting new standards with the longest range, fastest charging electric car on the market, today announced the official opening of its latest combination Studio, delivery, and service centre in the province of Quebec. The Montreal opening marks 32 Studio and service centre locations in North America and 36 globally, and will open to the public beginning Saturday, January 28.
After exceeding 2022's provided production goals with 7,180 vehicles produced, Lucid is actively expanding its physical presence in Canada by opening its third retail location in the country and first service, delivery, and sales centre in Quebec. The 1,781-square-meter luxury retail and service space, located at 6700 Rue Saint-Jacques, will provide comprehensive sales and service support to the local area.
"The opening of our first retail location in the province of Quebec is a significant milestone for Lucid in Canada," said Zak Edson, Vice President of Sales and Service, Lucid Group. "Canadians have proven they're serious about EVs, so we're looking forward to providing Montreal and surrounding areas with the innovation and dynamic experience of our award-winning lineup of Lucid Air."
Local electric vehicle and sports sedan enthusiasts are invited to visit the Lucid Studio and service centre on Saturday, January 28, beginning at 10:00 AM for the grand opening. Those interested are encouraged to contact the Lucid Montreal location to test drive the Lucid Air.
Studio Experience
Every Lucid Studio offers a digitally oriented luxury experience tailored to each customer's preferences, whether they visit in-person, make inquiries entirely online, or combine the two. Lucid Studios allow customers to experience the brand and obtain information about its products in locations that underscore the company's unique design aesthetic. Visitors who explore a Lucid Studio will get a vision of how the company draws inspiration from the beauty, innovation, and diversity of its home state of California.
Virtual Tour
For those customers who aren't able to visit a Lucid Studio, there is Lucid Studio Live, a private virtual tour that lets customers browse and build their dream car with the guidance of a Lucid team member. Each one-to-one appointment allows plenty of time for questions and offers an incredible 360° look at Lucid Air. Customers can see everything from views inside the cabin, into the trunk and frunk, to outside and even above the vehicle—all set in their choice of iconic California backdrops. From there, customers can save a favorite design configuration to their Lucid account if they wish.
Future Studio & Service Centers
Additional locations will continue to open as Lucid expands its presence in North America and globally. Customers can visit during normal business hours or can book a personal appointment by contacting the Lucid team at lucidmotors.com/contact. They can always start exploring the Lucid Air through the "Design Yours" Configurator.