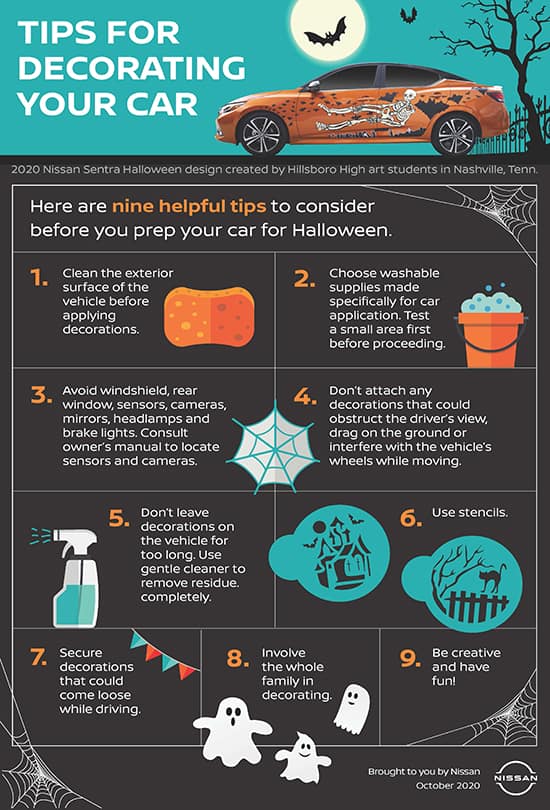 Nissan partnered with local high school art students to celebrate the creativity Halloween brings and introduce them to careers in automotive design.
While social distancing guidelines may impact traditional Halloween plans this year, new activities involving cars – such as haunted drive-ins – are becoming more popular. Why not decorate your vehicle in addition to your home for Halloween this year?
Nissan provided the "canvas" for the project, a two-tone Monarch Orange Metallic/Super Black 2020 Sentra, along with decorating tips and supplies to advanced art students from Hillsboro High School, located near the company's North American headquarters in Franklin, Tennessee.
The students, who have been attending school virtually, reunited in October to put their artistic skills to use on the Sentra, which is one of nine models Nissan offers in an orange shade. Nissan offers Monarch Orange Metallic on the Kicks, Rogue, Rogue Sport, Sentra and Versa. Sunset Drift ChromaFlair® is available on the Altima, LEAF, Maxima and Murano.
"Color is very important in art. It expresses who we are visually and evokes emotion," said Briana Burtsell, visual arts teacher at Hillsboro High School. "I'm so excited to have had the chance to work with Nissan and my students on this fun and creative Halloween project. It shows my students how important color is in applications outside of the classroom."
The special, student-decorated Halloween edition of the 2020 Nissan Sentra is on display in the lobby of the company's North American headquarters.
The students also sat down virtually with Nicole Fonseca, senior design manager at Nissan Design America, to talk about careers in automotive design. Fonseca created the orange exterior color Sunset Drift ChromaFlair® for Nissan.
"While Halloween is a great time to be crafty, students need more opportunities like this, where they are given different outlets to be creative," Fonseca said. "I didn't know color design existed as a career path, or even car design when I was in primary school. So, I've made it my mission to tell students that these possibilities exist for them."
2020 Nissan Sentra
The 2020 Sentra transformed the storied nameplate into a head-turning compact sedan with class-leading interior refinement, standard Safety Shield 360, seamless connectivity and fun-to-drive performance. Sentra completes Nissan's redesigned sedan lineup– following major updates to Versa, Altima, and Maxima over the past two years.
Inside, infotainment and connectivity features include an available floating 8-inch multi- touch center display and NissanConnect® featuring Apple CarPlay® and Android Auto™.