LinkedIn is valuable tool for job hunters and employers. The vast data on LinkedIn from over 146 million members and 20,000 recruiters also reveals trends in autonomous self-driving and automotive technology.
Self-Driving Jobs Driving Up Numbers
It is not surprise  that from 2016 to 2017, LinkedIn saw a 56% increase in job postings for self-driving cars. Jobs in aerospace /automotive/transport, however, only grew by 7% from 2016 to 2017. That's an 8.5x difference in growth rates between the driverless car industry and the aerospace/auto/transport industry more generally.
I Left My Autonomous AI in San Francisco
Regionally, San Francisco has close to 50% of the self-driving cars jobs, followed by Pittsb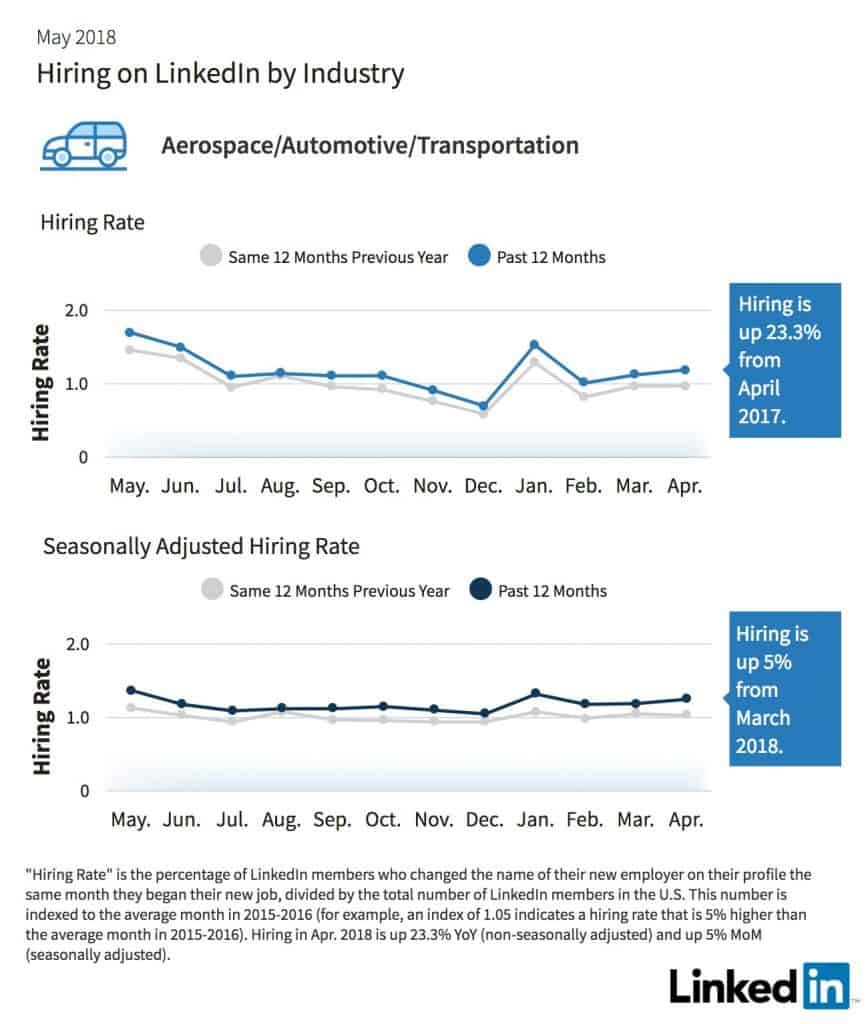 urgh with 26%, Boston with 7%, Phoenix with 4%, and Toronto with 3%. Together the top 5 regions account for 90% of all self-driving cars jobs. Phoenix, an expanding city, has a high demand for teachers.
Nobody really wants to leave San Francisco, either according to the LinkedIn April report despite its steep housing costs and long commutes, San Francisco is still a net attractor of talent. LinkedIn data shows that the number of people moving to the San Francisco Bay Area continues to outweigh the number departing for greener (less expensive) pastures.
Transportation Transports Employee Hiring
Overall the aerospace, automotive and transportation industries are booming. LinkedIn's May report showed the industries with the biggest year-over-year hiring increases in March were aerospace, automotive, and transportation (23.3% higher).
We checked LinkedIn jobs as of today by searching the United States for autonomous driving jobs and yes most are in the Bay Area, however we see an uptick in the following areas:
Detroit/Troy/Warren/Auburn Hills Michigan,
Kokomo, Indiana
Santa Monica, California (nuTomy)
Blacksburg, Virginia (Torc)
Portland, Oregon (Jaguar Land Rover)
San Diego, California (Qualcomm)
As of today, some of the many companies with the self-driving autonomous car jobs are:
Aptiv
Auro
AutX Inc.
Bosch
Continental
Cruze Automation
DiDi
Drive.ai
Ford
GM
GAC R&D Center Silicon Valley
HERE
JD-X Research and Development Center
Lyft
NIO
NVIDIA
Qualcomm
Ridecell
SAIC
SAIC Innovation Center
Samsung
Telenav
Torc Robotics
Toyota RSI
Uber
Many of jobs listed are internships which fits with the data LinkedIn announced on its 15th birthday. Teacher and technician were the top jobs in 2003 and this year "Intern" is #3.
Marketing Skills Needed
There is also a great need for marketing skills. U.S. has a national shortage of 230,000 people with marketing skills. The San Francisco Bay Area, Boston, Seattle, Washington, D.C., and even New York City—the center of the advertising universe—have the greatest shortages of people with these skills. But smaller cities like Nashville, Charlotte and Tucson also have a shortage.
From Living Room to Board Room
15 years ago,  LinkedIn was launched in Reid Hoffman's living room with the tagline "relationships matter." Over 3 million jobs are posted on LinkedIn in the U.S. every month; and members can add over 50,000 skills to their profiles to showcase their professional brands.
Take a Tesla to Work Day Every Day at Tesla
LinkedIn named the top 10 companies to work for according to the perks that they give their employees and how they woo their talent. Tesla was named number 5 because it has a carpool program that allows employees to drive a Tesla to work.
Turning Over Churn
As far as turnover goes technology (software) has the highest turnover at 13.2% while Aero/Auto/Transport has a 9.6% turnover rate. We're wondering what the automotive software rate is.
AI AI -OH!
Artificial intelligence is not only big in autonomous driving but in recruiting. LinkedIn found that recruiters and hiring managers, globally, shared that AI is a bold disrupter, and is helping them save time (67%), remove human bias (43%) and deliver the best candidate matches (31%). Respondent also said that AI is most helpful when sourcing candidates (58%), screening (56%) and nurturing candidates (55%).
In all the reports this year from LinkedIn we were not able to find out what job was the top or top industry. We have a call out to LinkedIn public relations, maybe it is an marketing internship for a self-driving car company in San Francisco?