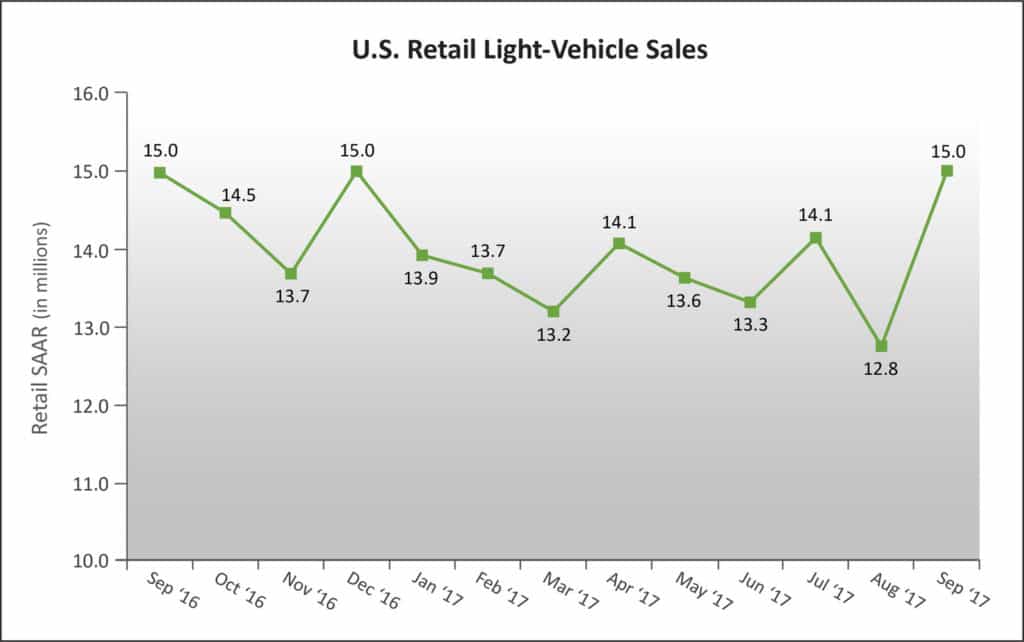 The new vehicle retail sales pace in September will reach the highest level this year, according to different forecasts. Suggested  reasons for the increased sales rate include Labor Day Deals and the need for new vehicles to replace vehicles damaged by hurricanes.
J.D. Power and LMC Automotive reported that easonally adjusted annualized rate (SAAR) for retail sales is expected to be 15.0 million units, flat from a year ago. Retail sales in September are anticipated to reach 1,213,102 units, a 2.6% decrease (selling day adjusted) compared with September 2016.
Edmunds.com, the leading car shopping and information platform, forecasts that 1,435,375 new cars and trucks will be sold in the U.S. in September for an estimated seasonally adjusted annual rate (SAAR) of 17.5 million. This is the highest SAAR so far in 2017; the previous highs were set in January and February, which both had a SAAR of 17.3 million. This rate reflects a 2.9 percent decrease in sales from August 2017 and a 0.4 percent increase from September 2016.
J.D. Power & LMC
"Hurricanes Harvey and Irma have disrupted—and will continue to disrupt—new-vehicle retail sales in September and beyond," said Thomas King, Senior Vice President of the Data and Analytics Division at J.D. Power. "While, on a national basis, September month-to-date sales are down 0.8% from last year, in the South Central region, which includes Houston, sales are up 14% as shoppers replace storm-damaged vehicles and complete purchases that were postponed during the storm. In contrast, sales in the Southeast region, which includes Florida, are down 16% as the region and its vehicle retailers begin to return to normal operations."
The sales decline in the Southeast will be reversed in the coming weeks as buyers completed delayed purchases, but the recovery will likely spill over into October.
Incentives have reached all-time highs as manufacturers continue with aggressive discounting to clear out record inventories of prior model year vehicles. Average incentive spending per unit to date in September has set a new record at $4,050, surpassing the previous high of $4,024 in November 2016. New model year vehicles account for just 17% of sales so far in September, compared with 28% last year.
"While the industry will benefit from additional replacement demand from storm damaged vehicles in the coming months, elevated incentives remain a threat to the overall health of the industry," King said.
J.D. Power and LMC Automotive U.S. Sales and SAAR Comparisons
September 20171

August 2017

September 2016

New-Vehicle Retail Sales

1,213,102 units

(-2.6% lower than September 2016)2

1,264,453 units

1,197,020 units

Total Vehicle Sales

1,433,268 units

(-4.0% lower than September 2016) 2

1,482,532 units

1,435,359 units

Retail SAAR

15.0 million units

12.8 million units

15.0 million units

Total SAAR

17.5 million units

16.1 million units

17.7 million units
1Figures cited for September 2017 are forecasted based on the first 19 selling days of the month.
2September 2017 has 26 selling days, while September 2016 had 25 selling days in the month.
The average new-vehicle retail transaction price to date in September is $31,058, a record for the month, surpassing the previous high for the month of $31,024 set in September 2016.u
Consumers are on pace to spend $37.7 billion on new vehicles in September, a record for the month and more than $0.5 billion than last year's level.
Average incentive spending per unit to date in September is $4,050 per unit, a record for the industry, and surpassing the previous high for the month of $3,939 set in September 2016. Spending on trucks and SUVs is $4,044, up $206 from last year. Spending on cars is $4,062, down $38.
Incentives as a percentage of MSRP are at 11.1% so far in September, exceeding the 10% level for 14th time in the past 15 months.
Trucks account for 65% of new-vehicle retail sales through Sept. 24—the highest level ever for the month of September—making it the 15th consecutive month above 60%.
Days to turn, the average number of days a new vehicle sits on a dealer lot before being sold to a retail customer, is 75 through Sept. 24. This is the highest level since July 2009 (80 days).
Fleet sales are expected to total 220,200 units in September, down 11.2% from September 2016 on a selling day adjusted basis. Fleet volume is expected to account for 15% of total light-vehicle sales, down from 17% in September 2016.
Jeff Schuster, Senior Vice President of Forecasting at LMC Automotive, said, "The effect of hurricanes Harvey and Irma is expected to boost retail light vehicle demand through the remainder of 2017 and into 2018, as recovery continues. With the need to replace 500,000 or more damaged or destroyed vehicles, the U.S. auto market slowdown will see some relief as demand over the next 6-9 months will likely be upwardly distorted. In addition, a short-term increase in fleet sales may also be an outcome as current shortages are replenished. However, this does not change the overall expectation of level to weaker demand in the U.S. over the next 2-3 years."
Driven by vehicle replacement need, LMC's outlook for 2017 total light-vehicle has been increased by 70,000 units to 17.1 million. The retail light-vehicle outlook has been increased to 13.9 million units from 13.8 million. As part of the increase in retail sales, we have made a minor adjustment the the retail/fleet pattern for the remainder of 2017. Retail sales are expected to be down 1.4% from 2016, while fleet volume is projected to contract by 8.0% this year.
Labor Day Deals & Hurricane Needs
Edmunds.com analysts say this slight year-over-year increase is due in part to automakers pumping up the deals over the Labor Day holiday; typically, auto sales over Labor Day weekend are 33 percent higher than the average first weekend of a month.
"Labor Day weekend got September auto sales off to strong start," said Jessica Caldwell, Edmunds executive director of industry analysis. "Automakers are finally starting to dial up the incentives to clear excess inventory, which we anticipate will continue through the rest of the year."
September sales are also expected to get a slight lift from buyers who needed to replace vehicles that were destroyed in the recent hurricanes.
"We anticipate that the recovery from the recent hurricanes will give vehicle sales an incremental boost in September, and will likely continue to slightly lift the market in the months to come," Caldwell said. "When you have hundreds of thousands of people affected by an event of this magnitude, not everyone will hit the market at once."
SALES VOLUME FORECAST, BY MANUFACTURER
Sales
Volume
September
2017 Forecast
September
2016
August
2017
Change from
September 2016
Change from
August 2017
GM
268,248
249,795
275,552
7.4%
-2.7%
Toyota
215,130
197,260
227,625
9.1%
-5.5%
Ford
212,976
203,444
209,029
4.7%
1.9%
Fiat Chrysler
171,782
192,883
176,033
-10.9%
-2.4%
Honda
135,567
133,655
146,015
1.4%
-7.2%
Nissan
114,821
127,797
108,326
-10.2%
6.0%
Hyundai/Kia
102,585
115,830
107,633
-11.4%
-4.7%
VW/Audi
46,963
41,729
51,826
12.5%
-9.4%
Industry
1,435,375
1,430,273
1,478,581
0.4%
-2.9%
*NOTE: September 2017 had 26 selling days, September 2016 had 25 and August 2017 had 27.
Edmunds estimates that retail SAAR will come in at 15.0 million vehicles in September 2017, with fleet transactions accounting for 14.0 percent of total sales. An estimated 3.19 million used vehicles will be sold in September 2017, for a SAAR of 38.8 million (compared to 3.33 million — or a SAAR of 39.0 million — in August).
MARKET SHARE FORECAST, BY MANUFACTURER
Market
Share
September
2017 Forecast
September
2016
August
2017
Change from
September 2016
Change from
August 2017
GM
18.7%
17.5%
18.6%
1.2%
0.1%
Toyota
15.0%
13.8%
15.4%
1.2%
-0.4%
Ford
14.8%
14.2%
14.1%
0.6%
0.7%
Fiat Chrysler
12.0%
13.5%
11.9%
-1.5%
0.1%
Honda
9.4%
9.3%
9.9%
0.1%
-0.4%
Nissan
8.0%
8.9%
7.3%
-0.9%
0.7%
Hyundai/Kia
7.1%
8.1%
7.3%
-1.0%
-0.1%
VW/Audi
3.3%
2.9%
3.5%
0.4%
-0.2%
Dealer DataView Index for August
The September Dealer DataView index – which captures data through August 31, 2017 – revealed that overall summer trends continued through August, with minor month-over-month shifts in dealer website engagement. Total traffic to dealer sites increased by .15 percent, with mobile accounting for 57 percent of visits – holding steady with recent trends. New vehicle detail page (VDP) views are up slightly month-over-month, rising to 45 percent of total VDPs, and used VDPs dropped slightly, to 44 percent. SUVs remained the most popular body style in terms of digital engagement.
Search advertising cost-per-click (CPC), another leading indicator of demand, continues its steady rise. Averaging $3.35 nationally in August, CPC is up 13 percent year over year – a steady increase which serves as a continued reminder that the market is becoming more competitive. Fall digital advertising investments may need to be adjusted to account for this trend and capture local demand.