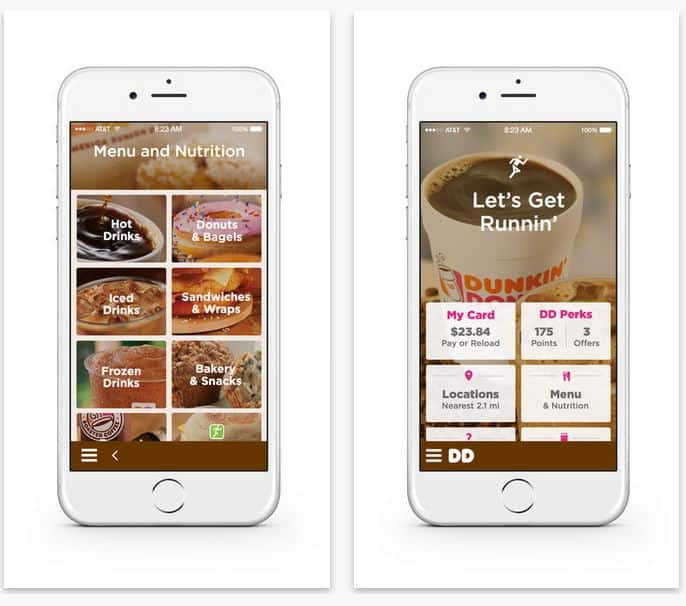 Waze has integrated ordering Dunkin' Donuts and Spotify music into its app. Spotify music lists are shown on a split screen. Donut ordering must occur before driving the car, then the fastest route is shown while there is no line waiting at the donut shop.
Earn Beverage Points & Get There Sooner
Loyal Dunkin' Donuts customers can now use Waze to save time both on the roads and at Dunkin' Donuts restaurants. The feature "Order Ahead," lets Wazers save time in line by submitting orders in the Dunkin' Donuts Mobile App while earning point towards free drinks
Members of the DD Perks  Rewards Program can order their favorite Dunkin' coffee, beverage, donut or breakfast sandwich directly by connecting to Dunkin' Donuts' On-the-Go Mobile Ordering feature through the Waze app before hitting the road, then speed past the line to pick it up inside a Dunkin' Donuts restaurant.
With the Order Ahead feature, Dunkin' Donuts and Waze are making the route to Dunkin' faster and easier than ever for DD Perks members, creating a seamless experience allowing users, before beginning their trip, to use Waze to pinpoint the nearest Dunkin' Donuts restaurant and tap a single button to launch On-the-Go Ordering within the Dunkin' Mobile App. To use Waze's new Order Ahead feature, Dunkin' Donuts guests must update their Dunkin' Mobile App for their for iPhone, iPod touch and Android smartphones.
 "Our new Order Ahead feature expands Waze's mission of saving time on the road by enabling consumers to now also save time in-store, while giving brands a new opportunity to engage with their customers," said
Jordan Grossman
, Head of Business Partnerships North America at Waze.
The DD Perks Rewards Program rewards guests nationwide with points toward free Dunkin' Donuts beverages for every visit they make at participating Dunkin' Donuts locations. With DD Perks, guests earn five points for every dollar they spend on qualifying purchases at Dunkin' Donuts when they pay using an enrolled DD Card, either plastic or via the Dunkin' Mobile App. Once a member accrues 200 points, he or she receives a coupon for a free beverage of their choice, redeemable at participating Dunkin' Donuts restaurants.
Waze and Spotify
Recently, Waze and Spotify partnered to bring your favorite Spotify playlists directly into the Waze app. Drivers can see what Spotify music is playing on the phone and the map through a split screen.The Waze and Spotify integration makes it for users to start navigating with Waze from within Spotify and access their Spotify playlists from within Waze. Then when the car is stopped,, switch between apps with one tap, for an uninterrupted driving and listening experience. Because Waze wants you to stay safe the app will prevent drivers from browsing while the car is in motion.