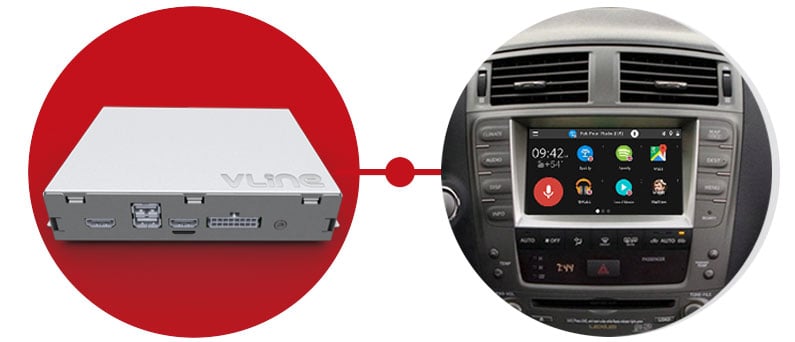 One of the most requested features for Android Auto as well as CarPlay is Waze.  GROM Audio created a system called VLine that is in beta testing of a new plug and play infotainment system. Instead of replacing the head unit that is already in Lexus, Nissan and Infiniti vehicle, a system unit that attaches to the touchscreen that enables smartphone-like features without a smartphone.
The hardware unit connects to the back of the audio system. It enables entertainment features including music, apps, GPS navigation, voice control and other apps. It basically upgrades the existing system through video for web radio, Spotify, Google Music, USB music, Waze and Google Maps with voice search for navigation. Maps can be downloaded and kept on a microSD card.
VLine allows for full control of music through the stereo touchscreen knobs, buttons and steering wheel controls. Internet connections are through USB mobile hotspot or tethering to the your smartphone mobile hotspot. With the USB hotspot feature, you don't need your phone to operate the apps. The units work with both iPhone and Android.
The company first tested its system for Lexus vehicles which is doing so well that it is now working on Nissan and Infiniti vehicles in the Bay Area.
Currently available VLine infotainment units run Android and are compatible with most Android apps. Preorders are being accepted for units compatible with 2010-2012 Toyota/Lexus vehicles. GROM suggests a compatible wireless keyboard to make data entry easier.
Vline is looking for beta testers for popular Nissan models, you must live within 50 miles from Belmont California to have the GROMne connected car infotainment system installed for beta testing.
The models being tested right now
Nissan Armada 2008 – 2012
Nissan GT -R 2009 – 2010
Nissan Maxima 2009
Nissan Murano 2009 – 2010
Nissan Pathfinder 2008 – 2012
Nissan Z Coupe 2009
Infiniti EX 2008 – 2009
Infiniti FX 2009
Infiniti G Coupe 2008 – 2009
Infiniti G Sedan 2007 – 2009
Infiniti G Convertible 2009
Infiniti M 2008 – 2010
Infiniti QX56 2008 – 2010
The beta testing webpage states there is possibility that unit will also enable CarPlay, now that is a technology dream for our readers both Waze and CarPlay connections in late-model vehicles at the same time.
GROM notes that with VLine you can access existing features available in latest car models without buying new car. VLine kits are available for Lexus Toyota 2003-2009:
Lexus ES 350 2007-2009 (Navi), Lexus GS 350/430/460/450h 2007-2009, Lexus GX 470 2007-2009, Lexus IS 250/350/F 2006-2009 (Navi), Lexus LS 460 2007-2009, Lexus LS 600h 2008-2009, Lexus LX 570 2008-2009, Lexus RX 350/400H 2007-2009, and Toyota Prius 2006-2009.
GROM Audio develops and builds  in-car audio integration systems for iPhones, MP3 players and more.