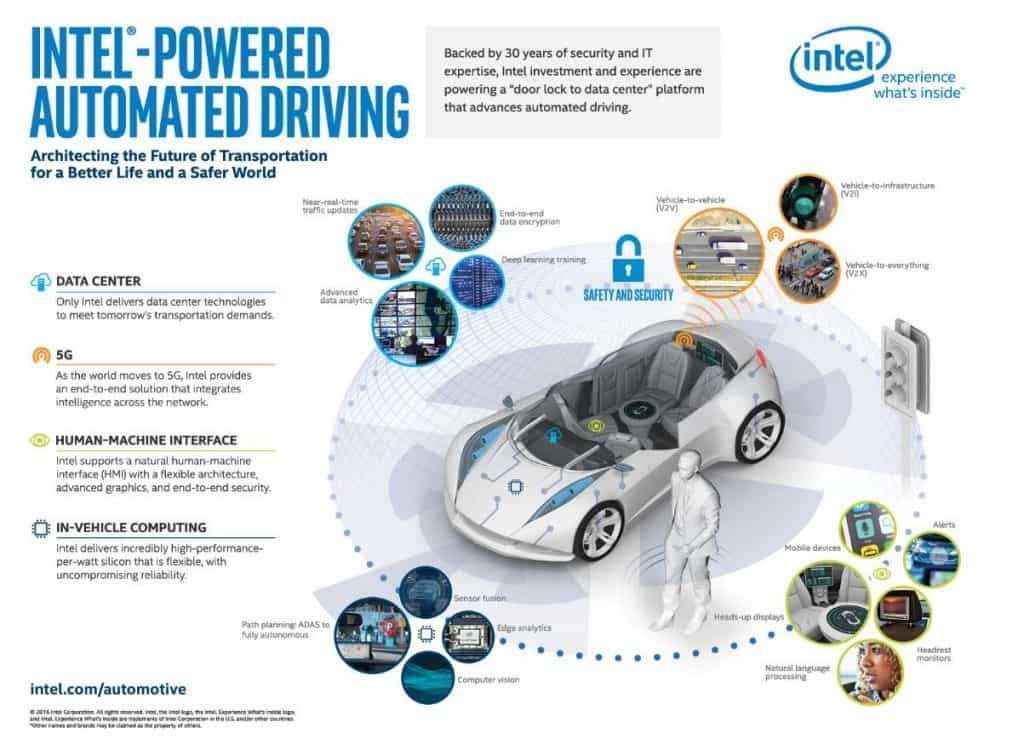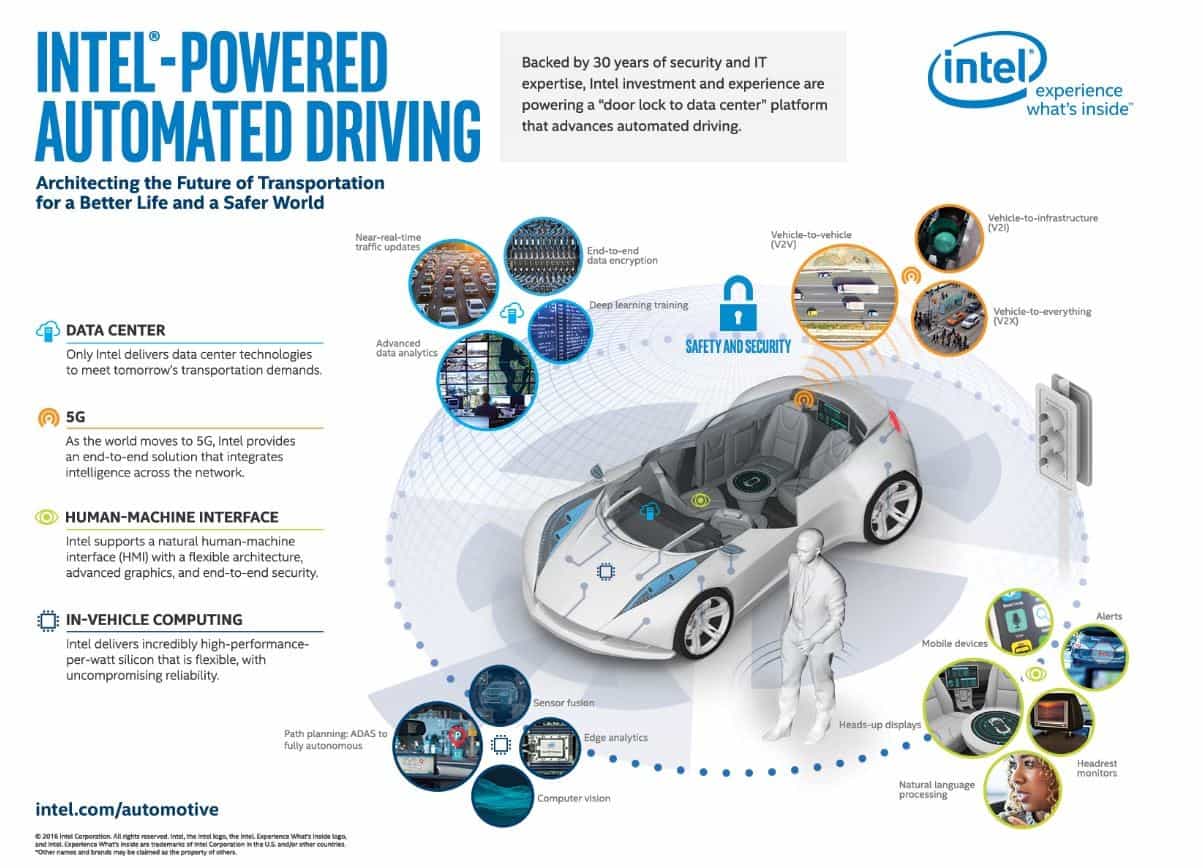 Intel is speeding towards the highway to the autonomous driving market. Intel has restructured the organization to form a self-driving group, allied with Delphi/Mobileye and is working on many automotive initiatives.
Intel changed its management structure with formed an entity called the Automated Driving Group (ADG), dedicated to innovation, advanced driver assisted systems and autonomous driving solutions. This group will be lead by Doug Davis and Kathy Winter.
Doug Davis has been with Intel for more than 30 years. Doug has postponed his retirement and will now serve as the senior vice president and strategic leader of the new Automated Driving Group. Doug was also the only technologist to testify before the congress on automated driving earlier this summer. Doug sees the new Automated Driving Group as another not-to-be missed opportunity to lead through disruption.
Kathy Winter, formerly worked for Delphi and will serve as the vice president and general manager of ADG and will oversee the organization, engineering deliverables and customer commitments associated with delivering automated driving solutions.  In 2015, she managed the first cross-country drive by an autonomous vehicle. That same year, she was named to the Automotive News list of "100 Leading Women in the North American Auto Industry."
Intel's ADG builds upon Brian Krzanich's vision for the future of automated cars – a vision he recently shared at the AutoMobility Los Angeles. In his presentation, he reported
Every autonomous car will generate the data equivalent of almost 3,000 people. Extrapolate this further and think about how many cars are on the road. Let's estimate just 1 million autonomous cars worldwide – that means automated driving will be representative of the data of 3 billion people.
Intel is teaming with Delphi and Mobileye for Self-Driving Cars. Cars based on the Intel solution are expected to hit the roads by 2019. While the companies will use the Intel Core i7 processors for now. The solution will include a more powerful and unnamed Intel processor to be unveiled in a few weeks, which we suspect will be at CES.
Delphi Automotive and Mobileye but their systems together for sensor fusion technology. The Delphi/Mobileye system, "Central Sensing Localization and Planning" (CSLP) combines sensor data, vision data, artificial intelligence and route learning to create a higher resolution platform that locates the vehicles and also cuts down the errors.
"Automotive GPS is currently limited to ~1.5m resolution (longitude/latitude coordinates). CSLP provides a 20cm resolution making the largest error (20cm) where CSLP is able to place the center of a vehicle in a roadway lane while piloted autonomously,"  Gary O'Brien Ph.D., global advanced engineering director at Delphi Electronics and Safety told Connected Cars Blog who notes that the location is important for tunnels which lack GPS and irregular un-readable  lane markings.
Intel has booked more than $1 Billion worth of design revenue and has 49 design wins with leading global car manufacturers including BMW, Daimler, Hyundai, Infiniti, Jaguar XF, Kia, Lexus, Mini Cooper, Rolls Royce, Toyota, Tesla and others.
During AutoMobility LA we learned that Intel is developing many chipses for the automotive industry including SoCs that could replace ECUs throughout vehicles.