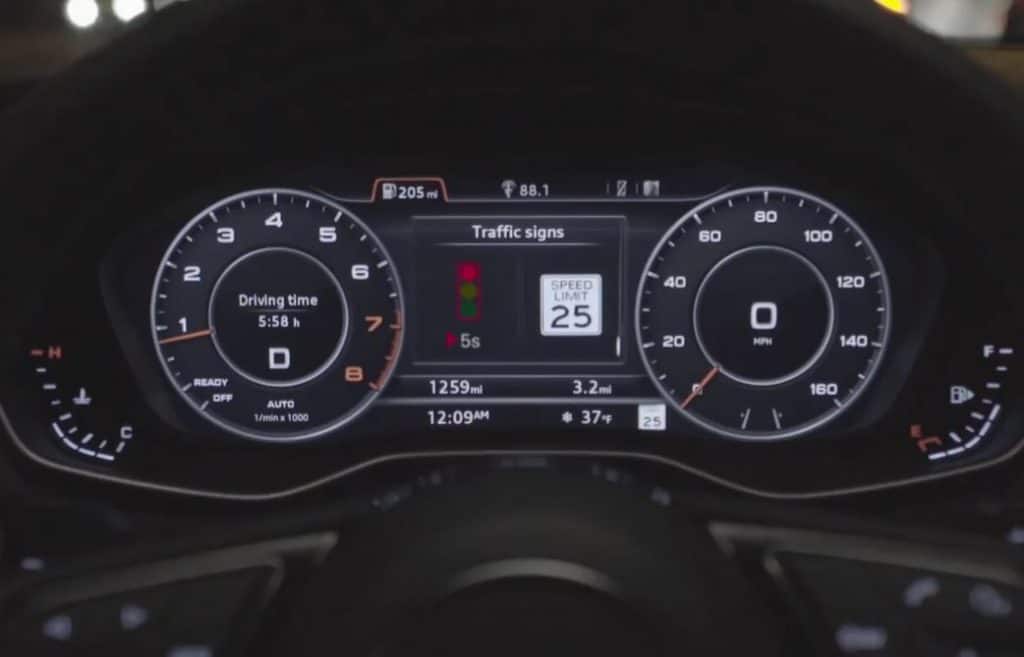 Audi Connect will have the ability to let the driver know when the traffic lights are changing green in select cities. The feature is Audi's first step in vehicle-to-infrastructure integration. It will be available on some 2017 Audi Q7, A4 and A4 allroad models. A similar feature is already available through BMW apps for BMW models since 2015.
Audi claims a better informed driver means a less stressed driver. They also envision a future where no one sits at red light when there is no cross traffic because cars are connected to smart traffic grids.
Audi of America is working with Traffic Technology Services (TTS) for the V2I technology called Traffic light information.
Traffic light information is an Audi connect PRIME feature. It enables the car to communicate with the infrastructure in select cities and metropolitan areas across the U.S. The car receives real-time signal information from the advanced traffic management system link between vehicle and infrastructure is routed via the on-board LTE data connection and Traffic Technology Services, Inc. servers.
While waiting at a connected traffic light, the driver information system in the instrument cluster, as well as the head-up-display (if equipped), show time remaining until the signal changes to green.
Audi of America will begin to roll out the new Traffic light information as part of its suite of Audi connect PRIME services later this fall in select smart cities and metropolitan areas across the country through 2017 and beyond. The feature is available on 2017 Audi Q7, A4 and A4 allroad models built after JUNE 1st, 2016.
Traffic light information is the latest in a line of connected car services by Audi. In 2010, Audi was the first manufacturer to offer a broadband enabled vehicle. Since then, Audi connect has continued to expanded on its industry-leading services and capabilities. In 2014, Audi was the first manufacture to offer 4G/LTE Broadband connectivity.
Audi claims it is the first to offers such technology. However there is a BMW app that works with BMWs that does something similar, it's called the EnLighten app.
The EnLighten app plays audio to remind the driver to pay attention just before a red traffic light changes to green. It also counts down to when the light will turn green. The app was developed to help keep drivers to increase driving safety, increase fuel efficiency, and improve the flow of traffic.
Owners of recent-model BMWs equipped with BMW Apps can use enhanced EnLighten features in their vehicle's center console. The EnLighten  service is currently available in
Portland/Eugene, Oregon.
Garland, Texas.
Most of Utah.
Las Vegas, Nevada.
Walnut Creek and Arcadia, California.
EnLighten announced that yare collaborating with Toyota and Nissan to improve safety and fuel efficiency, by bringing our Vehicle-to-Infrastructure (V2I) technologies to their vehicles.
The app receiving data from Pasadena. EnLighten service should begin there in early November.