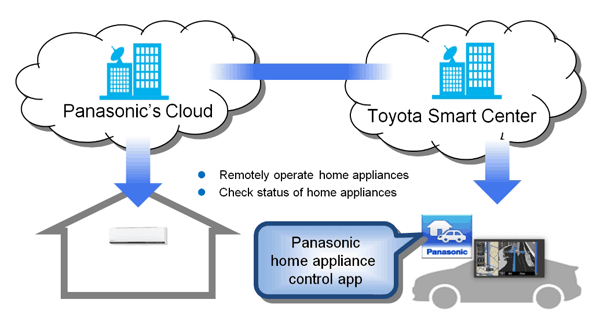 Toyota and Panasonic are co-developing a service that links cars with home appliances. A new service will be launched probably by the third quarter.  A feature to expect will allow drivers to set up air conditioning or heat when the car is near the home. It could also turn on the coffee or crock pot on the way home from work.
Toyota will use its cloud-based Toyota Smart Center, to link people, cars, and homes. The service already adds convenience and comfort to cars in the daily lives of Toyota drivers around the world.
Panasonic offers smart home appliances such as televisions, video equipment, and air conditioners.
They have started new services, including development of apps for in-car operation and status checking of home appliances. For example, an app linked with vehicle GPS data will remind the user to turn off the air conditioner before leaving and also enable the user to turn it on remotely from the vehicle before arriving home.