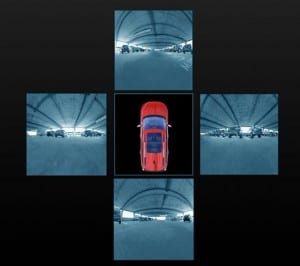 The NVIDIA hardware and software development kit for self-driving, self-parking and sophisticated advanced driver assistance systems (ADAS) features for cars is shipping this month to Bentley, Aston Martin, Tesla and Rolls Royce. The computer platform packs a lot of power into a small space and doesn't require massive computers in the trunk or huge rotating cans on the top of the car.
The NVIDIA's DRIVE PX self-driving car computer platform was announced in March at the 2015 GPU Technology Conference. DRIVE PX's twin NVIDIA Tegra X1 processors deliver 2.3 teraflops of performance.
The appeal of the kit is that it can handle input from twelve cameras and has a deep neural network that learns from its experiences. Eventually, the computers will be able to recognize objects in real-time and make work with other computers to make decisions in real-time to brake, swerve or continue moving.
The system analyses pixels and in the future will infers things like humans infer things like detect the difference between a taxi cab and a police car and will know that the driver has to pull over for the police car if it's flashing, Danny Shapiro, senior director of automotive operations at NVIDIA told the Wall Street Journal.
The system can also inform the driver, not just get their attention with a warning.The system can build a 3D map of objects around the car for self-parking.
NIVIDIA claims its self-driving system extends well beyond the hardware found in any car, without all that extra electronic junk in the trunk. The learning will take time and testing. The kit costs $10,000.
NIVIDIA provides the processors for the Audi A8 and Tesla Model S. The company started in the car market by creating processors for the 3-D navigation display for the 2011 Audi A8.  Its processors are part of the zFAS upgradeable platform for Audi.
By 2020, NVIDIA expects to have chips on more than 32 million vehicles.
When news of the luxury carmakers using NVIDIA hit, the price stock increased.
NVIDIA recently won a PACE Award — the automotive industry's version of an Academy Award — for its Tegra Visual Computing Module (VCM), that allows the Tesla S to receive over-the-air updates. The system is also used by BMW and Audi.