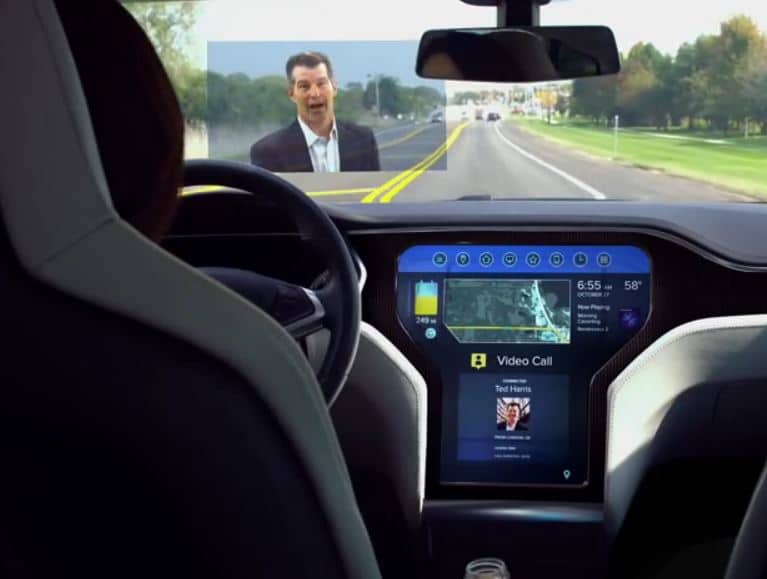 The Connected Car Expo at the the LA Auto Show was an intensive exploration of  issues of the connected car industry. The Connected Car Expo featured a series of "talks" form industry pundits along with several press conference presentations and an exhibit area.  Important topics included autonomous driving, smartphone integration, security, CarPlay, Android Auto and the future of connected cars.
@ConnectedCarLA panel with Chris Vallasek hacker who thinks hacking cars is fun. pic.twitter.com/SHqTTv0mLs

— A Connected Car News (@AConnectedCar) November 20, 2014
AUTO Connected Car News arrived in time to hear scare-hacker Chris Vallesek say that he found hacking cars "fun." He did note that for the average car owner, the threat currently is low because the cost to hack a car's computer system is prohibitively high. Meanwhile, the automotive industry is working to keep users data private and protect vehicles from hacking.  
"Connected vehicle technology enables innovative features that save lives, save time and save fuel. Customers want to know their personal data is protected and their vehicle systems are secure. Individual auto companies are designing their systems with cyber security protection. As an auto industry we are working to establish a formal mechanism to share information about cyber security vulnerabilities, threats and incidents," said Michael Camissa, director of Safety Global Automakers.
Connected car panel GM, Honda, BMW @ConnectedCarLA . pic.twitter.com/PZ47cAW4H1 — A Connected Car News (@AConnectedCar) November 18, 2014
NealBoudette, from Automotive News asked audience members to admit they texted while driving, he admitted to doing so himself. Boudette asked panelists, NickSugimoto, Senior Program Director, Honda Silicon Valley Lab, Phil Abram, Chief Infotainment Officer,OnStar andUweHiggen, Head of Group Technology Office, BMW  when the public will getApple's CarPlay for iPhone and Android Auto for Android smartphones.  GM, BMW and Honda are working hard to implement the features fromsmartphone makers. They will make sure that Google and Apple are only getting some data and the drivers are protected. For example GM's Phil Abram said that "They are visiting our driver distraction labs and seeing how we work."
Honda is working with Google Android Auto and its newly released SDK. Honda opened the Developer Studio for app developers with test vehicles. Honda Developer Studio is an online portal to test Android Auto apps in a prototype vehicle environment and an open innovation workspace in Silicon Valley.
BMW cars will not have Apple CarPlay next year. Uwe Higgen, from BMW noted that infotainment systems are designed to fit with the total over design and design of the vehicle, "It's important for us that we get the most out of both worlds and that both worlds interact in a premium way."
Android Auto and CarPlay are complimentary to in-car systems noted Abram, "It's not a great battle or fist fight…it's all media driven. We have to create a valuable experience for our customers."
When AUTO Connected Car News asked the panel what's going on with the update to iOS 8-8.1.1 with Bluetooth in BMW, GM and Honda cars. BMW and Honda reps said that they are working on it. GM's Abrams said "We didn't change anything…they did."
The issues of liability and safety were discussed. Konstantin Othmer, CEO, CloudCar noted that the courts eventually will decide when there is a car accident caused by something in an infotainment system such as CarPlay or Android Auto that causes an accident.  CloudClar in its justDrive platform analyses the functions that can be completed while driving.  Say for example the driver is driving at 70 mph or in a dangerous driving condition such as ice or flooding the intelligent justDrive will  not display the text message until it is safe to do so.Users of the new OBDII device Mojio should be aware if there is a law banning cell phone use while driving and if the driver is using Mojio, it is still against the law and if the car is in an accident the driver is liable.
Justin Fishkin, Chief Strategy Officer, Local Motors showed a modular platform with crowd sourced designing with crowd funding that is able to bring new cars to market in record time with microfactories. At the recent SEMA show in Las Vegas the company showcased the world's first 3D printed vehicle.
Volvo is working on its DriveMe system to give freedom to drivers who will let the car drive and take over when they want to with fully autonomous driving in the future.
KPMG touted its latest white paper Me My Car My Life the ultra connected age. KPMG predicts car sharing will increase and  two-car households will decrease. They showed a video of a romance enhanced by in-car functions of the future with the virtual husband showing his love for his wife projected on the windshield. The car tells the driver, "Have a nice day, Beth."
Beth replies "Pick me up at 6:30." Audience members laughed during the video Me My Car My Life that appears below. KPMG warns that car makers need to anticipate the market and create compelling customized driver experiences.
We covered other announcements from the Connected Car Expo including Jaguar Land Rover's justDrive integration. BMW's ConnectedDrive now includes Spotify. Audi and NVIDIA implemented a modular upgradeable infotainment system and are working with super computer power in a chip the size of a laptop for autonomous driving.
We video-recorded demonstrations of GM OnStarRemoteLink App,  CarPlay and Android Auto which will be published soon. Please subscribe to our "when published" newsletter to get updates.