What can you do if you have an AUX port and don't have Bluetooth? There are a few options. AUTO Connected Car News has found three viable practical options for under $100 to work with iPhone iOS 8-9.2, Android and in some cases Windows Phone.
If you want a hardwired solution, one option is to replace the car radio/receiver with a unit that supports Bluetooth, the units themselves are not that expensive, however, installation may run close to $100 or more. There are also FM modulator Bluetooth kits made for car systems that can be installed by a professional or a very adept DIYer.
Previously, for Yahoo Autos, I researched this topic extensively and interviewed industry experts to get their opinions. For this year's Tech CARS Awards we wanted to find options that enable drivers to talk through Bluetooth and not spend more that $100. Smartphones can cost hundreds of dollars, the options nominated cost less than $100.
We noticed that there are many no-name brand imported Bluetooth adapters on Amazon we can't recommend because of the lack of tech support.
For under $100, you can get either a Bluetooth speakerphone or a device that plugs into the AUX port and creates a Bluetooth connection.
iSimple's Simple Solution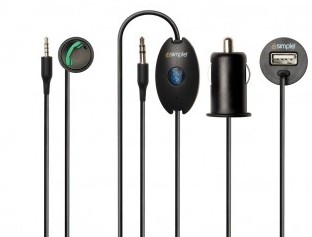 iSimple's BluStream was nominated for its ease of use, tech support and push button activation.
The body of the  iSimple ISBT52 BluStream has a built-in microphone, and call control button, so the module can be installed easily. For premium performance, an optional extended microphone and call control button are included, which can be mounted on the dashboard or sun visor using the provided hardware.
Features include:
Extended microphone with call-control button.
Compatibile with Bluetooth enabled phones and tablets including Apple, Android and Windows smartphones and tablets.
Hands-free calling and audio streaming through your vehicle's factory radio.
Sun visor clip enables flexible placement options.
The iSimple ISBT52 plugs into your car's existing 3.5 (headphone) auxiliary input to allow for hands-free communication. This high quality Bluetooth adapter has the most advanced technology available on the market today and features DSP echo cancellation which ensures the most pristine sound through your vehicles stereo system. Not only will you be able to communicate hands-free with this device you will also have the luxury of streaming your music from any A2DP capable device wirelessly to your factory radio.
The retail price for the iSimple BluStream is $59.99 but can be found for around $45.00 on Amazon with free shipping. Vote for iSimpe BluStream for the Tech CARS Awards.
If your car has an AUX input, but doesn't have Bluetooth, you can still stream your smartphone's favorite playlists, and answer/end calls at the touch of one button.
For cars without an AUX port with an FM radio, an FM modulator or FM transmitter, broadcasts the music from the phone to a station on the car's FM radio. To enable music control and hands-free phone calls, look for an FM modulator with a control button and microphone, advised Scott Rothstein, product manager at iSimple Solutions.
You will get the best audio sound by using your cars built-in speakers.
If you don't have a way to connect to your car or don't want wires showing there are two Bluetooth speakerphones that are very popular that were nominated for the Tech CARS Awards.
Parrot MINIKIT Neo 2 HD
A smaller speakerphone is the Parrot MINIKIT Neo 2
HD with a MSRP $99.99 but can be found on Amazon for $79.99 with free shipping. It has its own app with special features as well as HD voice and voice commands.
Parrot MINIKIT features HD Voice, or wideband audio, with a higher definition voice quality and a more accurate reproduction of human voice and more natural sounding speech. Compatible with phones and mobile networks supporting HD Voice.
You trigger the kit's voice recognition by saying the key word 'MINIKIT' without a button. You can also use the keyword 'Hello Siri' with newer iPhone models and use the 'Siri Eyes-Free' feature. When receiving a call, all you have to do is to say 'Accept' or 'Reject'!
Free iPhone and Android Apps offer 10 exclusives functions including:
Activate/deactivate Siri Eyes-Free & Magic Words.
Auto Reply SMS / rejected calls:
For Android users: Program the 'MINIKIT Neo 2' app to send an automatic SMS reply to incoming calls or text messages while you are driving.
For iOS users: Record a customized voice message that will be heard by the caller when you reject their call from your hands-free kit.
Find my Car: Find your vehicle on your navigation App. As soon as your Bluetooth kit is disconnected, the App will automatically memorize its GPS position.
Parking and Driving time reminders.
Voice Recognition and Pairing Help
Features include automatic phonebook synchronization, Voice Recognition, Text-To-Speech and Vocal menus.
The  Parrot MINIKIT Neo 2 is able to connect to 2 phones simultaneously. The Parrot MINIKIT Neo 2 HD features the Bluetooth Audio Streaming (A2DP). The flat panel technology provides a clear open sound. Combined with a powerful amplifier, it delivers a 3W power output. It detects when the user gets in his car and automatically switches the product on thanks to its vibration sensor.
Made of highly resistant plastic, the clip is totally integrated in the design. Now compatible with any sunvisor, whatever the thickness. Vote for MINIKIT Neo 2 for the Tech CARS Awards.
JBL Trip Bluetooth Speakerphone & Portable Bluetooth Speaker
The JBL TRIP is designed for safety and portability. HARMAN's exclusive Voice Cancellation technology allows for crystal clear phone calls even with road and wind noise in traffic. The Bluetooth speakerphone attaches to the visor via magnet. It detaches easily to be used as a Bluetooth speaker outside the car.
Navigation and ADAS apps like iOnRoad wirelessly send safety and turn prompts via Bluetooth simultaneously, the driver can easily listen to their factory radio for local newscasts or traffic updates. Since the conversation doesn't stop when you park, it quickly detaches from the visor and can be taken into the hotel room, kitchen or office to continue the conversation or music experience.
The JBL Trip doubles as a portable Bluetooth speaker.
The JBL Trip offers the following features and functionality:
Bluetooth capability: with a smartphone paired via Bluetooth, drivers can easily hear navigation prompts, ADAS alerts from iONRoad, stream music and conduct hands-free phone calls with crystal clear accuracy.
Dual noise canceling microphone: eliminates background noise and makes for clear phone calls both in and out of the car.
Voice control: for SIRI or Google speech, voice control makes operation both intuitive and simple.
Advanced portability: lets drivers finish their conversation or playlist in the hotel, office or home.
Magnetic mounting system: attaches to a vehicle visor quickly and easily with no installation required.
Rechargeable battery: exceptional battery life provides more than 8 hours of wireless music, 20 hours of talk and 800 hours on standby.
The JBL Trip was announced in September with an MSRP of $99.95 we have not been able to find it offered at a discount, any where, yet. Vote for the JBL Trip for the Tech CARS Awards.
Another option is to wear a Bluetooth earphone, but that so 2010.