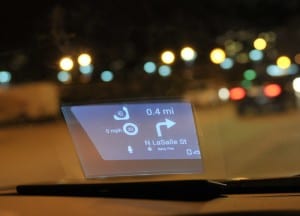 Cognitive AI Technologies Inc., is launching Carloudy, a wireless, voice-controlled, automotive head-up display (HUD). The Carloudy shows information on the windshield through a new patented technology. HUD displays on new luxury cars are usually only available in packages that cost a thousand dollars or more, this device is priced comparable to the price of a smartphone or GPS unit.
Carloudy connects to smartphones (Android or iPhone) to display directions, shopping, weather, speed, speed limit and maintenance alerts. Carloudy has a working prototype and is ready for full production. Their PR team will be in San Francisco next week giving demos to tech reporters.
The lightweight  Carloudy device weigh less than nine ounces and is about the size of greeting card (approx.: 6.5" x 5" x 0.4"). It rests on a driver's dashboard.
Through voice commands, drivers interact with Carloudy through their smartphones and have key data displayed on any car's windshield. Carloudy's patent-pending design uses the reflective nature of its 6" electronic paper display (EPD) to harvest energy from external light sources – providing a clear, semi-transparent display on the windshield in all conditions (direct sunlight to darkness) without quickly depleting a battery or overheating. Competing products rely on a fan-cooled, energy-intensive projector to show images on a screen than can suck up power and also use the much needed charging port.
Carloudy is controlled by voice commands via Bluetooth on steering wheels—hands and fingers never have to leave the wheel.
"Carloudy fully integrates the driver with his or her car and the outside world by wirelessly connecting Carloudy to a smartphone and to the car's computer with a Bluetooth OBDII adapter," explained Javy Kong, Ph.D., founder of Cognitive AI Technologies Inc. "We designed Carloudy so drivers can safely interact with their smartphones and our system while driving. For example, we opted against gesture controls to eliminate distractions and accidental commands. As experts in cognitive science, we focused on the most useful information drivers need, using simple icons and images."
Carloudy does not enable email, Twitter or texting, which Dr. Kong believes are distractions that put drivers and pedestrians at risk. Other Carloudy features include:
Use with both iOS (4S or later model iPhones) and Android smartphones.
Turn-by-turn navigation.
Works with Bluetooth-enabled audio controls and after-market Bluetooth controllers.
Speed and speed limit; parking and traffic information; gas station and restaurant searches.
Completely silent, with no moving parts.
Battery lasting weeks on a single charge.
One-year warranty and online customer support.
Designed with safety in mind by a Ph.D.-level expert in cognitive artificial intelligence.
HUD systems have been used in military aircraft, and high-performance and luxury cars. But Carloudy makes a HUD system available for any vehicle for an introductory, preorder price of $179 – nearly 40 percent less than several top competing products. Carloudy expects to deliver pre-orders by mid to late February 2016.
This device should not be confused with Navdy which has not been shipped to buyers since its launch announcement in August 2014.