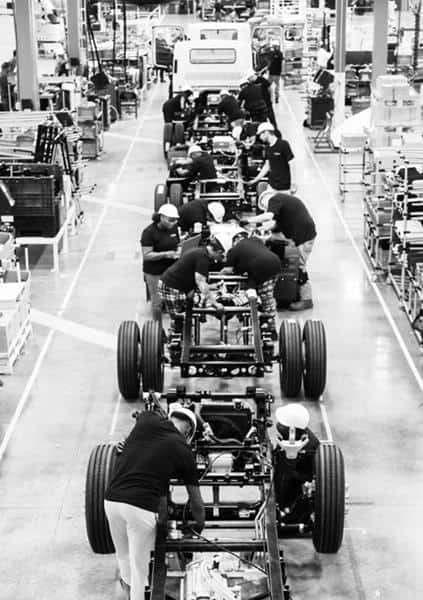 Mullen Automotive, Inc. (NASDAQ: MULN) ("Mullen" or the "Company"), an emerging electric vehicle ("EV") manufacturer, today announces start of vehicle production at its Tunica, Mississippi, assembly plant for the Mullen THREE, Class 3 EV truck with first customer deliveries on track to begin in August and September.
Mullen will be gradually ramping up production rate over the course of September through December. Once fully ramped, Class 3 production capacity at the Tunica facility is currently planned for 3,000 Class 3 vehicles per year.
To date, the Company has received $79 million in purchase orders for 1,250 Mullen THREE, Class 3 EV trucks from Randy Marion Automotive Group and MGT Lease Company.
"I am proud to announce that our Class 3 vehicle line is now in production mode at our Tunica facility. Our team has been working seven days a week, day and night, getting this plant reconfigured and ready for Class 3 production," said David Michery, CEO and chairman of Mullen Automotive.
Mullen's Tunica commercial manufacturing center includes over 120,000 square feet and is situated on over 100 acres. The facility is focused on production of Class 1 and Class 3 commercial EV vehicles and is in close proximity to all major rail lines, interstates, Mississippi river systems, and air logistics, placing it in a primary logistical center of North America.
The Mullen THREE, with a MSRP starting at $68,500, which should qualify for $7,500 in federal tax incentives, is an efficient Class 3 low cab forward EV truck featuring an 11,000 Gross Vehicle Weight Rating, a tight turning diameter of 38 feet and excellent visibility for superior maneuverability on narrow city streets. This versatile chassis provides a clean top-of-rail for easy upfitting with bodies up to 14 feet long and over 5,800 pounds of payload. In addition, the design of the LCF chassis will allow an estimated (EPA) range of 130 miles and more cargo volume within a given overall length.
About Mullen
Mullen Automotive (NASDAQ: MULN) is a Southern California-based automotive company building the next generation of electric vehicles ("EVs") that will be manufactured in its two United States-based assembly plants. Mullen's EV development portfolio includes the Mullen FIVE EV Crossover, Mullen-GO Commercial Urban Delivery EV, Mullen Commercial Class 1-3 EVs and Bollinger Motors, which features both the B1 and B2 electric SUV trucks and Class 4-6 commercial offerings. On Sept. 7, 2022, Bollinger Motors became a majority-owned EV truck company of Mullen Automotive, and on Dec. 1, 2022, Mullen closed on the acquisition of Electric Last Mile Solutions' ("ELMS") assets, including all IP and a 650,000-square-foot plant in Mishawaka, Indiana.