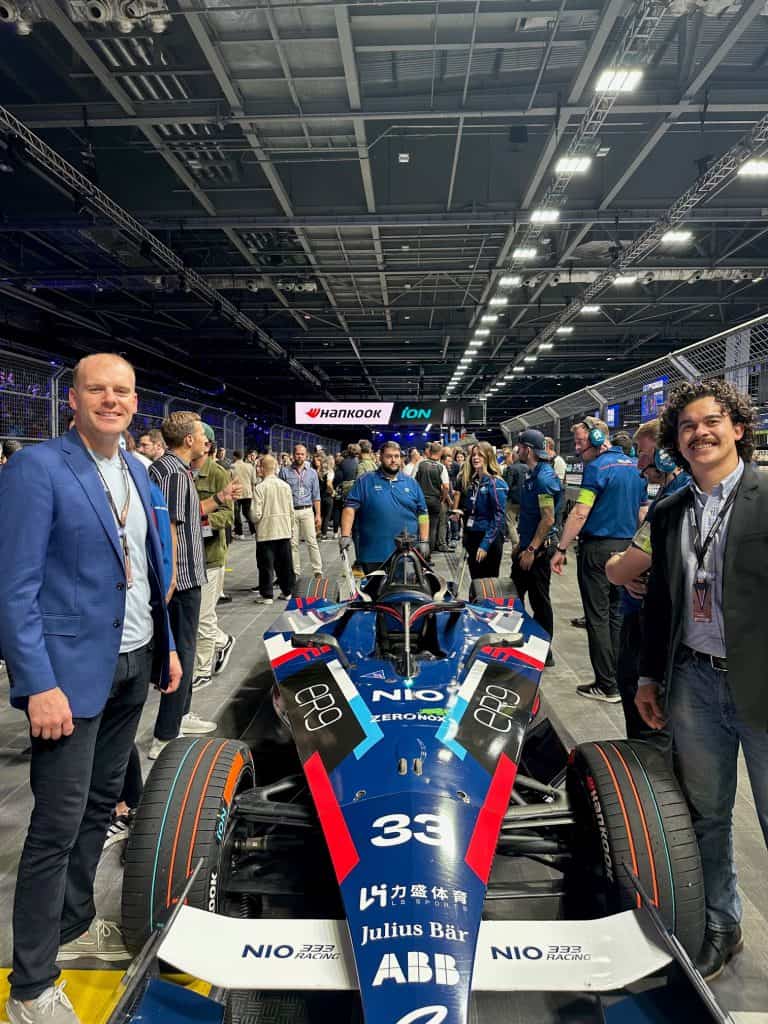 ZeroNox Inc. ("ZeroNox" or the "Company"), a leading provider of sustainable, off-highway vehicle electrification, today announced a multi-year partnership agreement with the NIO 333 Racing Formula E Team. The agreement marks the Company's entry into the ABB FIA Formula E World Championship ("Formula E").
ZeroNox will join Formula E for seasons 10, 11, and 12, and benefit from mutual partnership opportunities including brand awareness, technical synergies and potential collaborations across the Formula E Ecosystem.
As part of the branding agreement between ZeroNox and NIO 333 Racing for these three seasons, NIO 333 Racing cars, race overalls, team apparel, and other team environment items will display the ZeroNox logo. ZeroNox recently kicked off branding opportunities by displaying the ZeroNox logo on NIO 333 Racing cars during the 2023 London E-Prix this past weekend from July 29-30, 2023.
The partnership opens up the exploration of potential mutual future developments aiming to deliver added benefit and value to both parties.
"We are thrilled to partner with a Formula E team that has championed electrification and net zero carbon emissions since its inception," said Robert Cruess, Co-Founder and President of ZeroNox. "ZeroNox, NIO 333 Racing, and Formula E have a passionate, joint vision for driving a greater shift toward electrification and achieve ambitious sustainability goals. We are looking forward to joining forces with the NIO 333 Racing team and bringing off-highway electrification across new areas of mobility in the future."
"We are excited to collaborate with and support ZeroNox as they enter this dynamic partnership with the NIO 333 Racing team," said Alex Hui, Team Principal of NIO 333 Racing Formula E team. "As a leader in the off-highway electrification space with a commitment to bringing clean technology around the world, ZeroNox brings invaluable industry leadership, electrification product expertise, and a unique vision for sustainability to the Formula E ecosystem. With ZeroNox's partnership and support, we are confident about being able to move forward and accelerate adoption of electric mobility globally."
As previously announced, ZeroNox signed a definitive business combination agreement with The Growth for Good Acquisition Corporation (Nasdaq: GFGD) ("Growth for Good"), a publicly traded special purpose acquisition company, that is expected to result in ZeroNox becoming publicly listed. Completion of the transaction is subject to approval by Growth for Good's shareholders and other customary closing conditions.
About ZeroNox
ZeroNox is leading the electrification of off-highway commercial and industrial vehicles, with best-in- class LFP batteries and an electric powertrain platform ("ZEPP") that is cleaner, high performing, and cost effective. As a first mover in the advanced off-highway electric vehicle (OHEV) powertrain market, ZeroNox is proudly designed and engineered in America, with offices in Porterville, California.
About Growth for Good
Growth for Good, led by CEO Yana Watson Kakar, Chairperson of the Board of Directors, Vikram Gandhi, CFO Rahul Kakar and board member Dana Barsky, focuses on sustainable, socially responsible companies with strong business fundamentals, high growth potential and a readiness to scale in the public markets. Our team of highly reputable sustainability investors and seasoned business operators seek to add strategic and operational as well as financial value to our merger partner. Growth for Good believes the market opportunity for sustainable companies has never been stronger and looks forward to supporting a company that will contribute to the decarbonization of the global economy.
The information contained on, or accessible through, Growth for Good's website is not incorporated by reference into this press release, and you should not consider it a part of this press release.
About NIO 333 Racing Formula E Team
The NIO 333 Racing Formula E Team has participated in the FIA ABB Formula E World Championship since its inception and won the inaugural Drivers' Championship title as Team China Racing in 2015. Based at the home of British Motorsport at Silverstone Circuit, the ambitious team is committed to challenging the status quo of Formula E and is fast establishing itself as a respected challenger team among the giants of the automotive industry.
In September 2021, BIE UK Ltd announced that the FIA (Fédération Internationale de l'Automobile) had bestowed the highest award for environmental protection and sustainability on the NIO 333 Racing Formula E Team. By awarding the Three-Star Environmental Accreditation, the FIA recognised the team's environmental performance and excellent environmental awareness.