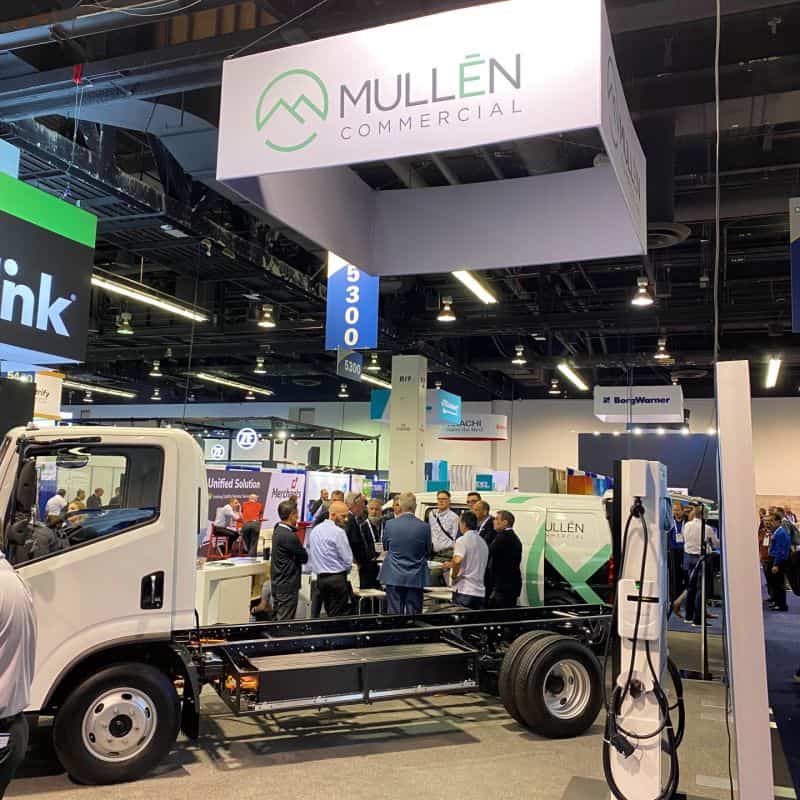 Mullen, in receipt of purchase order from Randy Marion Automotive Group, announced customer vehicle pricing for the Class 1 EV Cargo Van with starting price of $34,500 the Mullen ONE and the Class 3 EV Cab Chassis Trucks at $68,500, the Mullen Three.
"As more fleets focus on their sustainability goals addressing climate change, the net price points of our Mullen commercial products make this an easy choice and help accelerate their transition to electric," said David Michery, CEO and chairman of Mullen Automotive. "With both vehicles qualifying for the $7,500 federal tax credit, their Class 1 EV Cargo Van acquisition cost will reduce to $27,000 and Class 3 EV Cab Chassis Truck will reduce to $61,000."
Mullen ONE, Class 1 Urban Delivery EV Cargo VAN
Starting MSRP: $34,500
Available federal tax credit: $7,500
Vehicle net price: $27,000 (after tax credit)
The Mullen ONE is anticipated to be the first EV cargo van for sale in the U.S. market in the Class 1 commercial vehicle segment. This van was designed for last mile delivery, with best-in-class cargo volume, payload, and turning diameter to easily navigate through narrow urban streets and residential roads.
Mullen ONE Vehicle Highlights:
110-mile estimated range
4,881 lbs. GVWR
1,683 lbs. max payload
157 cu. ft. cargo volume
20 ft. turning radius
View full vehicle specifications for the Mullen ONE here.
Mullen THREE, Class 3 Urban Utility EV Cab Chassis Truck
Starting MSRP: $68,500
Available tax credit: $7,500
Vehicle net price: $61,000 (after tax credit)
There are also various state incentives, such as the California HVIP program, which offers up to $45,000 incentive for commercial Class 3 products like the Mullen THREE EV Cab Chassis Truck.
The Mullen THREE is an efficient Class 3 low cab forward EV truck featuring a tight turning diameter of 38 feet and excellent visibility for superior maneuverability on narrow city streets. This versatile chassis provides a clean top-of-rail for easy upfitting with bodies up to 14 feet long and over 5,800 pounds of payload. In addition, the design of the LCF chassis allows more cargo volume within a given overall length.
Mullen THREE Vehicle Highlights:
130-mile estimated range
11,000 lbs. GVWR
5,802 lbs. max payload
14 ft. max box length
38 ft. turning diameter
View full vehicle specifications for the Mullen THREE here.
To-date, 19 EV Cargo vans have been delivered with 20 additional deliveries targeted for May 2023. Additionally, the Company is also anticipating a purchase order for 200 Class 1 EV vans anticipated in May 2023.
Recently, a 1,000-unit purchase order, valued at $63M, for Class 3 EV Cab Chassis Trucks from Randy Marion Automotive Group was announced on May 2, 2023. Production is planned to begin in August 2023 and final deliveries completed by Q1 2024. All commercial vehicles are produced in Tunica, Mississippi.
About Mullen
Mullen Automotive (NASDAQ: MULN) is a Southern California-based automotive company building the next generation of electric vehicles ("EVs") that will be manufactured in two Company-owned United States-based assembly plants. Mullen's EV development portfolio includes the Mullen FIVE EV Crossover, Mullen Commercial Class 1 and 3 EVs and Bollinger Motors, which features both the B1 and B2 electric SUV trucks and Class 4-6 commercial offerings. On Sept. 7, 2022, Bollinger Motors became a majority-owned EV truck company of Mullen Automotive, and on Dec. 1, 2022, Mullen closed on the acquisition of all of Electric Last Mile Solutions' ("ELMS") assets, including all IP and a 650,000-square-foot plant in Mishawaka, Indiana.