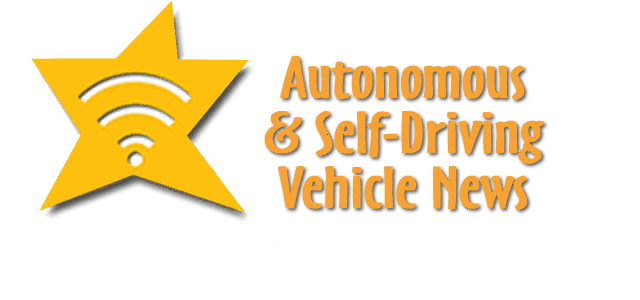 In autonomous and self-driving vehicle news are EASE Logistics, GPR, RoboSense, Omniverse, Lidwave, Komastu and Toyota.
EASE Logistics to Deploy automated Trucking on Revenue-Generating Routes.
EASE Logistics of Columbus, Ohio has taken to the roads to deploy game-changing automation technology that will impact the future of transportation and create safer roadways for drivers, passengers, freight, and communities.
The automated follower truck that will take to the road on revenue-generating routes.
As the chosen host fleet partner for the Ohio Department of Transportation (ODOT) and DriveOhio's Rural Automated Driving Systems (ADS) project, EASE will soon be the first in the U.S. to deploy connected and automated trucking technology on revenue-generating routes. And there is no better partner in the nation when it comes to innovation; EASE was recently honored as #1 in transportation on Fortune's list of America's Most Innovative Companies – and #143 across all industries.
"Partnering with innovative companies like EASE to conduct real-world testing is key to unlocking the full safety and efficiency benefits that truck platooning technology can provide," says Preeti Choudhary, DriveOhio Executive Director. The data generated by the Rural ADS project will be shared with the Federal Motor Carrier Safety Administration and the U.S. Department of Transportation to develop national ADS policies, removing barriers to the safe integration of these technologies across the U.S.
Keep an eye on out Ohio roadways for EASE's two semi-trucks equipped with A.I. vehicle-to-vehicle communication – a leader and a follower truck aptly nicknamed 'Tom' and 'Jerry'. You won't be able to miss the bright red cab of the follower semi ('Tom'), emblazoned with the EASE, ODOT, and DriveOhio logos. When 'Tom' and 'Jerry' are in platooning mode, the lead driver controls speed, braking, and acceleration, while the manned and connected following vehicle precisely matches the lead vehicle's movement.
"We are excited to partner with DriveOhio, ODOT, the Transportation Research Center (TRC), and Bosch to bring innovation to our roads in Ohio," says Peter Coratola, Jr., EASE president and CEO. "Through our dedication to innovation, we seek to pioneer new ways of delivering excellence across the supply chain. This technology is a great stepping stone toward a safer, more efficient and effective supply chain – and safer rural roads."
In preparation for the deployment, highly specialized and heavily vetted EASE drivers have undergone a combined 400 hours of training at the TRC. These drivers are now conducting preliminary solo runs to monitor data transmission to EASE and identify the best Ohio routes for platooning.
"This technology was thoroughly and comprehensively tested by Bosch and the TRC before being released to EASE for platooning and deployment on revenue-generating routes," says Josh McMullen, EASE Corporate Development Manager.
Platooning mode requires that both trucks be manned with a highly trained EASE driver, and will occur in very specific and ideal circumstances – weather, road conditions, and traffic will all be taken into consideration when EASE drivers choose the perfect moment during a route to engage platooning mode.
Platooning mode disengages at the discretion of both trucks' drivers, and the driver of the follower truck can override platooning mode to take manual control at any moment. Platooning mode also disengages automatically if any vehicle drives between the two semi-trucks.
"EASE is honored to be the first in the U.S. to deploy these vehicles on revenue-generating routes," says Abbi Failla, EASE VP of Business Operations. "Our goal is to develop, pilot, and deploy new smart technology initiatives to ensure that Ohio is the leading state in smart mobility innovation."
Ouster & May Mobility Expand Supply Agreement
–Ouster, Inc. (NYSE: OUST), a leading provider of high-performance lidar sensors, and May Mobility, a leader in the development and deployment of autonomous vehicle (AV) technology, announcedy expansions to their supply agreements to provide lidar sensors for May Mobility's autonomous vehicle solutions. These expansions include a binding commitment for a combined purchase of over one thousand Ouster OS1 and Alpha PrimeTM VLS-128 sensors through 2024 to meet demand for new AV deployments starting this year.
"We are rapidly growing our operations and technology and need partners that deliver high-performing, reliable and scalable products to be successful," said Edwin Olson, CEO of May Mobility. "With Ouster, and now Velodyne under its umbrella, we get a field-tested lidar suite from one supplier, making it even easier to expand and deploy our growing fleet to more communities and businesses."
Ouster has previously shipped hundreds of sensors to May Mobility for its commercial programs. May Mobility's vehicles are outfitted with four Ouster OS1 digital lidar sensors for short and mid-range detection and one Alpha PrimeTM sensor for long-range detection, providing surround-view coverage to increase safety and performance.
May Mobility partners with transit agencies, communities and businesses to make transit more sustainable, safe, accessible and equitable for everyone by building AV technology that works in the real world. To date, May Mobility has deployed more than 320,000 autonomy-enabled rides and recently announced the launch of its third-generation autonomous driving system further improving the safety, efficiency and rider satisfaction on the path to driverless commercial operations.
GPR Funded
GPR, the world's only provider of Ground Positioning Radar announced it has secured an undisclosed amount of Series A funding led by top technology investor Rhapsody Venture Partners.
GPR's technology enables precise – centimeter level – vehicle localization in all visibility circumstances. Precise localization is an unresolved issue for vehicles in limited visibility environments such as snow, heavy rain and fog, and in unstructured environments such as mining sites, sidewalks, ports, tarmacs, etc. Currently, Global Navigation Satellite Systems (GNSS) sensors are complimented with cameras and Lidar systems to overcome the GPS limitations, but these systems rely on clear above ground visibility. GPR is unique in its approach to look underground, scanning the ground below the road and creating a 3-D map of the road's unique subsurface signatures. This map then allows reliable and precise localization, no matter the aboveground visibility conditions.
"Over the past months, we've seen an exciting influx of customer demand for our solution," said Moran David, Chief Executive Officer of GPR. "Customers from all sectors are recognizing that the past approach to localization produces too many blackouts. There's always been a great deal of curiosity for our solution and the recent completion of our MVP has now unlocked a swath of customer projects. Securing this Series-A allows GPR to serve its lighthouse customers and meet demand through the commercialization and industrialization of our technology. We are planning to be on thousands of vehicles in 2024."
RoboSense in NVIDIA Omniverse
RoboSense, a world-leading provider of smart LiDAR sensor systems,  announced it is now connected to the NVIDIA Omniverse ecosystem, using the development platform based on Universal Scene Description (USD) to accelerate the development, testing, and validation of its sensor technology.
RoboSense's second-generation smart solid-state LiDAR model is integrated into NVIDIA DRIVE Sim, built on Omniverse, enabling physically based, high-fidelity sensor simulation. With this integration, autonomous vehicle developers can directly access state-of-the-art LiDAR for development and testing. (Video:  RoboSense LiDAR Model in NVIDIA DRIVE Sim)
DRIVE Sim is a reference application built on NVIDIA Omniverse, the connecting fabric between software ecosystems. It combines NVIDIA's core technologies to deliver digital twin environments for developing and testing autonomous driving systems. With DRIVE Sim, developers can perform diverse and repeatable testing scenarios at a large scale, accelerating development and reducing cost.
As part of the Omniverse ecosystem, RoboSense will use the simulation platform to test and validate its new LiDAR systems – as well as provide ADAS developers access to highly accurate simulation models.
RoboSense's M-Series LiDAR is the world's first second-generation smart solid-state LiDAR to achieve mass production for automotive applications. It is currently the LiDAR with the most designated partnerships worldwide and has been implemented in a variety of vehicle models including the GAC Aion LX Plus, GAC Aion Hyper GT, SAIC IM LS7, SAIC IM L7, Lotus Eletre, XPeng G9, XPeng P7i, Great Wall WEY Mocha DHT-PHEV, Great Wall Motor WEY DHT-PHEV, and Chery Exeed STERRA ES, STERRA ET.
Lidwave Opens  Dev Platform
Lidwave, breakthrough developer of high-performance, scalable, LiDAR-on-a-chip sensors, announced  that its evaluation platform is available as a development platform for selected partners.
"We are proud and excited to announce that we have successfully developed our first chip and launched our evaluation platform, which is being used to develop our next products with our automotive and industrial partners," said Yehuda Vidal, Lidwave's CEO. "This marks another meaningful step in solving the manufacturability problem of 3D sensors for automotive and industrial applications."
While impressive advancements have been made in LiDAR technology in recent years, integration barriers have left 3D sensing out of reach for many exciting initiatives. The need for high-speed GHz electronics and labor-intensive optical calibration have resulted in expensive sensors with low reliability and limited performance.
Lidwave is approaching 3D sensing from a different perspective by exploiting unique coherent properties of the light to extract depth information. "This paradigm shift allows us to significantly reduce the bandwidth of the system while maintaining high-resolution depth information with enhanced sensitivity," said Uri Weiss, Lidwave's Chief Scientist.
Lidwave novel FCRTM (Finite Coherent Ranging) technology enables realization of a true monostatic design in which the light transmitter and receiver are integrated at the pixel level in a LiDAR-on-a-single-chip.
"Our exclusive technology is attracting a lot of attention, and we are experiencing a significant interest from the market for our breakthrough solution," said Yossi Kabessa, Lidwave's CTO. "The launch of Lidwave's evaluation platform allows our selected partners to test FCRTM unique performance at their sites for their relevant applications, and design in collaboration Lidwave's next gen line of products."
Lidwave's evaluation platform is fully configurable for studying different use cases in a variety of applications. It streams real-time high-quality raw data that includes high-resolution 3D maps of range + reflectivity + instantaneous velocity, thus providing a complete data set of the scene dynamics without any complex computation or post-processing.
Komastu & Toyota Launch ALV
Komatsu Ltd. (hereafter "Komatsu") (President and CEO: Hiroyuki Ogawa) and Toyota Motor Corporation (hereafter "Toyota") (Operating Officer, President: Koji Sato) are pleased to announce the launch of a joint project to develop an Autonomous Light Vehicle (hereafter "ALV") that will run on Komatsu's Autonomous Haulage System (hereafter "AHS"). To realize further safety and productivity improvements in mines by running autonomous haul trucks and automated ALV controlled by AHS, Komatsu and Toyota are launching an effort to jointly develop new technologies. Both companies are currently testing a concept ALV at their proving grounds, and plan to have a proof of concept at a customer site by around January 2024.
Minerals and energy resources are essential in our lives and industries. Autonomy offers the opportunity to remove people from harm's way and enhance safety. It can allow our mining customers the ability to continue the hard work of providing critical minerals despite the ongoing challenge of labor shortages in the mining industry. It can also provide additional safety measures to mine sites on which multiple pieces of equipment are operated, in an effort to reduce accidents due to human error.
Since the launch of the world's first commercial application of an AHS in 2008, Komatsu has established proven performance in various mine environments and has earned a reputation for safety and productivity. Currently, when AHS-enabled autonomous haul trucks and manual light vehicles used for maintenance or transport are running on haulage roads at the same time, autonomous haul trucks may decrease their speed or stop when passing light vehicles to avoid possible collisions caused by human error. On the other hand, customer demand for improved productivity in mine operations when it comes to autonomous haul truck operating efficiency remains an issue.
In light of those circumstances and in an effort to solve those issues quickly, Komatsu and Toyota have joined together to accelerate autonomy in mines. Komatsu will develop a new management program for ALVs on its AHS supervisory system, and Toyota will develop ALVs running automatically under AHS control.