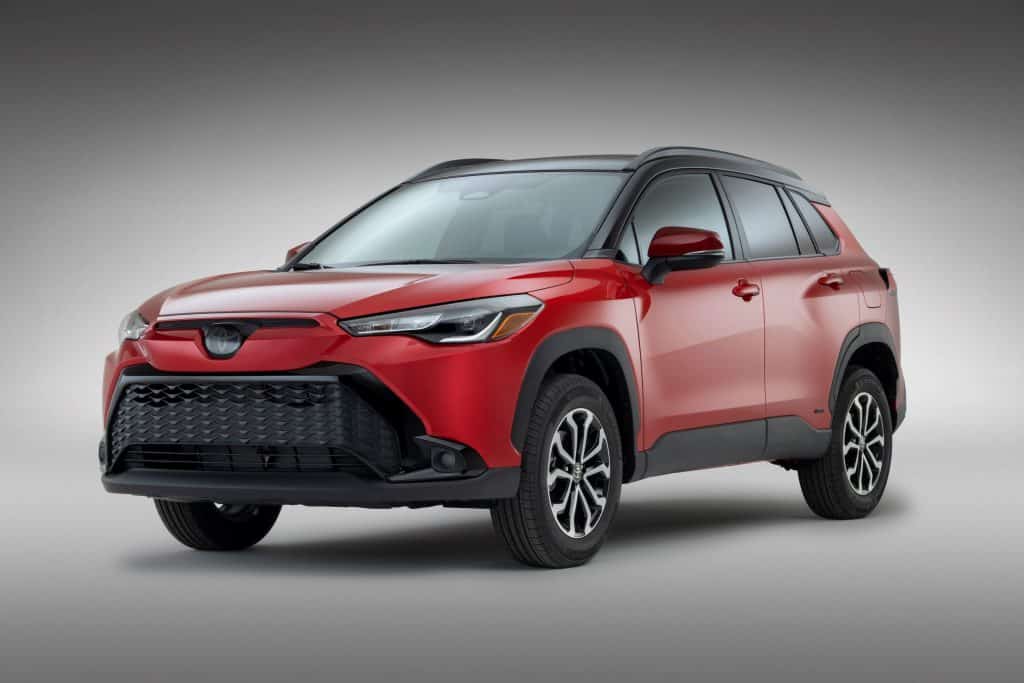 Consumer Reports (CR), the nonprofit research, testing, and advocacy organization, today announced its annual list of 10 Top Picks in cars, SUVs, and trucks for 2023. These vehicles are the best of the best in CR's ratings: they perform well in road tests, they come standard with key safety features, and owners give them high marks for reliability and satisfaction in CR's member surveys.
Eight of the 10 Top Picks are new to the list this year–the Toyota Corolla Hybrid, Toyota Corolla Cross, Toyota Camry Hybrid, Ford Maverick Hybrid, Hyundai Santa Fe Hybrid, Lexus NX350h, Nissan Leaf, and the Tesla Model 3. The two remaining vehicles were also Top Picks last year. They are the Subaru Forester and Kia Telluride.
Six of the 10 Top Picks also earned CR's Green Choice designation, meaning they  are the top 20% of vehicles that emit the lowest amount of greenhouse gasses and other pollutants, based on EPA data. Those vehicles are the: Toyota Corolla Hybrid, Toyota Camry Hybrid, Ford Maverick Hybrid, Nissan Leaf, Lexus NX350h, and Tesla Model 3.
"Car buyers face so many choices, not just about make and model, but also an ever-growing amount of new features – some that greatly benefit safety and efficiency," said Jake Fisher, senior director of automotive testing at Consumer Reports. "Drivers can use our Top Picks list to quickly find vehicles that standout from the pack and will meet their needs."
Consumer Reports selected the Top Picks from hundreds of current tested models in its ratings with added emphasis on vehicles that are affordable yet offer the latest safety features such as Automatic Emergency Braking with pedestrian detection as standard equipment on all trim levels.
Marta Tellado, president and CEO of Consumer Reports, said, "Safety should always come standard. To be one of our Top Picks, a vehicle has to have certain safety features that come standard across the board. It's encouraging to see the new vehicles this year that prioritize safety and sustainability, right alongside performance and reliability."
Tellado added, "If you're shopping for a car right now, the marketplace can feel intimidating – even overwhelming. It's been a tough year for car buyers, and there's a lot of pent-up demand, with the lingering effects of the pandemic, supply chain issues, and chip shortages. There are some signs that the car market is improving for consumers, and we want to help people find the best choices that fit their needs."
CR'S TOP PICKS BY PRICE CATEGORY
UNDER $25K:
Toyota Corolla Hybrid: The Corolla is a rolling masterclass on what is possible with a low-priced model. This compact sedan has outstanding fuel economy at 48 mpg overall in CR's tests—a figure that approaches the efficiency of the pricier Prius. And it comes standard with the Toyota Safety Sense 3.0 suite of active driver assistance features, including lane departure warning (LDW), adaptive cruise control (ACC), and automatic high beams. Blind spot warning (BSW) is optional. New for 2023, the Corolla Hybrid offers all-wheel drive.
Toyota Corolla Cross: The name announces that this is the Corolla of subcompact SUVs, with all the practicality, value, and virtue the familiar moniker implies. The size and traditional boxy shape make the Corolla Cross relatively roomy for the class. It comes with a 169-hp, 2.0-liter four-cylinder engine paired with a continuously variable transmission (CVT) and choice of front- or all-wheel drive. Acceleration is a bit tepid, but this powertrain returned a solid 28 mpg overall in CR's tests. Controls are easy to use, and the back seat is notably accommodating for the class. Factor in a solid roster of standard safety gear and top marks for predicted reliability, and the Corolla Cross is a smart choice.
$25K to $35K:
Subaru Forester: This is the Forester's 10th consecutive year as a Top Pick, underscoring how well this small SUV has honed its winning formula over time. Key to its appeal is the basic design, crafted to provide solid crash protection, a spacious cabin, generous cargo area, and terrific outward visibility. The shape also brings unusually good access, with tall, wide-opening doors and hip-height seats. The controls are simple to use and easy to reach. The 2.5-liter four-cylinder engine with a CVT yields 28 mpg overall, which is among the best in its class. Handling is responsive, and the ride is supple. Subaru's EyeSight suite of safety features benefits from a wider field of view and updated software for 2023.
Toyota Camry Hybrid: The name "Camry" has become synonymous with comfort, convenience, reliability, and value for good reason: Every model year delivers on those key virtues. The Camry is available with different powertrains, trim levels, and even all-wheel drive. But the most compelling version remains the Hybrid. It benefits from the comfortable ride, athletic handling, accommodating seats, and simple controls found in all versions, plus it boasts terrific fuel economy. The Camry Hybrid returned a stunning 47 mpg overall in CR's tests. It comes with the Toyota Safety Sense 2.5 suite of active driver assistance features, with LDW, ACC, and other aids.
Ford Maverick Hybrid: The Maverick combines a low base price with a standard hybrid powertrain and front-wheel drive that delivered 37 mpg overall in CR's tests. It reminds CR testers of a time when small, basic trucks roamed the land. Today, this small pickup is a fun alternative to small SUVs and is ideal for people with active lifestyles who can put the 4.5-foot-long bed to work. Access to the cabin is easy, thanks to large doors and a low floor, and it's relatively roomy, with good space front and back. The controls are simple, and there are numerous interior storage nooks. The ride is civilized for a truck, and the competent handling shames beefier, traditional pickups.
Nissan Leaf: The Leaf proves that not all electric cars command jolting prices. This swoopy hatchback comes with a 40-kWh battery, an EPA-rated 149-mile range with the standard version, and an attractive sub-$30,000 price, even before incentives. The Leaf Plus with 60 kWh is even more attractive, featuring an EPA-rated 212 mile range, and better pickup, shaving a second off the 0-60 mph time. With either configuration, the ride is soft, and the cabin is whisper quiet. The driving position is a hint higher than you might expect, giving a good view of the road. A light exterior freshening for 2023 adds appeal to this practical car. BSW, LDW, lane keeping assistance (LKA), and rear cross traffic warning (RCTW) are standard. ProPilot Assist, with limited hands-free driving, is optional.
$35K to $45K:
Hyundai Santa Fe Hybrid: The Santa Fe makes yet another strong case for hybrid powertrains. Here, the hybrid is more powerful, polished, and of course, efficient than the standard engine. The hybrid uses a 226-hp, 1.6-liter turbocharged four-cylinder engine, granting it quicker acceleration that shaves nearly 2 seconds off the base SUV's 0-60 mph time. For buyers who want to rely more on electricity, there is a plug-in hybrid that adds 35 horsepower and has 31 miles of electric-only range. The cabin is roomy, with a spacious, comfortable rear seat, and a generous roster of standard safety features including BSW, LKA, and LDW. The Santa Fe Hybrid has the performance and comfort to satisfy most midsized SUV buyers.
Kia Telluride: The Telluride established itself as the three-row midsized SUV benchmark when it was introduced for 2020, and it has been a Top Pick every year since. The secret is that it simply does everything well. Its large, boxy shape makes for a cavernous cabin and good outward visibility. Passengers benefit from the nice creature comforts such as soft-touch surfaces, attractive trim accents, and generous elbow room. The front seats are wide and comfortable, and the welcoming second and third seating rows are also relatively roomy. The refined, powerful V6 engine is backed by a smooth, responsive eight-speed automatic transmission. Even the ride comfort is quite good. The Telluride is freshened for 2023, with a larger infotainment screen and expanded driving assistance features.
$45K – $55K:

Lexus NX350h: Lexus hit a sweet spot with the NX, a small SUV available in four powertrain configurations. Our favorite version is the NX350h, a hybrid that delivers an impressive 38 mpg overall. It launches aggressively with a push of the pedal, and the powertrain remains smooth and eager as the speeds rise. Driving the NX is a treat thanks to quick steering and a well isolated ride. The cabin is upscale, with padded, high quality surfaces and comfortable, supportive front seats. The rear seat is roomier than the compact exterior dimensions might suggest. Overall, the NX is a delightful luxury SUV that drivers will appreciate for its pampering and practicality. It comes with many active safety features, including BSW and RCTW.
Tesla Model 3: This sleek four-door delivers blistering acceleration, with plenty of torque that pushes you deep into the seat as it races ahead from a standstill. Enter a turn, and the Model 3 shows off its tenacious grip and precise steering. The driving experience feels very much like piloting a sports car. With quickly growing competition among fast and efficient EVs, Tesla isn't the only option anymore. But Tesla's Supercharger network makes taking a trip in a Tesla a far better experience than in any other EV. Charging on the go is simple and Tesla chargers are fairly abundant in easy to access areas. The minimalist interior, with its gauge-less dash and giant center screen, adds to its otherworldly ambience, but the lack of traditional controls can be frustrating.
Consumer Reports conducts a battery of tests on every vehicle it evaluates, including braking, handling, comfort, convenience, safety, and fuel economy. CR buys all of its test cars anonymously from dealers and does not accept free samples from automakers for any of its ratings or evaluations. CR's testers drive a total of 500,000 miles annually in the vehicles it evaluates, which is the equivalent of circling the Earth 20 times.