In coronavirus COVID-19 news are Tesla, Optimus Ride, Standard Motor Products, Ryder Systems, HONK, QAD, Quistem and Kroll Bond Rating.
C-Virus Case Tesla NYC
A Tesla employee at the New York solar panel factory has tested positive for COVID-19. Telsa reportedly has furloughed too many employees to meet the goals of its orginial deal with the state of New York and may have to pay a $41.2 penalty.
Optimus Rides Changes from Rides to Deliver Meals on AVs
In 2019, Paradise Valley Estates became a deployment site for Optimus Ride, a leading self-driving vehicle technology company based in Boston, Massachusetts. The nonprofit Life Plan Community in Fairfield, California began a progressive rollout of the self-driving systems earlier this spring, with the objective of allowing community residents to reserve or schedule rides to on-campus locations.  The technology took on remarkable new roles in mid-March when the community closed to outside visitors to help prevent the spread of COVID-19.
In early March, Optimus Ride was nearing completion of phase-one of its deployment at Paradise Valley Estates and providing point-to-point mobility services within the gated community. With the success of phase one, the program was beginning phase-two and was on track to serve the entire campus by the end of May.
Paradise Valley Estates introduced a campus-wide stay-at-home policy which effectively closed areas such as community dining halls, a café and the community center post office as precautionary measures against the virus. At the same time, Optimus Ride paused passenger access at all of their sites, including Paradise Valley Estates.
To ensure seamless, high-quality meal delivery to the more than 500 residents at Paradise Valley Estates, the dining services team coordinated a fleet of community golf carts to begin delivering meals right to residents' homes. Within 24 hours, Optimus Ride pivoted their services to supplement the delivery fleet and provided their first dinner delivery that same evening. Since then, Optimus Ride has home-delivered more than 3,200 meals and also now assists with home-delivery of packages.
Completing a major shift in services within a short timeframe during a global health crisis was no small feat, says Kevin Burke, chief executive officer of Paradise Valley Estates. "Our partnership with Optimus Ride is about more than providing self-driving vehicles to our community," he says. "They share our commitment to resident safety and wellness and have made it evident day after day by pitching in and helping us provide top-notch services for the people who call our community home."
Optimus Ride plans to continue delivery services to Paradise Valley Estates residents as long as needed. When campus dining halls and common areas can safely re-open, Optimus Ride will resume passenger access, with the eventual goal of expanding services to the entire campus. "Paradise Valley Estates is truly a pioneering Life Plan Community with the vision to see the benefits of radical innovation," says Ryan Chin, chief executive officer and co-founder of Optimus Ride. "As COVID-19 started to accelerate, Optimus Ride exercised the flexibility in our self-driving vehicle systems to quickly shift to delivering meals to the entire population within Paradise Valley Estates. As the pandemic subsides, self-driving logistics will be an increasingly important service in Life
SMP Winners Announced
Standard Motor Products, Inc. (SMP) announces the winners of its SMP 'Standing Together' Promotion. Three prizes of $1000 each will be awarded to Cleland Automotive of Listowel, Ontario, Music's Auto of Brookville, Ohio, and Protech Autocare of Cincinnati, Ohio.
The promotion recognized automotive shop owners who have been helping their local communities during the COVID-19 pandemic. To enter, shops were asked to post a photograph with the hashtag #SMPStandingTogether on Facebook, Twitter, or Instagram highlighting employees or technicians safely helping those in need.
SMP is extremely proud of the winners and all of the participating shops who have demonstrated remarkable compassion and caring for their communities during this difficult time.
Cleland Automotive spearheaded a large food drive, collecting and delivering canned foods and household supplies to the Listowel Ontario Salvation Army Family Services & Food Bank to help those most in need.
Music's Automotive also held a food drive, providing 500 lunches to children during the first two weeks of the pandemic. Zach Music, owner of Music's Automotive in Brookville, OH, said, "I can't express the generosity this city has for taking care of each other. Our local food pantry will love receiving this money."
Protech Autocare held a unique donation drive in which they asked the community to help them fill a school bus with food and household supplies for their community in Cincinnati, OH. The response was overwhelming as they filled the bus three times.
Commenting on the announcement, Jack Ramsey, Vice President Engine Management Marketing and Sales, SMP, stated, "It's an honor to support automotive shop teams that go above and beyond to give back to their communities. We're excited to present these shops $1000 each to help support their efforts, and want to thank them for all they're doing."
Ryder Systems Supports with Pop-Up Fleets During Pandemic
Ryder System, Inc. a leader in supply chain, dedicated transportation and commercial fleet management solutions, continues to support customers by establishing pop-up fleets and meeting the increased demand for the warehousing, distribution and final mile delivery of essential goods. To further support the flow of goods and services required in the ongoing fight against COVID-19, Ryder is also making long-term rental contracts available and redirecting assets and personnel.
Since this outbreak began to impact North America, Ryder has worked with customers to proactively help with relief efforts, including:
Establishing pop-up warehousing to safely store critical supplies for a variety of customers;
Re-deploying trucks and drivers from non-essential businesses to essential businesses within the food, beverage, and medical industries to handle the surge in demand caused by panic buying;
Increasing hours of operations and adding shifts to handle surge in demand for grocery and consumer packaged goods;
Providing additional trucks to meet the needs of food banks and other social services providers;
Making time-sensitive deliveries of pharmacy and over-the-counter medicines and everyday items to large retail pharmacy chains, hospitals, doctor's offices, nursing homes and critical care facilities;
Assisting a leading steel distributor in surging its capacity to support critical demand for medical manufacturing for items such as ventilators, personal protection equipment, and tents for drive-through COVID-19 testing;
Providing Final Mile Home deliveries of essential products for consumers who are under "stay-in-shelter" orders; and
Offering discounts off commercial rental rates to food banks, companies transporting medical supplies, and other customers contributing to COVID-19 relief operations in the U.S. and Canada.
HONK If You Know Traffic is Making Comeback
HONK Technologies released roadside assistance data for three states — California, Texas and Georgia — that show traffic volume trends from March 2 – May 16, 2020, during the COVID-19 pandemic.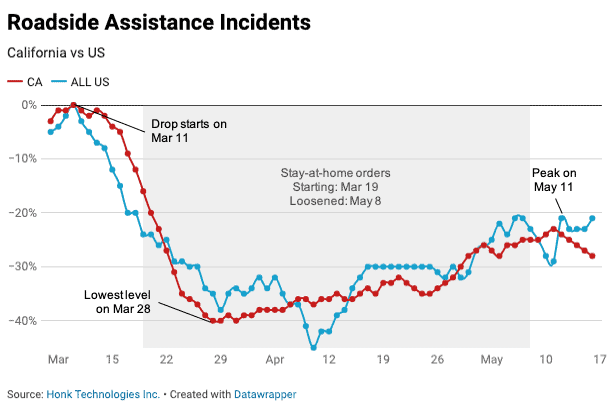 Though these three states have enacted, lifted and loosened stay-at-home orders on different dates, the traffic trends are similar. Changes in traffic volume trends do not align with the dates of stay-at-home orders, indicating that people are changing their travel patterns independently of state orders.
HONK provides a roadside assistance platform that connects drivers, towing professionals and insurers, enabling drivers to request on-demand service via mobile devices. The company tracks data on the frequency and location of roadside assistance requests. These service requests provide data on the location and frequency of roadside assistance incidents which can be used to show vehicle traffic trends. The data presented below show 7-day moving averages of daily service requests for each state, along with 7-day moving averages of all HONK service requests nationwide.
Key findings
Traffic trends began to fall before any stay-at-home orders were enacted


California

Governor

Gavin Newsom

issued a stay-at-home order on

March 19

,

Texas

Governor

Greg Abbott

issued his on

April 2

, and

Georgia

Governor

Brian Kemp

issued his on

April 3

. Nevertheless, all three states saw traffic begin to fall much earlier, with

Texas'

decline starting on

March 8

,

Georgia's

on

March 9

and

California's

on

March 11

.
Traffic trends began rising before any stay-at-home orders were lifted or loosened
Though these three states lifted or loosened their stay-at-home orders at different times, traffic trends began to rise before any states had changed their quarantine policies.

Georgia

significantly loosened its stay-at-home order on

April 24

,

Texas

did so on

May 1

and

California's

governor allowed counties to begin loosening their quarantines on May 8.However, traffic volume trends began rising in

Georgia

on

April 16

, in

Texas

on

April 17

and in

California

on

April 1

.
As of

May 16

, traffic volume trends were still significantly below pre-pandemic levels


California

was 28% below the pre-pandemic baseline,

Georgia

was 34%, and

Texas

was 20%.
Findings by state
California's traffic volume trends began dropping dramatically starting March 11, just over a week before its stay-at-home order was issued. Trends hit their lowest point on March 28 at 40% below the baseline. Traffic volume trends began to slowly recover on April 1, rising to a peak of 23% below baseline on May 11.
Georgia's traffic volume trends began falling on March 9 and had the sharpest decline of these three states, bottoming out at 49% below baseline on April 15. Georgia's traffic volume trends began to rise slowly the next day, hitting a peak of 29% below baseline on May 6 before declining back down to 34% of baseline by May 16.
Texas' decline began on March 10, bottoming out at 45% below baseline on April 12, after which traffic volume trends steadily rose to 21% of baseline on May 6. Traffic volume trends declined slightly over the next week before hitting its high point at 20% below baseline on May 15-16.
Guidelines for Automakers
-QAD and Quistem have teamed up to develop specific guidelines to help automotive manufacturers prepare for the restart of their operations during the COVID-19 pandemic. These guidelines feature 13 key topics that automotive suppliers will need to address in order to align their operational restart with their customers in the automotive supply chain.
"With our focus on automotive manufacturing customers, we teamed up with Cathy Fisher, president of Quistem, a global expert in automotive management systems, to put together specific guidelines to help automotive suppliers get their facilities up and running during the COVID-19 pandemic," said QAD Director, Automotive Terry Onica. "We recognize organizations are currently receiving a lot of guidance about protecting their employees from the COVID-19 virus. However, for quality product and delivery to their customers, additional detailed focus on 13 key aspects of their business will contribute to a successful restart."
The Operational Restart Readiness Checklist covers the following topics and provides detailed checkpoints related to each:
Contingency plans
Inventory
Immediate customer delivery requirements
Immediate delivery plan including transportation
Supplier inventory and near-term delivery plan
Availability of outsourced processes
Temporary process changes due to virus risk reduction actions
Product/process requalification plan
Accuracy of work instructions
Workforce availability and training
Equipment, tooling and gauging restart risks and maintenance
Facility infrastructure
Communication plans to all stakeholders
OEMs and suppliers interested in learning more can access the checklist here.
In addition to offering the Operational Restart Readiness checklist, QAD and Quistem recorded a webinar in conjunction with the Automotive Industry Action Group (AIAG) outlining a three-step plan for automotive suppliers to follow when preparing to restart their operations. This plan includes: 1) managing the COVID-19 virus at the facility; 2) restarting manufacturing operations; and 3) recovering operational stability. The webinar can be viewed here.
Loans Holding Strong
Kroll Bond Rating Agency (KBRA) releases research highlighting delinquency and loan modification trends in the consumer ABS sectors for which loan level data is available, namely, auto loans and marketplace consumer loans.
The report looks at how early-stage delinquency rates have actually fallen in these two sectors, despite the magnitude of financial stress recently placed on U.S. consumers. Enhanced unemployment benefits and federal stimulus checks likely played some part, but KBRA thinks the large percentage of borrowers receiving loan modifications has been the main driver.