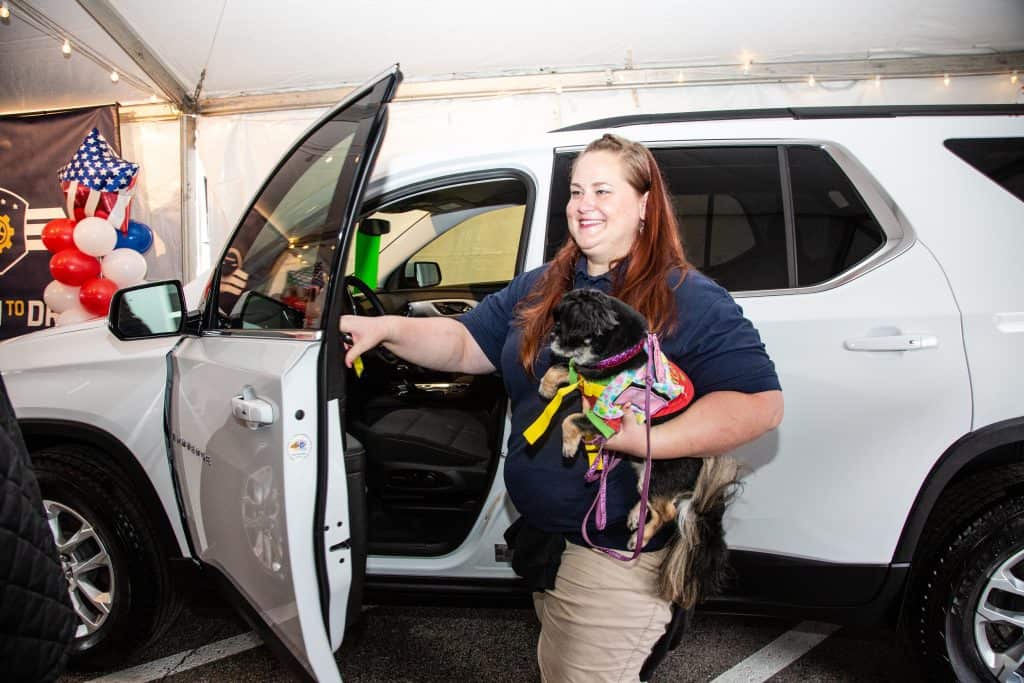 TrueCar, Inc.'s  data and analytics subsidiary, ALG, projects total new vehicle sales will reach 1,339,420 units in October 2019, down 4.7% from a year ago when adjusted for the same number of selling days. This month's seasonally adjusted annualized rate (SAAR) for total light vehicle sales is an estimated 16.6 million units. Excluding fleet sales, ALG expects U.S. retail deliveries of new cars and light trucks to be 1,136,920 units, a decrease of 4.3% from a year ago when adjusted for selling days.
TrueCar also announced for the third year running, TrueCar Inc. is teaming up with AutoNation and DAV (Disabled American Veterans) as part of its DrivenToDrive program. Created for injured veterans who have made sacrifices for our independence, DrivenToDrive helps those with service-connected disabilities regain their own freedom and get back behind the wheel of vehicles. DrivenToDrive is a program created to honor American veterans who have lost this privilege of driving and want to regain their independence.
Cars represent more than simply a means of getting from point A to point B. From the moment someone gets their license and through every stage of life, driving means freedom and independence. It's a privilege easily taken for granted, until it's lost. According to the U.S. Department of Labor, 4.7 million veterans have service-connected disabilities. While this community faces a number of challenges each day, physical mobility can be one of the most difficult to overcome.
"Even though consumer sentiment has improved month-over-month, lower incentive spend this month compared with September and the GM strike are contributing to lower sales in October," said Oliver Strauss, Chief Economist for ALG, a subsidiary of TrueCar.
Additional Insights: (Forecast by ALG)
Among mainstream brands, Hyundai and Kia continue to show year-over-year sales growth and are expected to be up 9.8% and 5.4% respectively on total sales with lower incentives.
For luxury brands, Mercedes-Benz stands out and is expected to be up 7.3% year-over-year in total sales, and 12.4% in retail sales with incentives flat year-over-year.

Mercedes is expected to have a sales edge over BMW of close to 5,000 total unit sales for October as the race for the luxury sales leader ramps up moving toward the end of the year.

Tesla's sales momentum continues to hold up despite difficult compares after last summer's Model 3 ramp up. The electric automaker is expected to be up 18.4% in total units year-over-year.
GM and Nissan are forecast to be down 11.4% and 10.6% respectively in total unit sales compared to a year ago.

GM's sales decline may be due to inventory availability related to the strike and shutdown of their factories.
Even with the largest expected dollar decline in incentives month-over-month, Nissan is still about 50% higher on incentives as a percentage of average transaction price than industry. Nissan's fleet share is expected to reach 28% this month.

Average automaker incentive spend is expected to reach $3,767, up 4.7% or $170 dollars year-over-year, but down 5.1% or $204 from September 2019.

The most notable YoY declines in incentive spend are expected from Kia, Hyundai, and Nissan. Meanwhile FCA, GM, and Honda are expected to have double-digit incentive increases.

Used vehicle sales for October 2019 are expected to reach 3,439,074 up 3.7% from a year ago and up 0.2% from September 2019.
"The UAW strike has created a tricky sales landscape for GM. Incentives are down versus last month but are still elevated as the automaker competes for lucrative Fullsize Pickup share," said Eric Lyman, Chief Industry Analyst at ALG, a subsidiary of TrueCar. "With the strike just ended, GM isn't out of the woods yet as dealers must work with aging inventory ahead of ramped up production to refresh their showrooms going into the busy end of year selling season."
October 2019 forecasts for the 13 largest manufacturers by volume: (Adjusted for same selling days as October 2018.) For additional data visit the ALG Newsroom.
Total Unit Sales
Manufacturer
Oct 2019
Oct 2018
YoY % Change
(Days selling rate)

BMW
 29,157
 26,522
5.9%
Daimler
 34,129
 31,814
3.3%
FCA
 172,913
 177,391
-6.1%
Ford
 183,394
 191,682
-7.9%
GM
 219,764
 238,953
-11.4%
Honda
 130,014
 122,182
2.5%
Hyundai
 58,220
 53,025
5.7%
Kia
 47,550
 45,102
1.5%
Nissan
 102,096
 109,962
-10.6%
Subaru
 55,702
 55,394
-3.2%
Tesla
 17,526
 14,800
14.0%
Toyota
 190,895
 191,102
-3.8%
Volkswagen Group
 51,527
 50,251
-1.3%
Industry
 1,339,420
 1,353,846
-4.7%
Retail Unit Sales
Manufacturer
Oct 2019
Oct 2018
YoY % Change
(Days selling rate)
BMW
 26,814
 25,623
4.6%
Daimler
 33,056
 29,412
12.4%
FCA
 132,939
 140,224
-5.2%
Ford
 135,579
 141,573
-4.2%
GM
 181,242
 184,321
-1.7%
Honda
 127,012
 120,085
5.8%
Hyundai
 46,082
 41,843
10.1%
Kia
 42,167
 38,337
10.0%
Nissan
 73,694
 87,270
-15.6%
Subaru
 53,827
 54,438
-1.1%
Tesla
 17,526
 14,800
18.4%
Toyota
 172,264
 173,131
-0.5%
Volkswagen Group
 49,132
 48,852
0.6%
Industry
 1,136,920
 1,143,761
-0.6%
Incentive Spending (Per Unit)
Manufacturer
Oct 2019
    Oct 2018
YoY % Change
BMW
$5,683
$5,549
2.4%
Daimler
$5,808
$5,806
0.0%
FCA
$4,835
$4,356
11.0%
Ford
$4,576
$4,400
4.0%
GM
$4,683
$4,229
10.7%
Honda
$2,167
$1,965
10.3%
Hyundai
$2,565
$2,669
-3.9%
Kia
$3,523
$3,749
-6.0%
Nissan
$4,196
$4,326
-3.0%
Subaru
$1,242
$1,165
6.6%
Toyota
$2,458
$2,495
-1.5%
Volkswagen Group
$3,824
$3,760
1.7%
Industry
$3,767
$3,596
4.7%
(Note: This forecast is based solely on ALG's analysis of industry sales trends and conditions and is not a projection of the company's operations.)